12.05.2017 | Genetics | Ausgabe 7/2017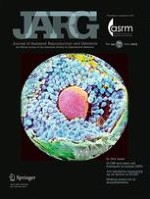 Genetic variation in matrix metalloproteinase
MMP2

and

MMP9

as a risk factor for idiopathic recurrent spontaneous abortions in an Indian population
Zeitschrift:
Autoren:

Deepika Ramu, Vettriselvi Venkatesan, Solomon Franklin Durairaj Paul, Teena Koshy
Abstract
Purpose
Matrix metalloproteinases,
MMP2
and
MMP9
, are found to have an important role during ovulation and pregnancy because of their capacity to degrade components of the extracellular matrix (ECM) thereby facilitating cell migration and angiogenesis. In this respect, the aim of the present study was to evaluate the association of the promoter polymorphisms −1306 C > T and −1562 C/T in
MMP2
and
MMP9
respectively with couples diagnosed with idiopathic recurrent spontaneous abortions (IRSA). The expression levels of these two genes were also studied in fetal tissue.
Methods
In this case control study, a total of 35 couples with at least three consecutive IRSA and 35 fertile couples were included. Genotype analysis was performed using polymerase chain reaction and Sanger sequencing.
Results
No statistically significant differences were found in distribution of
MMP2
-1306C/T and
MMP9
-1562C/T genotypes in the three groups between the cases and controls.
Conclusion
Further genetic association studies on a larger number of IRSA couples, as well as evaluation of more MMP polymorphisms and their expression profiling are needed to establish the potential role of MMP polymorphisms in IRSA.