01.12.2012 | Research | Ausgabe 1/2012 Open Access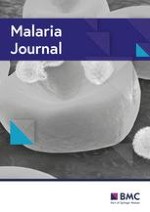 Genetic variation of aldolase from Korean isolates of
Plasmodium vivax

and its usefulness in serodiagnosis
Zeitschrift:
Autoren:

Jung-Yeon Kim, Hyung-Hwan Kim, Hyun-ll Shin, Youngjoo Sohn, Hyuck Kim, Sang-Wook Lee, Won-Ja Lee, Hyeong-Woo Lee
Wichtige Hinweise
Electronic supplementary material
The online version of this article (doi:
10.​1186/​1475-2875-11-159
) contains supplementary material, which is available to authorized users.
Jung-Yeon Kim, Hyung-Hwan Kim, Won-Ja Lee and Hyeong-Woo Lee contributed equally to this work.
Competing interests
The authors declare that they have no competing interests.
Authors' contributions
JYK, HHK, WJL and HWL conceived and designed the study and contributed to the execution of the research. HWL wrote the manuscript. HHK, SY, and HK contributed statistical analysis. YJK, HIS, and WJL collected the blood samples in the field. YJK, SWL, and HIS performed preparing the DNA samples for DNA sequencing, IFAT and ELISA. All authors have read and approved the final manuscript.
Abstract
Background
The malaria aldolase is widely used as rapid diagnostic test (RDT), but the efficacy in aspect of its serological effectiveness in diagnosis is not known. The genetic variation of Korean isolates was analysed and recombinant aldolase was evaluated as a serological antigen in
Plasmodium vivax
malaria.
Methods
Genomic DNA was purified and the aldolase gene of
P. vivax
from 25 patients' blood samples was amplified. The samples came from 5 epidemic areas; Bucheon-si, Gimpo-si, Paju-si of Gyeonggido, Gangwha-gun of Incheon metropolitan city, and Cheorwon of Gangwon-do, South Korea. The antigenicity of the recombinant aldolase was tested by western blot and enzyme-linked immunosorbent assay (ELISA).
Results
Sequence analysis of 25 Korean isolates of
P. vivax
showed that the open reading frame (ORF) of 1,110 nucleotides encoded a deduced protein of 369 amino acids (aa). This ORF showed 100% homology with the
P. vivax
Sal I strain (XM_00165894) and
P. vivax
WDK strain (AF247063), 87.4% homology with
Plasmodium falciparum
(AF179421), 90.6% homology with
Plasmodium chabaudi
(AF247060), 89.5% homology with
Plasmodium vinckei
(AF247061), and 96.7% homology with
Plasmodium knowlesi
. A single nucleotide polymorphism (SNP) at nucleotide 180 (G to A, n = 5) was also observed in the isolates. The expressed recombinant protein had a molecular weight of approximately 31 kDa (monomeric form) and 62 kDa (dimeric form) as analysed by sodium dodecyl sulfate-polyacrylamide gel electrophoresis (SDS-PAGE) analysis. Among 109
P. vivax
patients, 32 (29.4%) had positive in an enzyme-linked absorbance assay (ELISA). This result showed significant correlation between ELISA and an indirect fluorescent antibody test (IFAT) (
P
< 0.0001).
Conclusions
The aldolase gene from Korean isolates of
P. vivax
showed one SNP at nucleotide position 180; this SNP mutant was discovered in only the western part of Han River, and included the regions of Ganghwa, Gimpo, and Bucheon. Based on the results, the relationship between antibody production against aldolase and the pattern of disease onset should be more investigated before using aldolase for serodiagnosis.