01.12.2017 | Research article | Ausgabe 1/2017 Open Access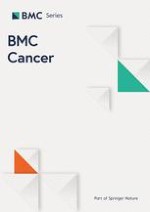 Genome-independent hypoxic repression of estrogen receptor alpha in breast cancer cells
Zeitschrift:
Autoren:

Mercè Padró, Raymond J. Louie, Brian V. Lananna, Adam J. Krieg, Luika A. Timmerman, Denise A. Chan
Wichtige Hinweise
Electronic supplementary material
The online version of this article (doi:
10.​1186/​s12885-017-3140-9
) contains supplementary material, which is available to authorized users.
Abbreviations
ADAM10
A disintegrin and metalloproteinase domain-containing protein 10
ARNT
Aryl hydrocarbon receptor nuclear translocator
CBP
Coactivator binding protein
DDB1
DNA damage-binding protein 1
DMEM
Dulbecco's modified Eagle's media
ECL
Enhanced chemiluminescence
ERE
Estrogen Response Element
ERK
Extracellular signal-regulated kinase
FBXW7
F-box and WD repeat domain containing 7
HER2
Human epidermal growth factor receptor 2
HIF-1α
Hypoxia induced factor 1 alpha
HIF-1β
Hypoxia induced factor 1 beta
HRE
Hypoxic-response elements
MYC
Avian myelocytomatosis viral oncogene homolog
PBS
Phosphate buffered saline
PI3KCA
Phosphoinositide-3-kinase alpha catalytic subunit
PI3KCA
Phosphatidylinositol-4, 5-bisphosphate 3-kinase catalytic subunit alpha isoform
RPMI
Roswell Park Memorial Institute media
shRNA
Short hairpin ribonucleic acid
SIAH2
Seven in absentia homolog 2
TACE
A disintegrin and metalloproteinase domain-containing protein 17
VP16
Herpes simplex virus, viral protein 16
Background
Breast tumors are classified into subtypes based on molecular and pathological characteristics that impart prognostic value or determine therapeutic treatment plans. The most common and clinically relevant feature is expression of the estrogen receptor alpha (ER-α;
ESR1
) transcription factor, which occurs in 70–80% of all breast tumors. ER-α is activated by the endogenous hormone 17-beta-estradiol (estrogen), to bind estrogen-responsive elements (ERE) in DNA and induce gene transcription (reviewed in [
1
,
2
]). ER-α can also function as a non-DNA-binding element of other transcription complexes; and cytosolic, non-genomic functions are ascribed to specific ER-α splice variants.
Estrogen responsive genes include those required for survival and proliferation, and most ER-α -positive breast tumors are dependent on estrogen for growth. As such, several targeted therapies have been developed that either compete for estrogen binding (for example tamoxifen), or inhibit the body's ability to produce estrogen (for example aromatase inhibitors). Most ER-α positive tumors initially respond well to these therapeutics, and ER-α expression generally imparts a better 5 year prognosis. However around 30% of ER-α positive tumors are intrinsically resistant to endocrine therapies and 30–40% of those that initially responded will become therapy resistant (reviewed in [
1
,
2
]). Of these, about 20% will lose ER-α expression. Patients with endocrine-resistant tumors account for nearly 11,000 annual US breast cancer deaths.
Heterogeneity of ER-α positive tumors influences therapeutic responses
As a class, ER-α positive tumors are heterogeneous in the expression of hundreds of other molecules that may influence proliferation and survival. For example, some ER-α positive tumors express activated oncogenes such as the HER2 receptor tyrosine kinase, or a mutant, activated phosphoinositide-3-kinase alpha catalytic subunit (PI3KCA; [
3
–
5
]). Other ER-α positive tumors may have inactivated tumor suppressors such as tumor protein TP53) and/or retinoblastoma (Rb). Differences may be so profound that ER-α positive tumors are found in both the luminal A and luminal B molecular subsets of breast tumors. As expected from this heterogeneity, ER-α positive tumors differ in drug responses and clinical outcomes [
6
,
7
].
Individual ER-α positive breast tumors also exhibit significant intra-tumor heterogeneity. Tumors are considered ER-α positive by clinical histopathological standards if as few as 1% of cells stain for ER-α expression [
8
]. The presence of accompanying ER-α negative cells has been attributed to factors including genomic instability, epigenetic regulation, poorly-defined micro-environmental conditions, and the ongoing growth and differentiation of tumor cells from primitive, stem-cell like progenitors within the tumor mass [
9
]. As the use of specifically-targeted therapeutics increases, intra-tumor heterogeneity becomes an increasingly important factor in treatment efficacy [
10
]. The widespread use of hormone targeted therapeutics and prevalence of resistance, makes understanding the intra- and inter-tumor heterogeneity of ER-α positive tumor responses of paramount clinical importance. Thus, experimental analysis of only one or a few ER-α positive cell lines in preclinical studies cannot accurately reveal the diversity of potential responses among this class of tumors, nor predict the prevalence of various therapeutic responses.
HIF-1α is a key regulator of adaptation to hypoxic conditions
Conditions of low oxygen (i.e. hypoxia) are hallmarks of solid tumors, and cells undergo profound alterations to survive this environment (reviewed in [
11
]). Hypoxia promotes the growth of tumors that have reduced apoptotic abilities [
12
] increased metastatic potential [
13
] and increased genomic instability [
14
–
16
]. Hypoxia is a poor-prognosis factor for breast cancer in terms of tumor recurrence, tumor aggressiveness, disease-free survival and overall survival [
17
,
18
]. Hypoxic conditions occur in poorly vascularized regions of rapidly growing tumors, areas located between 70 and 100 μm from blood vessels [
19
]. Highly transformed breast cancer cells orchestrate a varety of complex responses to survive hypoxic conditions, allowing, for example, uninterrupted protein synthesis via constitutively activated mechanistic target of rapamycin (mTOR) signaling [
20
]. In contrast, non-transformed breast derived cell lines respond to hypoxia (1% O
2
) by rapid inhibition of protein synthesis (reviewed in [
21
]).
Many features of hypoxic adaptation rely on activation of the hypoxia inducible factor (HIF) family of transcription factors. HIF functions as a heterodimer composed of an α-subunit (HIF-1α, HIF-2α or HIF-3α) and a β-subunit (HIF-1β). HIF-1α, and HIF-2α are the main transcription factors involved in oxygen level sensing and cell response (reviewed in [
11
,
16
]) while HIF-1β (ARNT) is constitutively expressed in the nucleus independent of oxygen levels. Under normoxic conditions HIF-1α is hydroxylated on proline 402 and proline 564 by a family of prolyl-4-hydroxylases (PHDs;[
22
,
23
]). HIF-1α hydroxylation allows recognition by the von Hippel-Lindau (VHL) tumor suppressor, which targets HIF-1α to the proteasome for degradation. Under hypoxic conditions HIF-1α degradation is impaired, allowing nuclear translocation and hetero-dimerization with HIF-1β on hypoxic-response elements (HRE). HIF-directed transcription induces genes involved in angiogenesis, glycosylation, tissue remodeling, metabolism, and cell proliferation [
24
–
26
]. HIF-1α is an independent predictor of poor response to chemo-endocrine therapy, and is negatively associated with disease-free survival in ER-α positive but not ER-α negative patients [
27
].
Conflicting observations regarding hypoxic alterations in
ESR1
transcription, ER-α protein stability, and ER-α transcriptional activity appear in the literature [
28
–
31
]. Some of these reports use cell culture with low environmental oxygen, but more often they use treatment with chemicals that can stabilize HIF-1α to the mimic hypoxic environment. With regard to breast cancer, these studies also primarily rely on the singular cell line MCF7, or a cell line of unknown lineage and genomic content, ZR-75. While this literature generally suggests that hypoxia promotes decreased ER-α expression, it does not present a coherent mechanistic picture that could guide improvements in hormonal therapeutics.
ER-α protein levels are reduced in hypoxic environments
In the current study, we analyze the effect of hypoxia and HIF expression on ER-α using a panel of ten independently-derived ER-α positive cell lines. This panel has been previously characterized by comparative genomic hybridization, mRNA expression profiling, total genome sequencing, various high throughput analyses of protein expression and activation status, and comprehensive drug panel responses (for example, see [
7
,
32
,
33
]). Combined, these cell lines capture a significant amount of the diverse genetic backgrounds and accompanying mutations commonly present in ER-α positive tumors. Cell lines in our study such as BT474 and MDA-MB-361 co-express and constitutively activate the HER2 receptor tyrosine kinase; five of these cell lines bear activating mutations in the phosphatidylinositol-4, 5-bisphosphate 3-kinase subunit PIKC3A; five have mutated TP53 genes, and lines such as HCC1428 and MDA-MB-175 maintain wildtype alleles of all of these genes (Additional file
1
; [
3
–
5
,
33
]). Despite this genomic and drug response diversity we find that hypoxia commonly functions through HIF-1α to reduce ER-α protein levels, impede ER-α directed transcription, and inhibit estrogen-dependent cell proliferation. The latter occurs even in cells that co-express receptor tyrosine kinases such as HER2, which are known to drive breast tumor proliferation in other settings.
Methods
Cell culture
LY2, MCF7, CAMA-1, MDA-MB-175, MDA-MB-361, MDA-MB-231 and MDA-MB-435 cell lines were cultured in DMEM. BT474, T47D, ZR75B, MPE600, HCC1428 cell lines were cultured in RPMI. All cell lines were obtained as a kind gift from Dr. Joe Gray, (Oregon Health Sciences University, USA), and maintained with 10% Fetal Bovine Serum (FBS) at 37 °C in 5% CO 2 and 21% O 2. All cell lines were verified by short tandem repeat (STR) genotyping. Genomic DNA was extracted by Wizard SV Genomic DNA purification system (Promega). STR profiles were compared with publically available profiles using Promega Powerplex 1.2.
Reagents
Antibodies
used in this report are as follows: ER-α (clone HC-20, Santa Cruz), HIF-1α (BD Bioscience), HIF-2α (NB100-132, Novus Biologicals), phospho-p70 S6 kinase (p-p70-S6K; 9205, Cell Signaling Technology), phospho-4E-BP1 (2855, Cell Signaling Technology), β-Actin (clone AC-15, Sigma-Aldrich), Alexa Fluor- 488 (A-11008, Invitrogen), Alexa Fluor-594 (A11012, Invitrogen), HRP-anti-Mouse IgG (NA931V, GE Healthcare), and HRP-anti-Rabbit IgG (NA934V, GE Healthcare).
Reagents
used in this study are estrogen (17-β-estradiol) used at 10 nM (Sigma-Aldrich), MG132 used at 10 uM (Cayman Chemical).
Western blot
Western blots were performed as previously [
34
]. Briefly, cells were lysed with urea lysis buffer (9 M urea, 150 mM, β-mercaptoethanol and 75 mM Tris pH 7.4), or RIPA buffer (Cell Signaling #9806), sonicated for 30 s and centrifuge at 15,00 rpm at 4C for 30 min. Protein quantification was performed by Bradford (BioRad Cat.500-0205), and 20–100 μg of protein were loaded in each well of a polyacrylamide gel. PVDF membranes were blocked with 5% milk in TBS-T/0.05% (Tris Buffered Saline with Tween 20 to 0.05%) at room temperature (RT) for 30 min, primary antibodies were incubated overnight at 4C in TBS-T/0.05%. After washing with TBS-T/0.05%, secondary incubation was performed at RT for 45 min followed by TBST/0.05% washes. Western blot signal was detected using Enhanced Chemiluminescent (ECL) substrate (Pierce 32106, or GE Healthcare RPN2235) in a FlourChemE machine. Exposures were chosen to provide maximum visual information about the changes in band intensity without causing overexposures that would obscure faint signals in neighboring lanes. Each western blot was repeated from 3 to 6 times, and the averages and standard deviations for the intensities of the western blot replicates for each figure are graphed and presented in tabular form in the Additional files, as indicated throughout the manuscript.
Immune fluorescence
Cells were cultured on glass coverslips in six well plates, using complete media (RPMI or DMEM) with phenol red, supplemented with 10% FBS. Hypoxic samples were placed into the HypOxygen H35 Workstation for 48 h. Coverslips were washed twice in Phosphate Buffered Saline (PBS), fixed in Acetone 10 min at -20C, PBS washed, and nonspecific antibody binding blocked with 10% Bovine Serum Albumen (BSA) and 5% goat serum. Antibodies specific for the estrogen receptor alpha chain (Santa Cruz Biotechnology, HC-20 sc-543) were used at 1:100, anti- rabbit-488 (Molecular Probes/Invitrogen) at 1:1000. Nuclei were counterstained with DAPI (4',6-diamidino-2-phenylindole).
Plasmids
Plasmid transfection was performed using Lipofectamine (Invitrogen) and Plus Reagent (Invitrogen) in Opti-MEM. ShScramble, sh
HIF1A
and sh
HIF2A
plasmids were previously described [
34
], HIF-1αODD was used to produce stabilize HIF-1α at normoxia [
23
] pCMV-hER-α was used to overexpress ER-α [
35
]. Reporter assays used ALT-4, a plasmid encoding canonical Estrogen Response DNA binding sequences (Estrogen Response Elements, ERE) controlling expression of firefly luciferase [
35
].
Hypoxia treatment
Cells were subjected to 1% O 2 for the specified time (HypOxygen H35 Workstation). Cells were passaged under normoxic conditions but cultured and harvested inside the hypoxia chamber.
ER-α reporter assays and analysis of media estrogenic effects
To test the estrogenic effects of our normal culture media, cells were transfected with a plasmid encoding canonical Estrogen Response DNA binding sequences (Estrogen Response Elements, ERE) controlling expression of firefly luciferase [
35
]. The media we tested included: 1) "standard growth media" containing phenol red, (DMEM for MCF7 or RPMI for BT474, T47D and ZR75B) with 10% FBS; or 2) "E
2
(−), estradiol-free" composed of phenol red-free DMEM with 10% charcoal stripped FBS; or 3) "E
2
(+), defined estrogen media", composed of phenol red-free DMEM, 10% charcoal stripped FBS supplemented with 10 nM estradiol. Cells incubated with either standard growth media or cells grown in defined estrogen medium had similarly high levels of luciferase signal (Additional file
2
). Since there was no difference between the standard media and the estrogen-defined, phenol red-free media, all experiments, ER-α transcriptional activity assays and proliferation assays were performed in standard media.
For experiments in Fig.
4
, cells were transfected with a plasmid encoding canonical Estrogen Response DNA binding sequences (Estrogen Response Elements, ERE) controlling expression of firefly luciferase [
35
] and incubated at normoxia or at hypoxia for 48 h.
All luciferase activity was determined by Dual-Glo Luciferase assay reagent (Promega) measured in a Monolight 2010 Luminometer (Promega). Firefly luciferase was normalized to protein concentration.
In vitro growth curves
One hundred thousand cells were plated on 6-well plates in triplicate. The following day, cells were washed with PBS, and phenol red free DMEM with 10% charcoal stripped FBS was added. 10 nM estradiol was added for E 2 (+) media or ethanol carrier for the E 2 (−) media. Every 3 to 4 days, cells were counted.
Cell cycle analysis
Cells were plated into 6-well plates and cultured under appropriate conditions for 3 days (MCF7, T47D, ZR-75-B) or 6 days (BT474). Cells were harvested, fixed and permeabilized in suspension in 70% ethanol, nuclei were stained with 40 μg/ml propidium iodide and 100 μg/ml RNAse A. DNA content was analyzed using an Accuri C6 Fluorescence Activated Cell Sorter (BD Biosciences). At least 150,000 cells were analyzed per sample. Cell cycle fractions were determined using the cell cycle analysis component in the FLOWJO software package (FLOWJO Enterprise).
Real-time quantitative reverse transcriptase PCR
Total RNA was extracted from cells using RNeasy Mini Kit (Qiagen) following the manufacturer's instructions. cDNA was generated from 1.5 μg of RNA using iScript (BioRad) following the manufacturer's instruction. Power SYBR Green PCR reactions were performed in triplicate for each sample and analyzed using the AB Step One Plus sequence detection system. Data were normalized to TBP levels.
Statistical analysis
Student's
t
-test was used to determine significance. All error bars represent the standard error of the mean. Two way ANOVA was performed for the growth curve experiments in Fig.
5
using the Graphpad Software package. Student's
t
-test was also used to analyze whether our data would reveal enhanced proteolysis of the estrogen receptor alpha under hypoxic conditions reported in Fig.
3d
and Additional file
3
D . Although we may not have thoroughly inhibited proteolysis in these experiments, the MCF7 sample showed a statistically clear increase in protein stability with MG132 treatment in hypoxic conditions versus normoxic conditions, (significance level (alpha) = 0.05,
p
 = 0.044), Additional file
3
D. Data for the other three cell lines did not reach this significance, with p values for BT474 of 0.765, for T47D of 0.98, and for ZR-75-B of 0.69.
Results
Discussion
Conclusions
This study is the first comprehensive overview of the effects of low environmental oxygen on ER-α abundance and transcriptional activity in a diverse set of culture adapted tumor cell lines independently derived from ER-α positive breast cancer patients. Our uniform, detailed analysis of this panel reveals surprising and potentially actionable homogeneity in the effect of hypoxia on ER-α. Our findings that there is a common requirement for the proteasome and HIF-1α in ER-α repression in hypoxic environments, among many different breast cancer genomes implies that ubiquitin ligase or proteasome inhibitors might be widely used in the clinic to potentiate the effects of hormonal therapies or delay/prevent therapeutic resistance. Similarly, the common requirement for HIF-1α activity implies that specific HIF inhibitors currently under development may also and perhaps more specifically improve current endocrine therapies. Thus this analysis reveals multiple new ideas for badly-needed improvements in endocrine-based therapeutics.
Acknowledgements
The authors thank Dr. Joe Gray for the panel of breast cancer cell lines and Dr David Shapiro (University of Illinois) for the ER-α and ER-luciferase reporter plasmids. We also thank Ricardo A. Mejia and Gloria E. Reynolds for technical assistance and Drs. Amato J. Giaccia, John P Murnane, Ester M. Hammond, Christine Janson, Lara Cobler, and Trent A. Watkins for helpful discussions.
Funding
This investigation was supported by startup funds provided to D.A.C. from the Department of Radiation Oncology, the V Foundation. A.J.K., NIH P20 GM104936 and NIH CA125618; L.A.T. NIH/NCI Bay Area Breast Cancer SPORE P50 CA58027. None of the funding sources had any role in the study design, data collection/analysis, interpretation of data, or writing of the manuscript.
Availability of data and material
Data sharing is not applicable to this article as no datasets were generated or analyzed during the current study. All other data generated or analyzed during this study are included in this published article [and the Additional files].
Author's contributions
MP made substantial contributions to the conception, design, data acquisition, and analysis of all data presented and is a major contributor to the manuscript production and editing. RJL provided substantial contribution to the conception, design and analysis of the data presented. BVL provided substantial technical contribution to the production of data, particularly the growth curves in Fig.
5
, and contributed to the analysis of all data. LAT provided substantial intellectual contribution to the conception, design, and analysis of the data, directly performed experiments reported in Fig.
1c
, and Fig.
5g
, and is a major contributor to the manuscript production and editing. AJK provided substantial intellectual input regarding ER positive breast cancer, hypoxia and interpretation of experimental results. DAC PI, originator of the project, conceived, designed, and interpreted all experiments, wrote original manuscript drafts. All authors provided critical reviews of early manuscript drafts, have given final approval of the version to be published, and agree to be accountable for all aspects of the work, in ensuring that questions related to the accuracy or integrity of any part of the work are appropriately investigated and resolved.
Competing interests
The authors declare that they have no competing interests.
Consent for publication
Not applicable.
Ethics approval and consent to participate
Not applicable.
Open Access
This article is distributed under the terms of the Creative Commons Attribution 4.0 International License (
http://​creativecommons.​org/​licenses/​by/​4.​0/​
), which permits unrestricted use, distribution, and reproduction in any medium, provided you give appropriate credit to the original author(s) and the source, provide a link to the Creative Commons license, and indicate if changes were made. The Creative Commons Public Domain Dedication waiver (
http://​creativecommons.​org/​publicdomain/​zero/​1.​0/​
) applies to the data made available in this article, unless otherwise stated.