01.12.2017 | Research article | Ausgabe 1/2017 Open Access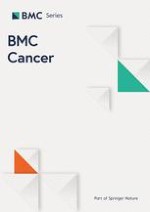 Genome-wide methylation analysis identifies a core set of hypermethylated genes in CIMP-H colorectal cancer
Zeitschrift:
Autoren:

Tyler McInnes, Donghui Zou, Dasari S. Rao, Francesca M. Munro, Vicky L. Phillips, John L. McCall, Michael A. Black, Anthony E. Reeve, Parry J. Guilford
Wichtige Hinweise
Electronic supplementary material
The online version of this article (doi:
10.​1186/​s12885-017-3226-4
) contains supplementary material, which is available to authorized users.
Abbreviations
CIMP
CpG island methylator phenotype
MSI
Microsatellite instability
SAM
Significance analysis of microarrays
TSS
Transcriptional start site
Background
Colorectal cancer (CRC) is a prevalent disease, particularly in the Western world, with 1.36 mm cases diagnosed worldwide in 2012 [
1
]. As with all cancers, CRC encompasses multiple molecular subtypes with specific characteristics [
2
]. The CpG island methylator phenotype (CIMP) is one subtype, and describes tumours with a high frequency of hypermethylation at CpG islands [
3
].
While there is no consensus on a gene panel to determine the CIMP status of a tumour, one of the most commonly used is the Weisenberger panel of genes comprising of
CACNA1G, NEUROG1, RUNX3, SOCS1
and
IGF2
[
4
]. CIMP can be further split into CIMP-high (CIMP-H) and CIMP-low (CIMP-L), which show high and intermediate levels of hypermethylation respectively [
5
]. The CIMP-L subtype, defined as tumours with 1/5 to 3/5 of these marker genes methylated, is associated with
KRAS
mutations and is more common in men [
5
]. CIMP-H tumours, defined as tumours with hypermethylation at >3/5 marker genes, are significantly associated with mutations in
BRAF
, female patients and location in the proximal colon [
4
,
5
]. Recently, colorectal tumours have been split into further methylation subtypes. Hinoue et al. identified four subtypes based on hierarchical clustering of DNA methylation at loci exhibiting high inter-tumour variability [
6
]. Two, representing CIMP-H and CIMP-L tumours, were associated with
BRAF
and
KRAS
mutations, respectively. Tumours in the third cluster were associated with
TP53
mutations and prevalence in the distal colon, while the fourth cluster was enriched for tumours from the rectum, with low rates of
KRAS
and
TP53
mutations.
Hypermethylation occurs primarily at CpG islands, the majority of which are unmethylated in normal tissue and are found near the promoter region of approximately 70% of mammalian genes. ChIP-Seq experiments have demonstrated proteins including KDM2A and CFP1 preferentially bind unmethylated CpG islands [
7
,
8
]. The regions surrounding CpG islands, termed island shores, are important for cellular differentiation and are also targets of aberrant methylation in cancer [
9
]. Hypermethylation in cancer occurs preferentially at genes that, in embryonic stem cells, exhibit the repressive H3K27me3 histone modification laid down by the Polycomb group (PcG) proteins [
10
]. Cells lacking members of the PcG complex are unable to complete normal cellular differentiation [
11
]. Many H3K27me3 marked genes also harbor the activating H3K4me3 mark in embryonic stem cells, a state referred to as 'bivalent', and these genes are enriched for roles in development and differentiation [
12
,
13
]. Preferential hypermethylation of developmental and differentiation genes supports the epigenetic switching model, in which developmental regulators that are temporarily silenced by histone modification in stem or progenitor cells are often heavily DNA methylated in cancer [
14
]. This model proposes that bivalent genes, which would normally lose PcG protein occupancy and become upregulated, are maintained in a stably repressed state by the presence of aberrant DNA methylation, inhibiting differentiation [
14
,
15
].
In this study, we characterized global cancer-specific methylation patterns of 94 CRC tumour samples and matched tissues at very high resolution. We find the frequency of hypermethylation at genes follows a steady continuum from CIMP-N to CIMP-L to CIMP-H tumours. We identified a core set of 132 genes that were hypermethylated in all CIMP-H tumours and associated preferentially with genes involved in development and differentiation.
Methods
Results
Discussion
An unexpected finding during our analysis was that a small number of tumours classified as CIMP-H had fewer hypermethylated genes than some CIMP-L tumours, and a small subset of CIMP-N tumours had a higher number of hypermethylated genes than some CIMP-L tumours. Thus, there is no distinct boundary in the number of hypermethylated genes between the CIMP subtypes, despite a difference in the average number of hypermethylated genes between the subtypes. The lack of distinct boundaries between CIMP groups might be explained by a variable number of stochastic hypermethylation events that contribute to the overall frequency of hypermethylated genes in each tumour.
Conclusion
In summary, the data presented here show that against a variable background of sporadic hypermethylation occurring in all CRC samples studied, a core set of genes are hypermethylated in CIMP-H tumours at a very high frequency. These core hypermethylation events may reflect selection pressures on the cell, the upstream disruption of critical cancer pathways, or, alternatively, highlight a distinct cell of origin for CIMP-H tumours.
Acknowledgements
We thank Dianne Hyndman of AgResearch at the Invermay Agricultural Centre for assistance with the Illumina HumanMethylation arrays. We thank Associate Professor Richie Soong and Dr. Touati Benoukraf at the Cancer Science Institute at the National University of Singapore for their help and guidance, and the Marjorie McCallum scholarship which facilitated travel to Singapore.
Funding
University of Otago provided funding for this research but did not contribute to the study design, data collection, analysis, or production of this manuscript.
Availability of data and materials
Data is available on the Gene Expression Omnibus (GEO accession No. GSE77718).
Authors' contributions
Authors contributions: acquisition of data: JM, VP, FM, DZ, DR; analysis and interpretation: TM, MB, AR, PG; writing and revision of the manuscript: TM, AR, PG. All authors read and approved the final manuscript.
Competing interests
The authors of this publication declare no conflict of interest.
Consent for publication
Not applicable.
Ethics approval and consent to participate
Consent for tissue collection was collected from participants in written form. Ethical approval was granted by the Lower South Regional Ethics Committee (LRS/10/11/054).
Publisher's Note
Springer Nature remains neutral with regard to jurisdictional claims in published maps and institutional affiliations.
Open Access
This article is distributed under the terms of the Creative Commons Attribution 4.0 International License (
http://​creativecommons.​org/​licenses/​by/​4.​0/​
), which permits unrestricted use, distribution, and reproduction in any medium, provided you give appropriate credit to the original author(s) and the source, provide a link to the Creative Commons license, and indicate if changes were made. The Creative Commons Public Domain Dedication waiver (
http://​creativecommons.​org/​publicdomain/​zero/​1.​0/​
) applies to the data made available in this article, unless otherwise stated.