11.01.2017 | Original Paper | Ausgabe 3/2017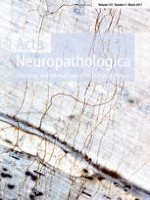 Genome-wide methylation profiles in primary intracranial germ cell tumors indicate a primordial germ cell origin for germinomas
Zeitschrift:
Autoren:

Shintaro Fukushima, Satoshi Yamashita, Hisato Kobayashi, Hirokazu Takami, Kohei Fukuoka, Taishi Nakamura, Kai Yamasaki, Yuko Matsushita, Hiromi Nakamura, Yasushi Totoki, Mamoru Kato, Tomonari Suzuki, Kazuhiko Mishima, Takaaki Yanagisawa, Akitake Mukasa, Nobuhito Saito, Masayuki Kanamori, Toshihiro Kumabe, Teiji Tominaga, Motoo Nagane, Toshihiko Iuchi, Koji Yoshimoto, Masahiro Mizoguchi, Kaoru Tamura, Keiichi Sakai, Kazuhiko Sugiyama, Mitsutoshi Nakada, Kiyotaka Yokogami, Hideo Takeshima, Yonehiro Kanemura, Masahide Matsuda, Akira Matsumura, Kazuhiko Kurozumi, Keisuke Ueki, Masahiro Nonaka, Akio Asai, Nobutaka Kawahara, Yuichi Hirose, Tatusya Takayama, Yoichi Nakazato, Yoshitaka Narita, Tatsuhiro Shibata, Masao Matsutani, Toshikazu Ushijima, Ryo Nishikawa, Koichi Ichimura, On behalf of The Intracranial Germ Cell Tumor Genome Analysis Consortium (The iGCTConsortium)
Wichtige Hinweise
Electronic supplementary material
The online version of this article (doi:
10.​1007/​s00401-017-1673-2
) contains supplementary material, which is available to authorized users.
Abstract
Intracranial germ cell tumors (iGCTs) are the second most common brain tumors among children under 14 in Japan. The World Health Organization classification recognizes several subtypes of iGCTs, which are conventionally subclassified into pure germinoma or non-germinomatous GCTs. Recent exhaustive genomic studies showed that mutations of the genes involved in the MAPK and/or PI3K pathways are common in iGCTs; however, the mechanisms of how different subtypes develop, often as a mixed-GCT, are unknown. To elucidate the pathogenesis of iGCTs, we investigated 61 GCTs of various subtypes by genome-wide DNA methylation profiling. We showed that pure germinomas are characterized by global low DNA methylation, a unique epigenetic feature making them distinct from all other iGCTs subtypes. The patterns of methylation strongly resemble that of primordial germ cells (PGC) at the migration phase, possibly indicating the cell of origin for these tumors. Unlike PGC, however, hypomethylation extends to long interspersed nuclear element retrotransposons. Histologically and epigenetically distinct microdissected components of mixed-GCTs shared identical somatic mutations in the MAPK or PI3K pathways, indicating that they developed from a common ancestral cell.