01.12.2017 | Research | Ausgabe 1/2017 Open Access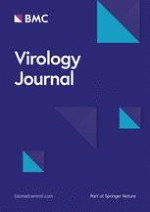 Genomic organization and recombination analysis of a porcine sapovirus identified from a piglet with diarrhea in China
Zeitschrift:
Autoren:

Jingjiao Li, Quan Shen, Wen Zhang, Tingting Zhao, Yi Li, Jing Jiang, Xiangqian Yu, Zhibo Guo, Li Cui, Xiuguo Hua
Abstract
Background
Sapovirus (SaV), a member of the family
Caliciviridae
, is an etiologic agent of gastroenteritis in humans and pigs. To date, both intra- and inter-genogroup recombinant strains have been reported in many countries except for China. Here, we report an intra-genogroup recombination of porcine SaV identified from a piglet with diarrhea of China.
Methods
A fecal sample from a 15-day-old piglet with diarrhea was collected from Shanghai, China. Common agents of gastroenteritis including porcine circovirus type 2, porcine rotavirus, porcine transmissible gastroenteritis virus, porcine SaV, porcine norovirus, and porcine epidemic diarrhea virus were detected by RT-PCR or PCR method. The complete genome of porcine SaV was then determined by RT-PCR method.
Phylogenetic analyses based on the structural region and nonstructural (NS) region were carried out to group this SaV strain, and it was divided into different genotypes based on these two regions. Recombination analysis based on the genomic sequence was further performed to confirm this recombinant event and locate the breakpoint.
Results
All of the agents showed negative results except for SaV. Analysis of the complete genome sequence showed that this strain was 7387 nt long with two ORFs and belonged to SaV GIII. Phylogenetic analyses of the structural region (complete VP1 nucleotide sequences) grouped this strain into GIII-3, whereas of the nonstructural region (RdRp nucleotide sequences) grouped this strain into GIII-2. Recombination analysis based on the genomic sequence confirmed this recombinant event and identified two parental strains that were JJ259 (KT922089, GIII-2) and CH430 (KF204570, GIII-3). The breakpoint located at position 5139 nt of the genome (RdRp-capsid junction region). Etiologic analysis showed the fecal sample was negative with the common agents of gastroenteritis, except for porcine SaV, which suggested that this recombinant strain might lead to this piglet diarrhea.
Conclusions
P2 strain was an intra-genogroup recombinant porcine SaV. To the best of our knowledge, this study would be the first report that intra-genogroup recombination of porcine SaV infection was identified in pig herd in China.