01.12.2016 | Research | Ausgabe 1/2016 Open Access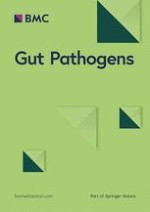 Genotyping and antibiotic resistance of thermophilic
Campylobacter

isolated from chicken and pig meat in Vietnam
Zeitschrift:
Autoren:

Tuan Ngoc Minh Nguyen, Helmut Hotzel, Hosny El-Adawy, Hanh Thi Tran, Minh Thi Hong Le, Herbert Tomaso, Heinrich Neubauer, Hafez Mohamed Hafez
Abstract
Background
Campylobacter
species are recognized as the most common cause of foodborne bacterial gastroenteritis in humans. In this study nine
Campylobacter
strains isolated from chicken meat and pork in Hanoi, Vietnam, were characterized using molecular methods and tested for antibiotic resistance.
Results
The nine isolates (eight
C. jejuni
and one
C. coli
) were identified by multiplex PCR, and tested for the presence or absence of 29 gene loci associated with virulence, lipooligosaccharide (LOS) biosynthesis and further functions.
fla
A typing, multilocus sequence typing and microarray assay investigation showed a high degree of genetic diversity among these isolates. In all isolates motility genes (
fla
A,
fla
B,
flh
A,
fli
M), colonization associated genes (
cad
F,
doc
B), toxin production genes (
cdt
A,
cdt
B,
sec
D,
sec
F), and the LOS biosynthesis gene
pgl
B were detected. Eight gene loci (
fli
Y,
vir
B11, Cje1278, Cj1434c, Cj1138, Cj1438c, Cj1440c, Cj1136) could not be detected by PCR. A differing presence of the gene loci
cia
B (22.2 %), Cje1280 (77.8 %),
doc
C (66.7 %), and
cgt
B (55.6 %) was found.
iam
A,
cdt
C, and the type 6 secretion system were present in all
C. jejuni
isolates but not in
C. coli
.
fla
A typing resulted in five different genotypes within
C. jejuni
, MLST classified the isolates into seven sequence types (ST-5155, ST-6736, ST-2837, ST-4395, ST-5799, ST-4099 and ST-860). The microarray assay analysis showed a high genetic diversity within Vietnamese
Campylobacter
isolates which resulted in eight different types for
C. jejuni
. Antibiotic susceptibility profiles showed that all isolates were sensitive to gentamicin and most isolates (88.8 %) were sensitive to chloramphenicol, erythromycin and streptomycin. Resistance rates to nalidixic acid, tetracycline and ciprofloxacin were 88.9, 77.8 and 66.7 %, respectively.
Conclusions
To the best of our knowledge, this study is the first report that shows high genetic diversity and remarkable antibiotic resistance of
Campylobacter
strains isolated from meat in Vietnam which can be considered of high public health significance. These preliminary data show that large scale screenings are justified to assess the relevance of
Campylobacter
infections on human health in Vietnam.