27.10.2021 | Empfehlungen und Stellungnahmen von Fachgesellschaften | Sonderheft 2/2021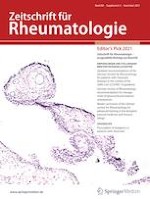 German Society of Rheumatology recommendations for management of glucocorticoid-induced osteoporosis
Zeitschrift:
Autoren:

Jan Leipe, Julia U. Holle, Christiane Weseloh, Alexander Pfeil, Klaus Krüger
Wichtige Hinweise
Supplementary Information
×
Scan QR code & read article online
Abstract
Background
Glucocorticoids are of substantial therapeutic importance in the treatment of inflammatory diseases, but are also associated with bone mineral density loss, osteoporosis, and fractures, especially with long-term use.
Objective
To develop recommendations for the management of glucocorticoid-induced osteoporosis (GIOP) in adult patients on long-term glucocorticoid (GC) treatment.
Methods
A systematic literature search (SLR) was conducted to synthesize the evidence for GIOP prevention and treatment options. Recommendations were developed based on SLR/level of evidence and by previously defined questions and in a structured group consensus process.
Results
Recommendations include supplementation with calcium and vitamin D under long-term GC therapy in adults. If specific osteologic treatment is indicated, we recommend bisphosphonates or denosumab as first-line treatment. If fracture risk is high, we recommend teriparatide as primary specific osteologic treatment. Denosumab should be used in cases of severe renal insufficiency, and specific osteologic treatment should not be given in pregnancy. For patients who have not reached the treatment goal, a switch to another class of specific osteologic drugs should be performed. We recommend re-evaluation after a treatment duration of 3–5 years or after termination of long-term GC treatment.
Conclusion
This work aims to provide evidence-based and consensus-based recommendations for the best possible management of GIOP in Germany and to support treatment decisions.