04.03.2019 | Review | Ausgabe 2/2019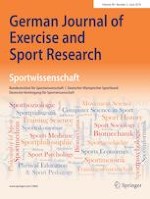 Germany's 2018 report card on physical activity for children and youth
Zeitschrift:
Autoren:

Prof. Dr. Yolanda Demetriou, Jens Bucksch, Antje Hebestreit, Annegret Schlund, Claudia Niessner, Steffen C. E. Schmidt, Jonas David Finger, Michael Mutz, Klaus Völker, Lutz Vogt, Alexander Woll, Anne K. Reimers
Abstract
The German Report Card on Physical Activity for Children and Youth 2018 provides a summary and a comprehensive evaluation of physical activity levels and correlated indicators using the Active Healthy Kids Canada grading framework. The Report Card aims to benchmark the national actions promoting physical activity in children and youth in Germany with the overarching goal to raise awareness for the promotion of physical activity. The 2018 German Report Card focuses on adherence to physical activity and sedentary time recommendations identified by an expert panel. Additionally, settings and sources of influence as well as strategies and investments towards physical activity are analyzed. Sources included national surveys, peer-reviewed literature, as well as government and non-government reports. The expert panel assigned grades to the ten Report Card indicators using existing benchmarks. Most children and youth in Germany failed to meet the World Health Organization recommendation for physical activity and engaged in high levels of sedentary behaviours despite favourable conditions within the relevant settings (e. g., schools). Therefore, we assigned poor grades for most behavioural indicators ("
overall physical activity
", "
sedentary behaviour
", "
active play
" and "
active transportation
") with the exception of "
organized sport participation
". It was not possible to assign grades for two indicators—"
physical fitness
" and "
government
"—due to insufficient evidence. The fact that no evaluated government policy exists to promote physical activity in children and youth signals a need for further government action to promote physical activity and create environments that support healthy active living among children and youth in Germany.