01.12.2017 | Research article | Ausgabe 1/2017 Open Access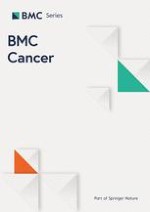 Germline
EMSY

sequence alterations in hereditary breast cancer and ovarian cancer families
Zeitschrift:
Autoren:

Kirsi M. Määttä, Riikka Nurminen, Minna Kankuri-Tammilehto, Anne Kallioniemi, Satu-Leena Laasanen, Johanna Schleutker
Wichtige Hinweise
Electronic supplementary material
The online version of this article (doi:
10.​1186/​s12885-017-3488-x
) contains supplementary material, which is available to authorized users.
Abstract
Background
BRCA1
and
BRCA2
mutations explain approximately one-fifth of the inherited susceptibility in high-risk Finnish hereditary breast and ovarian cancer (HBOC) families.
EMSY
is located in the breast cancer-associated chromosomal region 11q13. The
EMSY
gene encodes a BRCA2-interacting protein that has been implicated in DNA damage repair and genomic instability. We analysed the role of germline
EMSY
variation in breast/ovarian cancer predisposition. The present study describes the first
EMSY
screening in patients with high familial risk for this disease.
Methods
Index individuals from 71 high-risk,
BRCA1/2
-negative HBOC families were screened for germline
EMSY
sequence alterations in protein coding regions and exon-intron boundaries using Sanger sequencing and TaqMan assays. The identified variants were further screened in 36 Finnish HBOC patients and 904 controls. Moreover, one novel intronic deletion was screened in a cohort of 404 breast cancer patients unselected for family history. Haplotype block structure and the association of haplotypes with breast/ovarian cancer were analysed using Haploview. The functionality of the identified variants was predicted using Haploreg, RegulomeDB, Human Splicing Finder, and Pathogenic-or-Not-Pipeline 2.
Results
Altogether, 12 germline
EMSY
variants were observed. Two alterations were located in the coding region, five alterations were intronic, and five alterations were located in the 3'untranslated region (UTR). Variant frequencies did not significantly differ between cases and controls. The novel variant, c.2709 + 122delT, was detected in 1 out of 107 (0.9%) breast cancer patients, and the carrier showed a bilateral form of the disease. The deletion was absent in 897 controls (OR = 25.28;
P
= 0.1) and in 404 breast cancer patients unselected for family history. No haplotype was identified to increase the risk of breast/ovarian cancer. Functional analyses suggested that variants, particularly in the 3'UTR, were located within regulatory elements. The novel deletion was predicted to affect splicing regulatory elements.
Conclusions
These results suggest that the identified
EMSY
variants are likely neutral at the population level. However, these variants may contribute to breast/ovarian cancer risk in single families. Additional analyses are warranted for rare novel intronic deletions and the 3'UTR variants predicted to have functional roles.