01.12.2012 | Epidemiology | Ausgabe 3/2012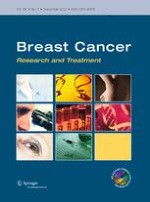 Germline mutations in
RAD51C

in Jewish high cancer risk families
Zeitschrift:
Autoren:

Anya Kushnir, Yael Laitman, Shani Paluch Shimon, Raanan Berger, Eitan Friedman
Abstract
Germline mutations in
BRCA1
and
BRCA2
account for ~30 % of inherited breast cancer.
RAD51C
was reported as an additional breast/ovarian cancer susceptibility gene in some populations. There is a paucity of data on the putative contribution of this gene to inherited breast/ovarian cancer in Jewish high risk families. High risk Jewish women, none of whom was a carrier of the predominant Jewish mutations in
BRCA1
or
BRCA2
, were screened for
RAD51C
germline mutations by direct sequencing of exons and flanking intronic sequences. Overall, 206 high risk women, 79 (38.3 %) of Ashkenazi origin, were genotyped for
RAD51C
mutations: 190 (92.3 %) with uni- or bilateral breast cancer (mean age at diagnosis 51.3 ± 11.1 years), 14 with ovarian cancer (mean age at diagnosis 55.6 ± 8.7 years), and two with both breast and ovarian cancer. No truncating mutations were noted, and two previously described missense mutations were detected: p.Ile144Thr and p.Thr287Ala in Iraqi and mixed ethnicity Balkan-North African participants, respectively. These missense mutations were evolutionarily conserved, possibly pathogenic, based on some prediction algorithms, and were not detected in any of healthy Iraqi (
n
= 60) and mixed ethnicity (
n
= 140), cancer free controls, respectively. Germline mutations in
RAD51C
contribute marginally to breast and ovarian cancer susceptibility in ethnically diverse, Jewish high risk families. The p.Thr287Ala missense mutation may be a recurring, pathogenic
RAD51C
mutation in ethnically diverse populations.