22.02.2019 | Epidemiology | Ausgabe 2/2019 Open Access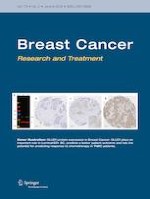 Germline
TP53

mutation spectrum in Sudanese premenopausal breast cancer patients: correlations with reproductive factors
Zeitschrift:
Autoren:

Gitana Maria Aceto, Khalid Dafaallah Awadelkarim, Marta Di Nicola, Carmelo Moscatello, Mattia Russel Pantalone, Fabio Verginelli, Nasr Eldin Elwali, Renato Mariani-Costantini
Wichtige Hinweise
Electronic supplementary material
Publisher's Note
Springer Nature remains neutral with regard to jurisdictional claims in published maps and institutional affiliations.
Abstract
Purpose
The role of non-genetic factors as modifiers of
TP53
-related hereditary breast cancer (BC) risk is debated. In this regard, little is known about the impact of germline
TP53
mutations on BC in sub-Saharan Africa, where the disease often presents in non-contraceptive multiparous premenopausal women with extended history of breastfeeding. Herein, we report the germline
TP53
mutations found in a series of 92 Sudanese premenopausal BC patients characterized for reproductive history.
Methods
The entire
TP53
coding sequence, including intron–exon boundaries and UTRs, was analyzed via DHPLC and direct sequencing, and the association of
TP53
genotypes with BC risk and with individual lifetime exposures to reproductive factors was investigated with statistical tools.
Results
The germline
TP53
mutation spectrum comprised 20 variants, 15 in the non-coding and 5 in the coding region. The latter included a deleterious missense mutation, c.817C>T (p.Arg273Cys), in a unique patient, and the common and functionally relevant coding polymorphism at amino acid 72 [Pro72Arg (rs1042522)]. The non-coding mutations included c.919+1G>A, a known deleterious splice site mutation, also in a unique patient. Notably, the 2 carriers of deleterious
TP53
mutations clustered in the subset of cases with stronger reproductive history relative to childbearing age. When analyzed in comparison to population controls, the codon 72 polymorphism did not reveal associations with BC.
Conclusions
Our study suggests that the codon 72 Arg>Pro polymorphism is not implicated in premenopausal BC susceptibility, whereas multiparity and breastfeeding might be BC risk factors for carriers of deleterious
TP53
mutations.