01.12.2017 | Case report | Ausgabe 1/2017 Open Access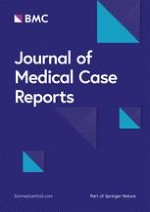 Giant gastric gastrointestinal stromal tumor with severe peritoneal dissemination controlled by imatinib therapy following debulking surgery: a case report
Zeitschrift:
Autoren:

Shuichi Fukuda, Yoshinori Fujiwara, Tomoko Wakasa, Kotaro Kitani, Masanori Tsujie, Masao Yukawa, Yoshio Ohta, Masatoshi Inoue
Abstract
Background
At the time of diagnosis, giant gastric gastrointestinal stromal tumors are sometimes associated with severe peritoneal dissemination. Unresectable gastrointestinal stromal tumors are considered a systemic disease; therefore, imatinib therapy is currently the primary treatment option in these cases.
Case presentation
A 49-year-old Japanese woman was referred to our hospital with symptoms of anorexia, abdominal discomfort, and a palpable abdominal mass. Contrast-enhanced computed tomography revealed a huge mass with an irregular wall, approximately 22 cm in size, located between the posterior gastric wall and her pancreas. The tumor grew rapidly, and her abdominal symptoms worsened; therefore, a semi-urgent laparotomy was performed. The tumor had arisen from her upper stomach and was removed by wedge resection of her stomach. In addition, widely distributed multiple white nodules were noted, which were resected as far as possible. Immunohistochemical staining of the resected specimen was positive for KIT and CD34. The resected white nodules contained the same cells as the primary tumor. Based on these pathological findings, a final diagnosis of a gastric gastrointestinal stromal tumor with peritoneal dissemination was made. Imatinib was administered at 400 mg per day from 1 month postoperatively. The disease progression of the residual disseminated lesions was favorably controlled, and our patient is now doing well, 12 months after surgery.
Conclusions
Imatinib therapy following debulking surgery can show dramatic effectiveness in giant gastric gastrointestinal stromal tumors with severe peritoneal dissemination.