01.12.2017 | Case report | Ausgabe 1/2017 Open Access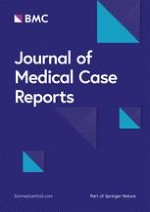 Giant gastric gastrointestinal stromal tumor with severe peritoneal dissemination controlled by imatinib therapy following debulking surgery: a case report
Zeitschrift:
Autoren:

Shuichi Fukuda, Yoshinori Fujiwara, Tomoko Wakasa, Kotaro Kitani, Masanori Tsujie, Masao Yukawa, Yoshio Ohta, Masatoshi Inoue
Abbreviations
GIST
Gastrointestinal stromal tumor
Background
Gastrointestinal stromal tumors (GISTs) are the most common mesenchymal tumors of the gastrointestinal tract [
1
]. Primary GISTs can arise anywhere along the gastrointestinal tract; however, a majority arises in the stomach (50 to 60 %) [
2
]. Gastric GISTs are clinically asymptomatic until they reach a significant size; therefore, a majority of GISTs are incidentally discovered either by diagnostic tests or during abdominal surgery. Giant gastric GISTs are infrequently associated with symptoms such as abdominal pain, digestive bleeding, and a palpable mass [
3
–
5
]. Such GISTs are aggressive and have the potential to cause distant metastases. Severe peritoneal dissemination is sometimes observed at the time of diagnosis of giant gastric GISTs and is associated with an extremely poor prognosis.
Recent progress in understanding the origin and molecular oncology of GISTs has contributed to a rapid improvement in their management [
6
]. Imatinib, which inhibits the KIT signal transduction pathway, is considered a promising therapeutic agent [
7
]. Unresectable GISTs are considered a systemic disease; therefore, imatinib therapy is currently the primary treatment option in these cases [
8
,
9
]. However, in clinical practice, a precedent surgery is performed for various reasons. Surgery is beneficial to control tumor-associated complications such as abdominal pain and digestive bleeding; therefore, a precedent surgery for unresectable GISTs is sometimes necessary.
Prior to the imatinib era, surgery traditionally played only a palliative role in patients with unresectable GISTs; however, with the introduction of imatinib, it may be necessary to reassess the role of surgery in these cases. Here we report the case of a patient with a giant gastric GIST with severe peritoneal dissemination, showing favorable progression control by postoperative imatinib therapy following debulking surgery. This case demonstrated that surgery can possibly play a role even in unresectable GISTs.
Case presentation
A 49-year-old Japanese woman was referred to our hospital with symptoms of anorexia, abdominal discomfort, and a palpable abdominal mass. She reported a 7 kg weight loss in a few months and had a medical history of hypertension and hyperlipidemia as well as a maternal history of gastric cancer. On performing a physical examination, a palpable mass was detected in her left upper abdominal quadrant. She had regular bowel movements with normal stools.
A complete blood count test revealed only mild microcytic hypochromic anemia (hemoglobin, 11.0 g/dL). A blood biochemical test revealed no abnormalities, except for an elevated lactate dehydrogenase level of 401 U/L. Her levels of tumor markers were assessed, including carcinoembryonic antigen, carbohydrate antigen 19-9, and α-fetoprotein, all of which were within normal ranges.
The tumor grew rapidly, and her abdominal symptoms worsened; therefore, a semi-urgent laparotomy was performed, although a definitive diagnosis could not be preoperatively made. After gastrocolic ligament division, a giant extraluminal tumor arising from the posterior wall of her upper stomach on the lesser curvature was noted. Furthermore, multiple white nodules, suspected of being disseminated lesions, were widely distributed in her greater omentum, lesser omentum, transverse mesocolon, and retroperitoneum. Serous ascites was also seen in the pouch of Douglas. The giant tumor adhered to her pancreas, transverse mesocolon, and transverse colon; however, the tumor was removed by wedge resection of her stomach following ligation of the vessels supplying the mass, without resecting other organs. The radical resection of the multiple white nodules was impossible; therefore, the nodules were resected as far as possible.
Discussion
As this was a single-patient case report, these findings need to be confirmed by the accumulation of prospective evidence from more patients in multiple institutions. Gastric GISTs are relatively rare; therefore, the number of patients treated in a single institution is limited. However, the current findings provide important information that can contribute to the development of a treatment strategy for giant gastric GISTs with severe peritoneal dissemination.
Conclusions
We reported the case of a patient with a giant gastric GIST with severe peritoneal dissemination showing favorable progression control by imatinib therapy following debulking surgery. The present case suggests that imatinib therapy following debulking surgery for giant gastric GISTs with severe peritoneal dissemination can show dramatic effectiveness.
Acknowledgements
The authors would like to thank Enago (
www.​enago.​jp
) for the English language review.
Funding
The authors declare that they did not receive any funding for this study.
Availability of data and materials
Not applicable.
Authors' contributions
SF designed the study and drafted the manuscript. SF and YF performed the operation. TW and YO performed the histopathological examination. KK, MT, MY, and MI participated in the manuscript revision process. All authors read and approved the final manuscript.
Competing interests
The authors declare that they have no competing interests.
Consent for publication
Written informed consent was obtained from the patient for publication of this case report and any accompanying images. A copy of the written consent is available for review by the Editor-in-Chief of this journal.
Ethics approval and consent to participate
The need for institutional ethics committee approval was waived because the content of this case report did not require ethics approval.
Open Access
This article is distributed under the terms of the Creative Commons Attribution 4.0 International License (
http://​creativecommons.​org/​licenses/​by/​4.​0/​
), which permits unrestricted use, distribution, and reproduction in any medium, provided you give appropriate credit to the original author(s) and the source, provide a link to the Creative Commons license, and indicate if changes were made. The Creative Commons Public Domain Dedication waiver (
http://​creativecommons.​org/​publicdomain/​zero/​1.​0/​
) applies to the data made available in this article, unless otherwise stated.