01.12.2018 | Case report | Ausgabe 1/2018 Open Access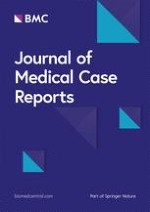 Giant prolactinoma, germline
BRCA1

mutation, and depression: a case report
Zeitschrift:
Autoren:

Rita Bettencourt-Silva, Joana Queirós, Josué Pereira, Davide Carvalho
Abstract
Background
Giant prolactinomas are very rare pituitary tumors that may exhibit an aggressive behavior and present with a life-threatening condition.
Case presentation
A 25-year-old white woman was admitted to our hospital with a headache, psychomotor retardation, reduced vision, and loss of autonomy in daily activities. Her past medical history was significant for having oligomenorrhea and a depressive syndrome since her mother's death. She also had a breast cancer gene 1 (
BRCA1
) mutation and a family history of breast cancer. She had marked hyperprolactinemia (7615 ng/dL), central hypocortisolism, growth hormone deficiency, and a giant pituitary tumor (52 × 30 × 33 mm) which was shown in magnetic resonance imaging with obstructive hydrocephalus, requiring emergency surgery. Treatment with cabergoline led to a 99.8% reduction in serum prolactin levels and significant tumor shrinkage. Her depressive symptoms progressively improved and psychiatric drugs were withdrawn after 3 months of cabergoline treatment. Currently, she is being followed in Endocrinology, Neurosurgery, and Neurophthalmology out-patient clinics and in a breast cancer unit. Careful monitoring, support, and follow-up will be essential throughout this patient's life.
Conclusions
This case is a rare presentation of a giant prolactinoma in a young woman, who presented a life-threatening event. She also had an unexpected association between diseases or symptoms that may have contributed to the delay in diagnosis. Given the concomitant presence of a giant prolactinoma, a
BRCA1
mutation, and depressive symptoms, a possible association was hypothesized. The breast cancer risk in a
BRCA1
mutation carrier and the possible interference of hyperprolactinemia and life events were also discussed. However this hypothesis requires further investigation.