11.01.2017 | Original Article | Ausgabe 3/2017 Open Access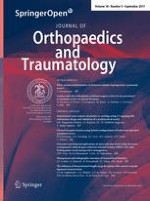 Glenoid baseplate fixation using hybrid configurations of locked and unlocked peripheral screws
Zeitschrift:
Autoren:

Nathan T. Formaini, Nathan G. Everding, Jonathan C. Levy, Brandon G. Santoni, Aniruddh N. Nayak, Cooper Wilson
Abstract
Background
The use of peripheral locked screws has reduced glenoid baseplate failure rates in reverse shoulder arthroplasty. However, situations may arise when one or more non-locked screws may be preferred. We aimed to determine if different combinations of locked and non-locked screws significantly alter acute glenoid baseplate fixation in a laboratory setting.
Materials and methods
Twenty-eight polyurethane trabecular bone surrogates were instrumented with a center screw-type glenoid baseplate and fixated with various combinations of peripheral locked and non-locked screws (1-, 2-, 3- and 4-locked con). Each construct was tested through a 55° arc of abduction motion generating compressive and shear forces across the glenosphere. Baseplate micromotion (μm) was recorded throughout 10,000 cycles for each model.
Results
All constructs survived 10,000 cycles of loading without catastrophic failure. One test construct in the 1-locked fixation group exhibited a measured micromotion >150 μm (177.6 μm). At baseline (
p
> 0.662) and following 10,000 cycles (
p
> 0.665), no differences were observed in baseplate micromotion for screw combinations that included one, two, three and four peripheral locked screws. The maximum difference in measured micromotion between the extremes of groups (1-locked and 4-locked) was 29 µm.
Conclusions
Hybrid peripheral screw fixation using combinations of locked and non-locked screws provides secure glenoid baseplate fixation using a polyurethane bone substitute model. Using a glenosphere with a 10-mm lateralized center of rotation, hybrid baseplate fixation maintains micromotion below the necessary threshold for bony ingrowth.
Level of Evidence
N/A/, basic science investigation.