01.12.2009 | Original Paper | Ausgabe 12/2009 Open Access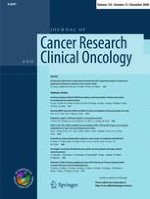 Glioblastoma cells express functional cell membrane receptors activated by daily used medical drugs
Zeitschrift:
Autoren:

Susanne A. Kuhn, Ulrike Mueller, Uwe-K. Hanisch, Christian R. A. Regenbrecht, Ilona Schoenwald, Michael Brodhun, Hartwig Kosmehl, Christian Ewald, Rolf Kalff, Rupert Reichart
Introduction
All these mechanisms regulate the important ion calcium. The expression of receptors and ion channels linked to intracellular calcium ion signaling have been shown for all types of glial cells in vitro as well as in situ and for different groups of neurons. The amplitude and kinetics of a calcium ion signal is determined by pharmacological features of the neuroligand receptor, the ion channel, and the parameters of its cytosolic calcium effector cascade. The release of calcium ions from inositol-1,4,5-triphopshate or ryanodine-sensitive intracellular calcium stores, the status of calcium release-activated calcium channels, and the efficacy of the calcium-buffering systems are significant terminators of the calcium response.
In the present study, human glioma cells were tested for their ability to raise the intracellular free calcium ion concentration upon stimulation of neuroligand receptors or ion channels via daily used medical drugs. Calcium imaging was used as a screening method to detect receptor mechanisms that could influence glioma biology significantly.
Materials and methods
Cell culture
Human glioma cell lines U373MG and U87MG were cultured for 5–10 days in Dulbecco's Modified Eagle Medium (DMEM) with the supplement of 10% fetal calf serum (FCS) at a temperature of 37°C, 5% carbon dioxide, 95% oxygen, and 95% humidity. Prior to measurements, cells were seeded on glass coverslips at a density of 1 × 10 4 cells and allowed to adapt for 24 h.
Calcium measurements via "Calcium Imaging"
All experiments were performed at least in triplicate under permanent perfusion with HEPES buffer made from NaCl (150 mM), KCl (5.4 mM), CaCl 2 (2 mM), MgCl 2 (1 mM), HEPES/NaOH (10 mM), and glucose (10 mM) at a pH of 7.35 at room temperature.
The "Calcium Imaging" is an imaging procedure, which measures the concentration of free intracellular calcium ions ([Ca
2+
]
i
) or their dynamic changes by fluometry. [Ca
2+
]
i
was monitored using the calcium-sensitive fluorescent indicator fura-2 acetoxy methyl ester (fura-2 AM) from Molecular Probes (Eugene, Oregon, USA). Fura-2 AM permeates through the cellular membrane and looses its ester bond by hydrolysis, which causes the generation of its acidic form (Fig.
1
). This acid (fura-2) does not diffuse out of the cell and specifically binds free calcium ions. By binding calcium ions, fura-2 changes its specific wave length and frequency. This change can be measured and calculated (Fig.
1
). Cells were loaded with fura-2 AM (5 μM; stock solution in DMSO) by incubation in bathing solution for 30 min at 37°C within the incubator. Subsequently, cells were superfused with HEPES buffer, and images were taken every 3 s. After 15 s, cells were stimulated with 25 different drugs for 30 s and the HEPES buffer solution as a negative control (Table
1
). For fura-2 excitation, cells were illuminated at two alternating wavelengths, 340 ± 5 and 380 ± 5 nm, respectively (Fig.
1
). Excitation was performed by a monochromator (Polychrome IV; T.I.L.L. Photonics, Martinsried, Germany). The emitted light was collected at 530 ± 10 nm by the long-term exposure CCD camera QuantiCam Long Exposure VGA-b/w (Phase, Luebeck, Germany) coupled to a Zeiss Axioskop (Oberkochen, Germany) equipped with a 20× water immersion Zeiss objective with a numerical aperture of 0.5 (Fig.
1
). The monochromator and CCD camera were controlled by TILL Photonics software TILLvisION (TILL Photonics, Graefelfing, Germany), being also used for image processing. Data analysis was performed after the definition of a region of interest (ROI) with standard personal computer software. The [Ca
2+
]
i
was calculated from the ratio (R) of fluorescence recorded at 340 and 380 nm excitation wavelengths (Fig.
1
). In all experiments, the basal calcium level within the cytoplasm before the stimulation with the 25 different substances was measured at the ratio (
R
= F340/380) between 0.3 and 0.5 that was in concordance with a typical ratio for viable resting cells (Fig.
1
). According to the shape of the resulting transient calcium signal, cellular responses were classified into distinct types (Fig.
1
).
Table 1
Summary of all tested 26 substances including their used dosage and their producing companies
Medical preparation

Dosage/amount

Purchased from

(1) Histamine

100 μM

Sigma Aldrich

Taufkirchen

Germany

(2) Substance P

100 μM

Sigma Aldrich

Taufkirchen

Germany

(3) Vasoactive intestinal polypeptide

100 μM

Sigma Aldrich

Taufkirchen

Germany

(4) Neurokinin A

100 μM, 10 μM

Sigma Aldrich

Taufkirchen

Germany

(5) Neurokinin B

10 μM

Sigma Aldrich

Taufkirchen

Germany

(6) Potassium ions

1 M

Fresenius SE

Bad Homburg

Germany

(7) Calcium ions

1 M

Sandoz Pharmaceuticals GmbH

Holzkirchen

Germany

(8) Sodium ions

1 M

Fresenius SE

Bad Homburg

Germany

(9) Dexamethasone

4 mg

Merck KGaA

Darmstadt

Germany

(10) Clonidine

0.15 mg

AWD.pharma GmbH & Co. KG

Radebeul

Germany

(11) Theophylline

20 mg

Altana Pharma Deutschland GmbH

Konstanz

Germany

(12) Droperidol

1.25 mg

Janssen Pharmaceutica

Beerse

Belgium

(13) Metamizol

50 mg

Rationpharm GmbH

Ulm

Germany

(14) Cafedrin/theodrenalin (combi)

100 mg/5 mg (combi)

AWD.pharma GmbH & Co. KG

Radebeul

Germany

(15) Promethazine

25 mg

Bayer Vital GmbH

Leverkusen

Germany

(16) Diazepam

5 mg

Rationpharm GmbH

Ulm

Germany

(17) Hydrocortisone

5 mg

Teopharma

Valle Salimbene

Italy

(18) Thiamazole

4 mg

Temmler Pharma GmbH & Co. KG

Marburg

Germany

(19) Physostigmin

0.4 mg

Dr. F. Köhler Chemie

Alsbach-Hähnlein

Germany

(20) Haloperidol

5 mg

Rationpharm GmbH

Ulm

Germany

(21) Phenytoin

10 mg

Desitin Arzneimittel GmbH

Hamburg

Germany

(22) Epinephrine

1 mg

Jenapharm GmbH & Co. KG

Jena

Germany

(23) Urapidil

5 mg

Altana Pharma Deutschland GmbH

Konstanz

Germany

(24) Metoclopramide

5 mg

Hexal AG

Holzkirchen

Germany

(25) Dimetindene

1 mg

Novartis Consumer Health GmbH

München

Germany

(26) HEPES buffer

Components see text

Sigma Aldrich

Taufkirchen

Germany
×
Results
Discussion
This publication describes for the first time a fast and efficient screening system to evaluate the expression of ion channels and neurotransmitter receptors on human glioma cells that are linked to the intracellular calcium signaling mechanisms.
Patients with human glioblastomas mostly belong to the elder population according to the epidemiological profile of the disease. They get many different drugs for the treatment of high blood pressure, heart disease, kidney dysfunction, and more. They receive the drug dexamethasone for the reduction of the peritumoral brain edema. Especially older patients may suffer from some mental confusion that sometimes requires the administration of sedative drugs. Depending on the multitude of cerebral signaling pathways, one can imagine an effect of medical drugs on glioma biology in case the tumor would express any of the responsible receptors or ion channels.
The presented screening procedure enables the identification of many cellular receptors and ion channels on human glioma cells. All of the tested substances have receptors or ion channels on glioma cells except for the drug dexamethasone.
Despite this surprising result, we thought initially that glioma cells would express only a small subset of receptors on their surfaces, but exactly the opposite proved true. Whether all of these receptors have an supportive or inhibitory effect on glioma proliferation and glioma invasion is not known to date. But further experiments concentrating on each of these systems will solve this question in the future.
Acknowledgments
This work was supported by LUBOM Thuringia of the Ministry for Science, Research, and Art (2005) and by the Trust of Neurosurgical Research of the German Society of Neurosurgery to Susanne A. Kuhn (2005, 2007, and 2008) and to Rupert Reichart (2007).