01.12.2009 | Original Paper | Ausgabe 12/2009 Open Access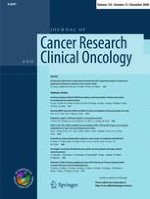 Glioblastoma cells express functional cell membrane receptors activated by daily used medical drugs
Zeitschrift:
Autoren:

Susanne A. Kuhn, Ulrike Mueller, Uwe-K. Hanisch, Christian R. A. Regenbrecht, Ilona Schoenwald, Michael Brodhun, Hartwig Kosmehl, Christian Ewald, Rolf Kalff, Rupert Reichart
Introduction
All these mechanisms regulate the important ion calcium. The expression of receptors and ion channels linked to intracellular calcium ion signaling have been shown for all types of glial cells in vitro as well as in situ and for different groups of neurons. The amplitude and kinetics of a calcium ion signal is determined by pharmacological features of the neuroligand receptor, the ion channel, and the parameters of its cytosolic calcium effector cascade. The release of calcium ions from inositol-1,4,5-triphopshate or ryanodine-sensitive intracellular calcium stores, the status of calcium release-activated calcium channels, and the efficacy of the calcium-buffering systems are significant terminators of the calcium response.
In the present study, human glioma cells were tested for their ability to raise the intracellular free calcium ion concentration upon stimulation of neuroligand receptors or ion channels via daily used medical drugs. Calcium imaging was used as a screening method to detect receptor mechanisms that could influence glioma biology significantly.
Materials and methods
Cell culture
Human glioma cell lines U373MG and U87MG were cultured for 5–10 days in Dulbecco's Modified Eagle Medium (DMEM) with the supplement of 10% fetal calf serum (FCS) at a temperature of 37°C, 5% carbon dioxide, 95% oxygen, and 95% humidity. Prior to measurements, cells were seeded on glass coverslips at a density of 1 × 104 cells and allowed to adapt for 24 h.
Calcium measurements via "Calcium Imaging"
All experiments were performed at least in triplicate under permanent perfusion with HEPES buffer made from NaCl (150 mM), KCl (5.4 mM), CaCl2 (2 mM), MgCl2 (1 mM), HEPES/NaOH (10 mM), and glucose (10 mM) at a pH of 7.35 at room temperature.
The "Calcium Imaging" is an imaging procedure, which measures the concentration of free intracellular calcium ions ([Ca
2+
]
i
) or their dynamic changes by fluometry. [Ca
2+
]
i
was monitored using the calcium-sensitive fluorescent indicator fura-2 acetoxy methyl ester (fura-2 AM) from Molecular Probes (Eugene, Oregon, USA). Fura-2 AM permeates through the cellular membrane and looses its ester bond by hydrolysis, which causes the generation of its acidic form (Fig.
1
). This acid (fura-2) does not diffuse out of the cell and specifically binds free calcium ions. By binding calcium ions, fura-2 changes its specific wave length and frequency. This change can be measured and calculated (Fig.
1
). Cells were loaded with fura-2 AM (5 μM; stock solution in DMSO) by incubation in bathing solution for 30 min at 37°C within the incubator. Subsequently, cells were superfused with HEPES buffer, and images were taken every 3 s. After 15 s, cells were stimulated with 25 different drugs for 30 s and the HEPES buffer solution as a negative control (Table
1
). For fura-2 excitation, cells were illuminated at two alternating wavelengths, 340 ± 5 and 380 ± 5 nm, respectively (Fig.
1
). Excitation was performed by a monochromator (Polychrome IV; T.I.L.L. Photonics, Martinsried, Germany). The emitted light was collected at 530 ± 10 nm by the long-term exposure CCD camera QuantiCam Long Exposure VGA-b/w (Phase, Luebeck, Germany) coupled to a Zeiss Axioskop (Oberkochen, Germany) equipped with a 20× water immersion Zeiss objective with a numerical aperture of 0.5 (Fig.
1
). The monochromator and CCD camera were controlled by TILL Photonics software TILLvisION (TILL Photonics, Graefelfing, Germany), being also used for image processing. Data analysis was performed after the definition of a region of interest (ROI) with standard personal computer software. The [Ca
2+
]
i
was calculated from the ratio (R) of fluorescence recorded at 340 and 380 nm excitation wavelengths (Fig.
1
). In all experiments, the basal calcium level within the cytoplasm before the stimulation with the 25 different substances was measured at the ratio (
R
= F340/380) between 0.3 and 0.5 that was in concordance with a typical ratio for viable resting cells (Fig.
1
). According to the shape of the resulting transient calcium signal, cellular responses were classified into distinct types (Fig.
1
).
Table 1
Summary of all tested 26 substances including their used dosage and their producing companies
Medical preparation

Dosage/amount

Purchased from

(1) Histamine

100 μM

Sigma Aldrich

Taufkirchen

Germany

(2) Substance P

100 μM

Sigma Aldrich

Taufkirchen

Germany

(3) Vasoactive intestinal polypeptide

100 μM

Sigma Aldrich

Taufkirchen

Germany

(4) Neurokinin A

100 μM, 10 μM

Sigma Aldrich

Taufkirchen

Germany

(5) Neurokinin B

10 μM

Sigma Aldrich

Taufkirchen

Germany

(6) Potassium ions

1 M

Fresenius SE

Bad Homburg

Germany

(7) Calcium ions

1 M

Sandoz Pharmaceuticals GmbH

Holzkirchen

Germany

(8) Sodium ions

1 M

Fresenius SE

Bad Homburg

Germany

(9) Dexamethasone

4 mg

Merck KGaA

Darmstadt

Germany

(10) Clonidine

0.15 mg

AWD.pharma GmbH & Co. KG

Radebeul

Germany

(11) Theophylline

20 mg

Altana Pharma Deutschland GmbH

Konstanz

Germany

(12) Droperidol

1.25 mg

Janssen Pharmaceutica

Beerse

Belgium

(13) Metamizol

50 mg

Rationpharm GmbH

Ulm

Germany

(14) Cafedrin/theodrenalin (combi)

100 mg/5 mg (combi)

AWD.pharma GmbH & Co. KG

Radebeul

Germany

(15) Promethazine

25 mg

Bayer Vital GmbH

Leverkusen

Germany

(16) Diazepam

5 mg

Rationpharm GmbH

Ulm

Germany

(17) Hydrocortisone

5 mg

Teopharma

Valle Salimbene

Italy

(18) Thiamazole

4 mg

Temmler Pharma GmbH & Co. KG

Marburg

Germany

(19) Physostigmin

0.4 mg

Dr. F. Köhler Chemie

Alsbach-Hähnlein

Germany

(20) Haloperidol

5 mg

Rationpharm GmbH

Ulm

Germany

(21) Phenytoin

10 mg

Desitin Arzneimittel GmbH

Hamburg

Germany

(22) Epinephrine

1 mg

Jenapharm GmbH & Co. KG

Jena

Germany

(23) Urapidil

5 mg

Altana Pharma Deutschland GmbH

Konstanz

Germany

(24) Metoclopramide

5 mg

Hexal AG

Holzkirchen

Germany

(25) Dimetindene

1 mg

Novartis Consumer Health GmbH

München

Germany

(26) HEPES buffer

Components see text

Sigma Aldrich

Taufkirchen

Germany
×
Results
Discussion
Calcium ions are a highly versatile intracellular signal that acts as a means of information proceeding within the cell's cytoplasm to regulate many different cellular processes, like cellular metabolism, gene transcription, proliferation, or cellular movement (Fig.
9
) (Bernstein et al.
1996
; Fatatis et al.
1994
; Friel
1995
; Möller
2002
; Verkhratsky et al.
1998
; Färber and Kettenmann
2006
; Verkhratsky and Shmigol
1996
; Perea and Araque
2005
; Verkhtatsky and Steinhäuser
2000
; Berridge et al.
2003
).
×
Fast intracellular calcium peaks regulate fast reactions (Berridge et al.
2003
). Slower calcium increases are involved in prolonged signaling chains. Calcium increases are regulated by a complex network of mechaisms. These include the influx from the extracellular space via voltage-gated calcium channels of the cellular membrane. G-protein coupled receptors can increase the cytoplasmic calcium concentration by release of calcium ions from intracellular stores via store operated calcium channels. Receptor operated calcium channels may cause the influx of calcium ions from the extracellular space or from intracellular stores (Fig.
9
) (Berridge et al.
2003
). After initialization of intracellular down-stream processes free intracellular calcium ions are toxic to the cell. Therefore, the cell has mechanisms of calcium clearance to reduce the calcium concentration down to a non-toxic level. Calcium ions are transported out of the cell or into the intracellular calcium stores by Ca
2+
-ATPases (Fig.
9
). Other ion pumps and exchangers of cellular membranes, like the Na
+
–Ca
2+
-exchanger, the H
+
–Ca
2+
-exchanger, or the NA
+
–K
+
-ATPase support the maintenance of the intracellular ion milieu (Fig.
9
).
Neurons and glial cells are known for the crouded expression of cell surface ion channels and neurotransmitter receptors that regulate the intracellular calcium level in order to regulate the activation of the complex down-stream processes (Albrecht et al.
2001
; Verkhratsky and Shmigol
1996
).
This publication describes for the first time a fast and efficient screening system to evaluate the expression of ion channels and neurotransmitter receptors on human glioma cells that are linked to the intracellular calcium signaling mechanisms.
Patients with human glioblastomas mostly belong to the elder population according to the epidemiological profile of the disease. They get many different drugs for the treatment of high blood pressure, heart disease, kidney dysfunction, and more. They receive the drug dexamethasone for the reduction of the peritumoral brain edema. Especially older patients may suffer from some mental confusion that sometimes requires the administration of sedative drugs. Depending on the multitude of cerebral signaling pathways, one can imagine an effect of medical drugs on glioma biology in case the tumor would express any of the responsible receptors or ion channels.
Human glioma cells are known to express receptors for neurokinins, VIP, and substance P (Bordey et al.
1994
; Nielsen et al.
1990
; Sharma et al.
2001
; Sokolowska and Nowak
2008
; Cooper et al.
1988
; Luo et al.
1996
; Grynkiewicz et al.
1985
; Eistetter et al.
1992
; Łazarczyk et al.
2007
). This was shown in our experiments as well and could serve as positive control for the induction of intracellular calcium signals. Another study showed human glioma cells to express cell-surface receptors for angiotensin II, bradykinin, histamine, substance P, norepinephrine, and serotonin (Weydt et al.
1997
).
The HEPES buffer solution corresponds to the extracellular fluid within the CNS. This means, HEPES has to be electroneutral without any activation of intracellular down-stream events upon cellular exposure. This was proved by our experiments as well. Twenty-five medical drugs were tested for their ability to elicit intracellular calcium signals in human glioma cells. Most of the drugs are known to activate distinct cell-surface receptors or ion channels. We found all drugs expect for one to elicit intracellular calcium answers (Table
2
). According to the anticipated involved calcium pathways, the intracellular calcium responses were summarized into seven types and the responsible drugs were organized into seven groups. Type 1 of calcium signals is elicited by haloperidol, urapidil, droperidol, dimetindene, and phenytoin. Haloperidol blocks dopamine receptors as well as muscarinic receptors and adrenergic receptors. Droperidol, another neurolepticum, binds to D2 dopamine receptors and with a lower affinity to D3 dopamine receptors, 5-HT 2 receptors, and alpha-1-adrenoreceptors, whereas dimetindene binds H1 histamine receptors. Alpha-1-adrenoreceptors are G-protein coupled receptors and cause in intracellular calcium ion increase via the G-protein-inositol-1,4,5-triphosphate-cascade (Fig.
9
). The putative pathways of calcium signaling induction by these drugs currently are not known and require further research. Urapidil blocks alpha-1-adrenoreceptors but stimulates central 5-hydroxytryptamine 1A (5-HT 1A) receptors. Serotonin receptors can activate inwardly or outwardly rectifying potassium currents as was shown for neurons of the substantia gelatinosa (Abe et al.
2009
). These currents can change the cellular membrane potential and thereby activate voltage-gated calcium channels for a calcium influx into the cell. To the voltage-gated calcium channels belong the L-type calcium channels (Ca
V
1.1, Ca
V
1.2, Ca
V
1.3, Ca
V
1.4), the P/Q-type calcium channels (Ca
V
2.1), the N-type calcium channels (Ca
V
2.2), the R-type calcium channels (Ca
V
2.3), and the T-type calcium channels (Ca
V
3.1, Ca
V
3.2, Ca
V
3.3) (Berridge et al.
2003
). Which of these channels are activated and what their activation induces in the glioma cell, has to be determined in the future. The calcium signal caused by all of these drugs is characterized by its transient nature with a fast initial rise and a rapid falling component. Transiently open intracellular stores and/or open cell membrane channels cause this rapid intracellular response. Down-stream processes are initiated quickly. The exact nature of these processes within human glioma cells is not known yet and is subject of ongoing research. The high concentration of free intracellular calcium ions is cleared immediately from the cytoplasm by a complex network of mechanisms (Fig.
9
). Substances that cause type 2 calcium responses are summarized in Table
2
. Whereas substance P, vasoactive intestinal polypeptide, and the neurokinins A, and B are known to influence glioma biology (Bordey et al.
1994
; Sokolowska and Nowak
2008
; Cooper et al.
1988
; Luo et al.
1996
; Eistetter et al.
1992
; Łazarczyk et al.
2007
), thiamazole, physostigmin, and epinephrine were not known to elicit calcium signals in human glioma cells or to influence their proliferation or migration. Calcium signals in a former study were not classified into groups, but the calcium signal induced by norepinephrine was similar to our signal elicited by epinephrine (Weydt et al.
1997
). The combined preparation of cafedrin and theodrenalin induces a signal with a fast initial rise and the typical "calcium shoulder" like in type 2 calcium signals that is merged to a "calcium tail" typical for type 4 calcium responses. The combined drug is used amongst others during anesthesia to control the blood pressure. As our results clearly demonstrate, this drug acts onto several calcium signaling pathways and could have several effects on human glioblastoma cells. Physostigmin stimulated both, nicotinic and muscarinic receptors. Muscarinic receptors M1–M3 belong to the group of G-protein coupled receptors like the substance P receptor NK3 (Berridge et al.
2003
). Their signals are transduced by a variety of G-proteins, like G
qα
, G
11α
, G
14α
, G
16α
, and G
βγ
, followed by the activation of distinct phospholipases type C (Berridge et al.
2003
). The calcium signal induced by this group of substances results from an initial influx of calcium ions from intracellular stores and/or from the extracellular medium via cell membrane channels. This is followed by a slower influx mediated by receptor operated calcium channels or store operated calcium channels.
Very characteristic oscillating calcium responses were elicited by the administration of histamine and hydrocortisone to our human glioblastoma cells U373MG and U87MG. This was known to occur in vascular endothelial cells upon the exposure of histamine (Zhu et al.
2008
; Barajas et al.
2008
; Lefranc et al.
2006
; Hernández-Angeles et al.
2001
). Also neurons can show oscillations of the intracellular calcium level after the administration of histamine (Hegedus et al.
2004
). Steroid hormones are known for their effect on the activity of calcium-activated potassium channels (Chang and Zhang
2008
), but it was not known that they could induce calcium responses. Cortisol was shown to suppress voltage-gated calcium channels in prolactin cells of the tilapia (Hyde et al.
2004
). In our experiments, hydrocortisone repeatedly elicited the above mentiomed calcium oscillations in a very stringent manner. Glucocorticoids have been shown to stimulate the sodium channel expression in astrocytes (Yarowsky et al.
1994
). They could have similar effects on human glioma cells. Their exact function is unknown to date.
The so called "ion type" of calcium signals was defined by the applied substance consisting of an ion solution like a sodium ion solution, a potassium ion solution, or a calcium ion solution. According to the glioblastoma cells' individual condition, some cells reacted with an intracellular calcium signal and some cells did not. The mechanisms of calcium rise within the cytoplasm were very different for every ion type. The extracellular exposure of a high molar calcium solution causes the free calcium ions to diffuse along the electrochemical concentration gradient into the cells (Fig.
7
,
9
). The manner of the intracellular calcium uptake is characterized by the cells' condition prior to the calcium administration. This explains the very different course of individual intracellular calcium increases, seen in Fig.
7
a. Some cells showed a strong and immediate calcium uptake and some cells reacted twice after an interposed calcium clearance. Other cells reacted with a delay in comparison to strongly reacting cells. But despite different calcium uptake features, all cells showed a subsequent decrease in cytoplasmic calcium ions that was caused by the transport of the ions into intracellular calcium stores or into the extracellular space. The mechanism of the calcium increase upon the exposure of potassium ions differed significantly from the mechanisms upon calcium ion application. High molar potassium ion solutions cause a membrane depolarization in human glial and human glioma cells as was shown several times before (Fig.
9
) (Bernstein et al.
1996
; Labrakakis et al.
1998a
,
b
; Kettenmann et al.
1984
). The extent of membrane depolarization in a cell culture or in cells of an acute brain slice swings around the Gaussian distribution. Our experiments showed very clearly, all cells reacted with an influx of calcium ions via voltage-gated calcium channels with a different amplitude in distinct cells (Fig.
7
b,
9
). Another mechanism is responsible for the intracellular calcium increase upon the exposure of a high molar sodium ion solution. In our study, the sodium solution was hypermolar in comparison to the sodium ion concentration of the cytoplasm. This caused an influx of sodium ions into the cell along the concentration gradient as was known for calcium ions as well. Fourty-three cells of our tested 50 U87MG glioblastoma cells showed this effect. To decrease the intracellular sodium content, the cells use sodium pumps and sodium exchangers. The sodium–calcium exchanger (Na
+
–Ca
2+
-exchanger) is the most common and best known member of this family. By the transportation of sodium ions out of the cell into the extracellular fluid, the cell takes up calcium ions from extracellular. This temporarily increases the intracellular calcium concentration. These ions will be transported secondarily into intracellular stores or into the extracellular fluid by ATP-dependent calcium pumps to maintain the non-toxic calcium level after the initialization of down-stream processes (Fig.
9
). These complex mechanisms enable the cell, to maintain its free ion content upon the eventual increase in the extracellular milieu.
The presented screening procedure enables the identification of many cellular receptors and ion channels on human glioma cells. All of the tested substances have receptors or ion channels on glioma cells except for the drug dexamethasone.
Despite this surprising result, we thought initially that glioma cells would express only a small subset of receptors on their surfaces, but exactly the opposite proved true. Whether all of these receptors have an supportive or inhibitory effect on glioma proliferation and glioma invasion is not known to date. But further experiments concentrating on each of these systems will solve this question in the future.
Acknowledgments
This work was supported by LUBOM Thuringia of the Ministry for Science, Research, and Art (2005) and by the Trust of Neurosurgical Research of the German Society of Neurosurgery to Susanne A. Kuhn (2005, 2007, and 2008) and to Rupert Reichart (2007).