19.01.2017 | Original Article | Ausgabe 3/2017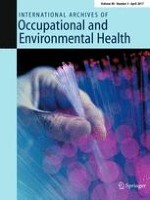 Global DNA hypomethylation has no impact on lung function or serum inflammatory and fibrosis cytokines in asbestos-exposed population
Autoren:

Min Yu, Jianlin Lou, Hailing Xia, Min Zhang, Yixiao Zhang, Junqiang Chen, Xing Zhang, Shibo Ying, Lijin Zhu, Lihong Liu, Guang Jia
Abstract
Purpose
To examine the effect of asbestos exposure on global DNA methylation and determine whether lung function and inflammatory and fibrosis biomarkers are correlated with the methylation state.
Methods
A total of 26 healthy subjects without asbestos exposure (Group 1), 47 healthy subjects with exposure (Group 2), and 52 subjects with benign asbestos-related disorders (ARDs) (Group 3) participated in this cross-sectional study. Blood global 5-methylcytosine (5mC) and serum TNF-α, collagen IV, CCL5 and CC16 concentrations were analyzed using enzyme-linked immunosorbent assay-like assays. Spirometric maneuvers were performed to assess lung function.
Results
Decreased 5mC levels were observed in Groups 2 and 3 compared to Group 1, irrespective of lung function (
p
 < 0.01). There was no significant change in 5mC between Groups 2 and 3. Overall, 5mC was negatively correlated with CCL5 and collagen IV (
p
 < 0.05), but no significant inverse relationship was found between 5mC and CCL5 or collagen IV in each group. Additionally, both 5mC and CC16 were inversely associated with FEV1/FVC% (
p
 = 0.001, adjusted
R
2
 = 0.145) for non-smokers, and consistently significant inverse relationships were found between CC16 and FEV1/FVC%, independent of asbestos exposure.
Conclusions
Asbestos exposure causes global DNA hypomethylation. DNA hypomethylation has no influence on serum biomarkers and lung function in asbestos-exposed population with or without pleural and pulmonary parenchymal abnormalities.