09.11.2017 | Original Article | Ausgabe 4/2018 Open Access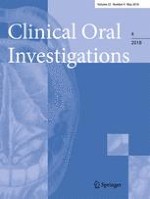 Global oral health status of athletes with intellectual disabilities
Zeitschrift:
Autoren:

Luc Marks, Allen Wong, Steven Perlman, Amy Shellard, Carla Fernandez
Abstract
Background
The aim of this study is to identify the oral health status and treatment needs of Special Olympics athletes with intellectual disabilities from 181 countries by the assessment of oral health parameters and differences between world regions.
Material and methods
Data were collected through interview and oral examinations within the Healthy Athletes Screening. These data were analysed with descriptive statistics of oral health parameters of athletes from Africa, Asia Pacific, East Asia, Europe/Eurasia, Latin America, Middle East North Africa (MENA) and North America. Mean differences of untreated visible dental caries, gingival signs and missing teeth were tested between regions by one-way ANOVA test and between age groups (8–11, 12–18, 19–39 and 40+) by chi-square tests for multiple comparisons with Hochberg-adjusted
p
value. The level of significance for all tests was set at a
p
value < 0.05.
Results
A total of 149,272 athletes with intellectual disabilities were screened. More than 80% of the athletes reported that they cleaned their mouths at least once a day. Athletes in Europe/Eurasia, Latin America, and MENA presented higher rates of signs of gingival disease than other regions. The prevalence of untreated dental caries was significantly higher in Latin America and the group of 8–11-year-olds from Latin America, Europe/Eurasia and Asia Pacific.
Conclusions
The data provided by this study demonstrate that continuous efforts for preventive and restorative oral health care are needed for the oral health of these athletes with ID especially in Latin America, MENA and Europe/Eurasia regions.