01.12.2018 | Research | Ausgabe 1/2018 Open Access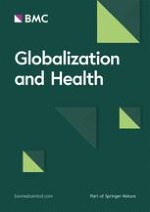 Global output of research on the health of international migrant workers from 2000 to 2017
Zeitschrift:
Autor:

Waleed M. Sweileh
Abbreviation
NCD
Non-communicable diseases
Background
Methods
Database
A bibliometric methodology was implemented in this study. SciVerse Scopus was used to accomplish the objective of the current study since it was previously used in several bibliometric studies including those pertaining to migration health [
25
–
33
]. As a database, Scopus is larger than Web of Science and is 100% inclusive of Pubmed. Furthermore, Scopus has several functions that facilitate research trends, citation analysis, mapping of keywords, and international research collaboration.
Study duration and language
The duration of the study was set from January 2000 until December 2017. This was judged to capture most studies on the health of migrant workers. Scopus allows researchers to filter the retrieved documents based on the language of the documents. Yet, in this study, no language restriction was made and all retrieved documents, regardless of their language, were analyzed. Documents appearing in Scopus must have an English abstract, and therefore, the relevancy of any retrieved document could be confirmed by reading the English abstract regardless of the original language of the document.
Search strategy
The search strategy utilized several different keywords in title search. Examples of keywords used include "*migrant *worker" or "*migrant laborer" or "*migrant labourer*" or ("*migrant" and *worker*) or (*migrant and laborer*) or ("migratory worker*"). The author was careful to use all potential keywords related to migrant workers. Therefore, a survey of literature on migrant workers was carried out before deciding on keywords [
34
–
40
]. Furthermore, the keywords used in the current study were partially extracted from the bibliometric study by Sweielh et al. on global migration health in which migrant workers' health was one component [
23
]. The health component of the search strategy was defined as documents classified by Scopus to be within the following subject areas: medicine, psychology, nursing, biochemistry, immunology, pharmacology, toxicology, dentistry, and neuroscience. These subject areas are available through Scopus and can selected to refine the retrieved documents to health component.
Exclusion criteria
The current study focused on international migrant workers and therefore documents about internal migrants or documents pertaining to urban-to-rural or rural-to-urban documents were excluded. Furthermore, documents pertaining to health professionals such as nurses or physicians (brain drain) were also excluded because this category is usually well-paid and has better working conditions than the bulk of international migrant workers.
Validity check
The validity of the search strategy was explained in previously published studies [
23
,
41
]. The validity check consisted of two approaches, one to confirm the absence of false positive results and one to confirm the absence of false negative results. To confirm absence of false positive results a sample of top 100 cited documents were reviewed. For the absence of false negative results, the number of documents for each of the top ten active authors was compared with the number present in the personal profile of each of the top ten active authors. A correlation coefficient greater than 0.95 is indicative of the absence of false positive results.
Once the retrieved documents were refined and all false positive documents were excluded, a set of analytic functions were implemented to produce the required bibliometric indicators.
Research domains
For the classification of research domains of the retrieved documents, five domains were created: health policy and systems, mental and psychosocial health, maternal and reproductive health, non-communicable diseases, and infectious diseases. These domains fall within the large domain of public health. However, this classification better serves the analysis for finding research gaps. The health policy and systems domain included documents in health system, health services, access to healthcare, human rights, rights to health, hospitalization, medical services, emergency room visits, occupational health, and migration policies [
1
]. Occupational health documents were categorized under the domain "health policy and systems" because it is a consequence of job regulations and availability of health insurance and health services.
Bibliometric analysis and indicators
Retrieved data were exported into Microsoft Excel for calculation and tabulation. Scopus has several functions that can generate bibliometric indicators. Such functions include annual growth, citations, source title, country list, author list, institution list, and types of documents. For data visualization, the retrieved documents were visualized using VOSviewer (version 1.6.8; Leiden University, the Netherlands) to create three types of maps: keyword occurrences, international research collaboration, and author research network [
42
]. ArcMap 10.1 (Esri, California, USA) is a GIS program that was used to map the distribution of retrieved documents based on author affiliation.
All through the manuscript, frequency and percentages were provided in tables. For line of best fit and best line equation, Statistical Package for Social Sciences (IBM SPSS statistics; version 21; Armonk, N.Y: IBM Corporation) program was used. For the impact of the retrieved documents, Hirsh index (
h
-index) was used [
43
]. The rank of each journal in the top active list was obtained from Scimago Journal Rank website [
44
]. The impact factor (IF) of the most active publishing journal was obtained from the most recent Journal Citation Report.
Research ethics
Finally, the current study was based on electronic data and no human subjects were directly involved and therefore the ANU-IRB office did not require an approval of the study.
Results
Discussion
Despite that the Arab region with approximately 11% of the global migrant workforce had limited and even negligible contribution to literature on health of migrant workers. However, there is frequent worldwide media coverage around the South Asian construction workers building the football stadiums for the 2022 football world cup in Qatar.
The contribution of source countries to literature on migrant workers was low due to the that most of the source countries are poor or undergoing internal civil war or regional conflicts, which limits research productivity from such countries. Effective international health planning that covers migrant workers requires a certain extent of international research collaboration among different countries. Such collaboration was absent which affects collaborative efforts of screening migrant workers for potential contagious diseases that might spread by travelers. Furthermore, collaboration between sending and destination countries is required to set plans to face mental health problems for migrants and families they leave behind. Furthermore, both sending and destination countries need to collaborate to increase awareness of migrant workers about their legal and human rights at working places. Of paramount importance is the efforts directed to increase awareness about potential labor trafficking and exploitation into sex industry or dangerous labor. Finally, sending countries need to collaborate with destination countries to attract back skilled migrant workers to ensure sustainable development in sending countries.
Conclusion
The current study showed that research on migrant workers' health need to be strengthened and encouraged given that the volume and growth rate were relatively inadequate. Attention to research gaps such as the focus on NCD and maternal and reproductive health is also needed. International research collaboration and research networks that include countries of origin and receiving countries were deficient. Building such collaboration and networks require recruitment of large numbers of scholars from different parts of the world to the subject of migration health in general and migrant workers' health in particular.
Acknowledgements
The authors would like to thank An-Najah National University for giving us the opportunity to access most recent information sources.
Availability of data and materials
All data presented in this manuscript are available on Scopus database using the search query listed in the methodology section.
Ethics approval and consent to participate
Not applicable. IRB at An-Najah National University, Palestine requires no approval for bibliometric studies.
Consent for publication
Not applicable
Competing interests
The authors declare that they have no competing interests.
Publisher's Note
Springer Nature remains neutral with regard to jurisdictional claims in published maps and institutional affiliations.
Open Access
This article is distributed under the terms of the Creative Commons Attribution 4.0 International License (
http://​creativecommons.​org/​licenses/​by/​4.​0/​
), which permits unrestricted use, distribution, and reproduction in any medium, provided you give appropriate credit to the original author(s) and the source, provide a link to the Creative Commons license, and indicate if changes were made. The Creative Commons Public Domain Dedication waiver (
http://​creativecommons.​org/​publicdomain/​zero/​1.​0/​
) applies to the data made available in this article, unless otherwise stated.