01.12.2011 | Case report | Ausgabe 1/2011 Open Access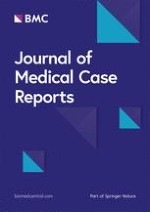 Glucagonoma syndrome: a case report
Zeitschrift:
Autoren:

Pablo Granero Castro, Alberto Miyar de León, Jose Granero Trancón, Paloma Álvarez Martínez, Jose A Álvarez Pérez, Jose C Fernández Fernández, Carmen M García Bernardo, Luis Barneo Serra, Juan J González González
Wichtige Hinweise
Electronic supplementary material
The online version of this article (doi:
10.​1186/​1752-1947-5-402
) contains supplementary material, which is available to authorized users.
Competing interests
The authors declare that they have no competing interests.
Authors' contributions
AML, JGT, PAM, JAP, JFF, CGB, LBS and JGG were involved in the direct care of this patient. In addition, PGC was responsible for drafting the manuscript and JAP, JGT and PAM helped to draft the manuscript. All authors have read and approved the final manuscript.
Introduction
A glucagonoma is a slow-growing alpha-cell tumor of the pancreatic islets of Langerhans. It may appear as a benign and localized alpha-cell adenoma but at least 50% of cases will have metastatic disease when diagnosed [
1
]. Glucagonomas can be associated with other tumors in Multiple Endocrine Neoplasia syndrome 1 (MEN 1), but this association is rare and comprises no more than 3% of glucagonomas. Even though glucagonomas related to MEN 1 syndrome probably carry a better prognosis due to early recognition through periodic screening visits, 80% are malignant and frequently spread to the liver [
2
]. Glucagonoma syndrome is a rare paraneoplastic phenomenon, with an estimated incidence of one in 20 million, characterized by necrolytic migratory erythema (NME), hyperglucagonemia, diabetes mellitus, anemia, weight loss, glossitis, cheilitis, steatorrhea, diarrhea, venous thrombosis and neuropsychiatric disturbances in the setting of a glucagon-producing alpha-cell tumor of the pancreas [
3
]. The most common features of this syndrome are weight loss, NME and diabetes mellitus [
4
]. Of these, NME presents as the hallmark clinical sign of glucagonoma syndrome [
3
]. Its early recognition allows a prompt diagnosis of the tumor and leads to a better prognosis. Surgery is the optimal treatment for a glucagonoma. We present a patient with glucagonoma syndrome due to a well circumscribed alpha-cell tumor of the pancreas, in which surgical removal of the tumor by distal pancreatectomy with splenectomy led to resolution of the cutaneous and systemic features.
Case presentation
A 70-year-old Caucasian woman was referred to our Department of Dermatology with a persistent subacute eczema affecting her lower extremities and groin area that had been present for 12 months. She was treated with topical and oral steroids with no improvement. Her medical history revealed a long-standing type 2 diabetes mellitus and recurrent episodes of deep-vein thrombosis in her right leg despite anticoagulant therapy. The skin eruption initially appeared in her lower extremities but there was a rapid progression with involvement of her trunk, upper extremities and perioral area. These skin lesions were associated with weight loss (15 kg in one year), anorexia, weakness, glossitis and angular stomatitis. A physical examination revealed itching cutaneous eruptions of erythematous polycyclic migratory lesions with scaling advancing borders and central resolution. The entire course of the local skin lesion healed within two weeks while new cutaneous eruptions occurred in other locations. Chronic lesions often evolved into lichenification. Laboratory data showed a low hemoglobin level (10.5 g/dL), hyperglycemia (176 mg/dL), hypoalbuminemia (22 g/L) and hypoproteinemia (49 g/L). Her white cell count (6100/μL) and platelet level (26.2 × 10
4
/μL) were also within normal limits, and an abnormality of cell form was not found in her peripheral blood. Her levels of serum iron, vitamin B12 and erythropoietin, and the number of reticulocytes were found to be normal. Electrophoresis of her serum protein was performed because of the possibility of multiple myeloma; however, no abnormal protein was found. Although the possibility of gastrointestinal (GI) bleeding was considered, no abnormality was detected on an upper GI endoscopy, barium enema, or barium examination of her small bowel. A skin biopsy performed on a peritibial lesion showed a spongiotic epidermis with vacuolization of the granular layer and presence of necrotic keratinocytes in the horny layer. A mild infiltrate of lymphocytes was present in the papillary dermis (Figure
1
). Histological findings were compatible with the diagnosis of NME. Ultrasonography was performed as a screening examination, and revealed a hypoechoic tumor in her distal pancreas. An abdominal computed tomography (CT) scan showed a hypervascularized tumor measuring 5 to 7 cm in the tail of her pancreas without evidence of metastatic disease (Figure
2
). Carcinoembryonic antigen and carbohydrate antigen 19-9 levels were normal. The exocrine function of her pancreas was normal. However, her level of serum glucagon was elevated to 2340 pg/mL (normal range, 55-177 pg/mL), while her levels of other hormones, such as somatostatin or gastrin, were within normal limits, and insulin was low. Glucagonoma of the pancreas was diagnosed and distal pancreatectomy with splenectomy was performed. This resection involved dissection of her regional lymph nodes (D1). Histopathological examination revealed a 6 cm alpha-cell pancreatic tumor with vascular and perineural tumor invasion. Dissection of the regional lymph nodes showed that a total of 16 lymph nodes were isolated, of which three were affected. Inmunohistochemical staining was positive for glucagon, chromogranin and synaptophysin, but negative for other hormones, such as insulin, gastrin and somatostatin. On the basis of these findings, a diagnosis of malignant glucagonoma of the pancreas was made. Five days after surgery, the skin lesions disappeared and postoperative plasma glucagon levels decreased to 197 pg/dL. Our patient has been without recurrence for one and a half years since the surgery and remains asymptomatic.
×
×
Discussion
Conclusion
Clinicians should be aware of the unusual initial manifestations of glucagonoma. Early diagnosis allows complete surgical resection of the neoplasm and provides the only chance of a cure.
Consent
Written informed consent was obtained from the patient for publication of this case report and any accompanying images. A copy of the written consent is available for review by the Editor-in-Chief of this journal.
This article is published under license to BioMed Central Ltd. This is an Open Access article distributed under the terms of the Creative Commons Attribution License (
http://​creativecommons.​org/​licenses/​by/​2.​0
), which permits unrestricted use, distribution, and reproduction in any medium, provided the original work is properly cited.
Competing interests
The authors declare that they have no competing interests.
Authors' contributions
AML, JGT, PAM, JAP, JFF, CGB, LBS and JGG were involved in the direct care of this patient. In addition, PGC was responsible for drafting the manuscript and JAP, JGT and PAM helped to draft the manuscript. All authors have read and approved the final manuscript.