01.12.2017 | Research article | Ausgabe 1/2017 Open Access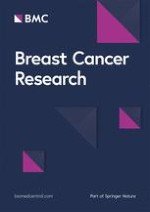 Glucocorticoids induce production of reactive oxygen species/reactive nitrogen species and DNA damage through an iNOS mediated pathway in breast cancer
Zeitschrift:
Autoren:

Renée L. Flaherty, Matthew Owen, Aidan Fagan-Murphy, Haya Intabli, David Healy, Anika Patel, Marcus C. Allen, Bhavik A. Patel, Melanie S. Flint
Wichtige Hinweise
Electronic supplementary material
The online version of this article (doi:
10.​1186/​s13058-017-0823-8
) contains supplementary material, which is available to authorized users.
Abstract
Background
Psychological stress increases the circulating levels of the stress hormones cortisol and norepinephrine (NE). Chronic exposure to elevated stress hormones has been linked to a reduced response to chemotherapy through induction of DNA damage. We hypothesize that stress hormone signalling may induce DNA damage through the production of reactive oxygen species (ROS)/reactive nitrogen species (RNS) and interference in DNA repair processes, promoting tumourigenesis.
Methods
Breast cancer cell lines were incubated with physiological levels of cortisol and NE in the presence and absence of receptor antagonists and inducible nitric oxide synthase (iNOS) inhibitors and DNA damage measured using phosphorylated γ-H2AX. The rate of DNA repair was measured using comet assays and electrochemical sensors were used to detect ROS/RNS in the cell lysates from cells exposed to stress hormones. A syngeneic mouse model was used to assess the presence of iNOS in mammary tumours in stressed versus control animals and expression of iNOS was examined using western blotting and qRT-PCR.
Results
Acute exposure to cortisol and NE significantly increased levels of ROS/RNS and DNA damage and this effect was diminished in the presence of receptor antagonists. Cortisol induced DNA damage and the production of RNS was further attenuated in the presence of an iNOS inhibitor. An increase in the expression of iNOS in response to psychological stress was observed in vivo and in cortisol-treated cells. Inhibition of glucocorticoid receptor-associated Src kinase also produced a decrease in cortisol-induced RNS.
Conclusion
These results demonstrate that glucocorticoids may interact with iNOS in a non-genomic manner to produce damaging levels of RNS, thus allowing an insight into the potential mechanisms by which psychological stress may impact breast cancer.