01.12.2012 | Research | Ausgabe 1/2012 Open Access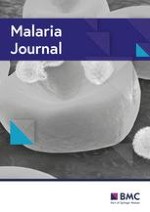 Glucose-6-phosphate dehydrogenase deficiency, chlorproguanil-dapsone with artesunate and post-treatment haemolysis in African children treated for uncomplicated malaria
Zeitschrift:
Autoren:

Carine Van Malderen, Jean-Pierre Van Geertruyden, Sonia Machevo, Raquel González, Quique Bassat, Ambrose Talisuna, Adoke Yeka, Carolyn Nabasumba, Patrice Piola, Atwine Daniel, Eleanor Turyakira, Pascale Forret, Chantal Van Overmeir, Harry Van Loen, Annie Robert, Umberto D' Alessandro
Wichtige Hinweise
Electronic supplementary material
The online version of this article (doi:
10.​1186/​1475-2875-11-139
) contains supplementary material, which is available to authorized users.
Competing interests
UDA has received travel grants from sanofi Aventis, sigma tau and Novartis. He has also received research funds from sanofi Aventis and sigma tau.
Authors' contributions
UDA and JPVG designed the sub-study. QB/SM/RG, AT/AY and CN/PP/AD/ET were responsible for the study implementation and data collection in Manhiça, Jinja/Tororo and Mbarara, respectively. PF, CVO and CVM conceived and performed the G6PD experiments. HvL managed the data. JPVG and CVM analysed the data. ARR supervised data analyses and results reporting. CVM, JPVG and UDA wrote the paper and all authors reviewed the manuscript.
Abstract
Background
Malaria is a leading cause of mortality, particularly in sub-Saharan African children. Prompt and efficacious treatment is important as patients may progress within a few hours to severe and possibly fatal disease. Chlorproguanil-dapsone-artesunate (CDA) was a promising artemisinin-based combination therapy (ACT), but its development was prematurely stopped because of safety concerns secondary to its associated risk of haemolytic anaemia in glucose-6-phosphate dehydrogenase (G6PD)-deficient individuals. The objective of the study was to assess whether CDA treatment and G6PD deficiency are risk factors for a post-treatment haemoglobin drop in African children <5 years of age with uncomplicated malaria.
Methods
This case–control study was performed in the context of a larger multicentre randomized clinical trial comparing safety and efficacy of four different ACT in children with uncomplicated malaria. Children, who after treatment experienced a haemoglobin drop ≥2 g/dl (cases) within the first four days (days 0, 1, 2, and 3), were compared with those without an Hb drop (controls). Cases and controls were matched for study site, sex, age and baseline haemoglobin measurements. Data were analysed using a conditional logistic regression model.
Results
G6PD deficiency prevalence, homo- or hemizygous, was 8.5% (10/117) in cases and 6.8% (16/234) in controls (p = 0.56). The risk of a Hb drop ≥2 g/dl was not associated with either G6PD deficiency (adjusted odds ratio (AOR): 0.81; p = 0.76) or CDA treatment (AOR: 1.28; p = 0.37) alone. However, patients having both risk factors tended to have higher odds (AOR: 11.13; p = 0.25) of experiencing a Hb drop ≥2 g/dl within the first four days after treatment, however this finding was not statistically significant, mainly because G6PD deficient patients treated with CDA were very few. In non-G6PD deficient individuals, the proportion of cases was similar between treatment groups while in G6PD-deficient individuals, haemolytic anaemia occurred more frequently in children treated with CDA (56%) than in those treated with other ACT (29%), though the difference was not significant (p = 0.49).
Conclusion
The use of CDA for treating uncomplicated malaria may increase the risk of haemolytic anaemia in G6PD-deficient children.