16.01.2020 | Original Article | Ausgabe 4/2020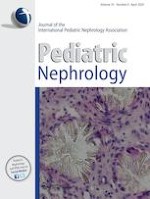 Glucose metabolism disorders in children with refractory nephrotic syndrome
Zeitschrift:
Autoren:

Toshiyuki Takahashi, Takayuki Okamoto, Yasuyuki Sato, Asako Hayashi, Yasuhiro Ueda, Tadashi Ariga
Wichtige Hinweise
Publisher's note
Springer Nature remains neutral with regard to jurisdictional claims in published maps and institutional affiliations.
Abstract
Background
Patients with refractory nephrotic syndrome (NS) are at high risk of medication-induced glucose metabolism disorders, because of their long-term use of diabetogenic medications, particularly glucocorticoids and calcineurin inhibitors (CNIs). However, there have been no comprehensive evaluations of glucose metabolism disorders in pediatric patients with refractory NS. Moreover, glucocorticoids and CNIs could not be discontinued in these patients until the effectiveness of rituximab on refractory NS was shown, and therefore, there has been limited opportunity to evaluate glucose metabolism disorders after discontinuation of these medications.
Methods
Consecutive pediatric patients who started rituximab treatment for refractory NS were enrolled. Their glucose metabolism conditions were evaluated using the oral glucose tolerance tests (OGTT) and HbA1c levels at the initiation of rituximab treatment. Patients with glucose metabolism disorders at the first evaluation were reevaluated after approximately 2 years.
Results
Overall, 57% (20/35) of study patients had glucose metabolism disorders, and 40% (8/20) of these patients were detected only by their 2-h OGTT blood glucose levels and not by their fasting blood glucose or HbA1c levels. Non-obese/non-overweight patients had significantly more glucose metabolism disorders than obese/overweight patients (
p
 = 0.019). In addition, glucose metabolism disorders in 71% (10/14) of patients persisted after the discontinuation of glucocorticoids and CNIs.
Conclusions
Whether the patient is obese/overweight or not, patients with refractory NS are at high risk of developing glucose metabolism disorders, even in childhood. Non-obese/non-overweight patients who are at high risk of diabetes need extra vigilance.