19.03.2019 | Original Article | Ausgabe 5/2019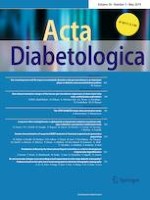 Glutamate interactions with obesity, insulin resistance, cognition and gut microbiota composition
Zeitschrift:
Autoren:

María Encarnación Palomo-Buitrago, Mònica Sabater-Masdeu, Jose Maria Moreno-Navarrete, Estefanía Caballano-Infantes, María Arnoriaga-Rodríguez, Clàudia Coll, Lluís Ramió, Martina Palomino-Schätzlein, Patricia Gutiérrez-Carcedo, Vicente Pérez-Brocal, Rafael Simó, Andrés Moya, Wifredo Ricart, José Raúl Herance, José Manuel Fernández-Real
Wichtige Hinweise
Managed by Massimo Federici.
Electronic supplementary material
María Encarnación Palomo‑Buitrago and Mònica Sabater‑Masdeu contributed equally to this work.
Publisher's Note
Springer Nature remains neutral with regard to jurisdictional claims in published maps and institutional affiliations.
Abstract
Aims
To investigate the interactions among fecal and plasma glutamate levels, insulin resistance cognition and gut microbiota composition in obese and non-obese subjects.
Methods
Gut microbiota composition (shotgun) and plasma and fecal glutamate, glutamine and acetate (NMR) were analyzed in a pilot study of obese and non-obese subjects (
n
 = 35). Neuropsychological tests [Trail making test A (TMT-A) and Trail making test B (TMT-B)] scores measured cognitive information about processing speed, mental flexibility and executive function.
Results
Trail-making test score was significantly altered in obese compared with non-obese subjects. Fecal glutamate and glutamate/glutamine ratio tended to be lower among obese subjects while fecal glutamate/acetate ratio was negatively associated with BMI and TMT-A scores. Plasma glutamate/acetate ratio was negatively associated with TMT-B. The relative abundance (RA) of some bacterial families influenced glutamate levels, given the positive association of fecal glutamate/glutamine ratio with Corynebacteriaceae, Coriobacteriaceae and Burkholderiaceae RA. In contrast, Streptococaceae RA, that was significantly higher in obese subjects, negatively correlated with fecal glutamate/glutamine ratio. To close the circle, Coriobacteriaceae/Streptococaceae ratio and Corynebacteriaceae/Streptococaceae ratio were associated both with TMT-A scores and fecal glutamate/glutamine ratio.
Conclusions
Gut microbiota composition is associated with processing speed and mental flexibility in part through changes in fecal and plasma glutamate metabolism.