01.12.2017 | Research | Ausgabe 1/2017 Open Access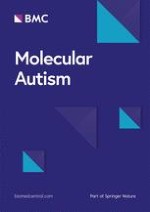 Glutathione metabolism in the prefrontal brain of adults with high-functioning autism spectrum disorder: an MRS study
Zeitschrift:
Autoren:

Dominique Endres, Ludger Tebartz van Elst, Simon A. Meyer, Bernd Feige, Kathrin Nickel, Anna Bubl, Andreas Riedel, Dieter Ebert, Thomas Lange, Volkmar Glauche, Monica Biscaldi, Alexandra Philipsen, Simon J. Maier, Evgeniy Perlov
Abstract
Background
Autism spectrum disorder (ASD) is a neurodevelopmental disease characterized by difficulties in social communication, unusually restricted, repetitive behavior and interests, and specific abnormalities in language and perception. The precise etiology of ASD is still unknown and probably heterogeneous. In a subgroup of patients, toxic environmental exposure might lead to an imbalance between oxidative stress and anti-oxidant systems. Previous serum and postmortem studies measuring levels of glutathione (GSH), the main cellular free radical scavenger in the brain, have supported the hypothesis that this compound might play a role in the pathophysiology of autism.
Methods
Using the method of single-voxel proton magnetic resonance spectroscopy (MRS), we analyzed the GSH signal in the dorsal anterior cingulate cortex (dACC) and the dorsolateral prefrontal cortex (DLPFC) of 24 ASD patients with normal or above average IQs and 18 matched control subjects. We hypothesized that we would find decreased GSH concentrations in both regions.
Results
We did not find overall group differences in neurometabolites including GSH, neither in the dorsal ACC (Wilks' lambda test;
p
 = 0.429) nor in the DLPFC (
p
 = 0.288). In the dACC, we found a trend for decreased GSH signals in ASD patients (
p
 = 0.076).
Conclusions
We were unable to confirm our working hypothesis regarding decreased GSH concentrations in the ASD group. Further studies combining MRS, serum, and cerebrospinal fluid measurements of GSH metabolism including other regions of interest or even whole brain spectroscopy are needed.