01.12.2014 | Research | Ausgabe 1/2014 Open Access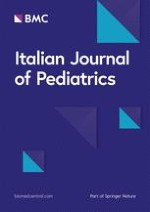 Glutathione S transferase theta1 and mu1 gene polymorphisms and phenotypic expression of asthma in Egyptian children: a case–control study
Zeitschrift:
Autoren:

Nihal El Rifai, Nadia Moustafa, Nelly Degheidy, Manal Wilson
Wichtige Hinweise
Competing interests
The authors declare that they have no competing interests.
Authors' contributions
NMR, NMD and MMW - Designed, conducted and analyzed the study, NAM and NMR - Analyzed the data and drafted the manuscript. All authors revised and approved the manuscript.
Abstract
Background
Asthma is the result of a complex interaction between environmental factors and genetic variants that confer susceptibility. The glutathione S-transferases (GSTT1 and GSTM1) are phase II enzymes thought to protect the airways from oxidative stress. Few and contradictory data are available on the association between asthma development and GSTT1 and GSTM1 polymorphisms in different ethnic groups. The current study aimed to investigate whether these polymorphisms are associated with asthma development in the Egyptian population.
Methods
The cross-sectional study was performed on 94 asthmatic children 6 -12 yrs and 90 matched healthy controls. Candidates were subjected to clinical evaluation and measurement of absolute blood eosinophilic count, total serum IgE, and GSTT1 and GSTM1 genotype by multiplex PCR technique.
Results
The results for GSTT1 null genotype were 87.2% and 97.2% for asthmatic children and controls respectively and showed to be significantly more in controls (P =0.007, OR:0.683, CI: 0.034 -0.715). The results for GSTM1 null genotype were 50% and 61.1% for asthmatic children and controls respectively and showed to be nonsignificant (p = 0.130, OR: 1.000, CI: 0.54- 1.86). Also, no association was detected between GSTT1 and GSTM1 polymorphisms and atopic conditions or asthma severity.
Conclusion
The significant detection
o
f GSTT1 null genotype more in controls than in asthmatics with no association with other atopic manifestations or asthma severity and the lack of association detected between GSTM1 polymorphism in relation to asthma, atopy or asthma severity confirm the uncertain role of those genes in the development of asthma.