01.12.2019 | Research | Ausgabe 1/2019 Open Access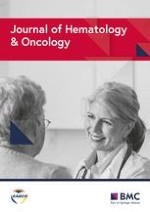 Glyphosate induces benign monoclonal gammopathy and promotes multiple myeloma progression in mice
Zeitschrift:
Autoren:

Lei Wang, Qipan Deng, Hui Hu, Ming Liu, Zhaojian Gong, Shanshan Zhang, Zijun Y. Xu-Monette, Zhongxin Lu, Ken H. Young, Xiaodong Ma, Yong Li
Wichtige Hinweise
Electronic supplementary material
Lei Wang, Qipan Deng, and Hui Hu contributed equally to this project.
Publisher's Note
Springer Nature remains neutral with regard to jurisdictional claims in published maps and institutional affiliations.
Introduction
Glyphosate is the most popular and profitable agrochemical, being registered to use in over 160 countries and accounting for around 25% of the global herbicide market. It acts via inhibition of 5-enolpyruvylshikimate-3-phosphate synthase (EPSPS) in the shikimate pathway, which is critical to the growth of most plants but absent in animals. Since the discovery of this herbicidal activity in 1974, glyphosate usage has increased enormously, particularly with the recent introduction of genetically modified crops carrying a glyphosate-resistant version of EPSPS. Glyphosate is also heavily used in crop pre-harvest desiccation. Glyphosate has been detected in more than 50% of surface waters in the USA, with a median concentration of ~ 0.02 μg/L and a maximum concentration of 427 μg/L [
1
]. Around agricultural basins, the median levels of glyphosate range from 0.08 to 4.7 μg/L, with the highest detected concentration of 430 μg/L [
2
]. Beyond surface water, glyphosate is found in soil, air, and groundwater, as well as in food [
3
]. In a recent report, urinary excretion levels of glyphosate among older residents of Rancho Bernardo, CA, where glyphosate use is significantly lower than in the US Midwest region, increased from 0.024 to 0.314 μg/L from 1993 to 2016 [
4
].
Multiple epidemiological studies have investigated the association of glyphosate exposure and cancer risk using either cohort or case-control designs [
5
]. These studies found no significant association between glyphosate exposure and overall cancer risk but suggested that glyphosate exposure is positively associated with multiple myeloma (MM) and non-Hodgkin lymphoma (NHL), as concluded by a working group of the International Agency for Research on Cancer (IARC), the cancer agency of the World Health Organization (WHO) [
5
]. In contrast, other national and international agencies like the US Environmental Protection Agency (EPA), European Food Safety Authority, European Chemicals Authority, and the Joint Food and Agriculture Organization of the United Nations and WHO have maintained that glyphosate is unlikely to pose a carcinogenic risk [
6
]. Three case-control studies performed in Iowa [
7
], France [
8
], and Canada [
9
] suggest that glyphosate exposure increases MM risk. The most recent update (2018) from the Agricultural Health Study, however, found no association between glyphosate exposure and either MM or NHL [
10
]. Such inconsistencies likely reflect unidentified confounders, recall bias, and the complex nature of human exposure that impact epidemiologic relationships, underscoring the importance of investigations using animal models to test the effects of exposures in a controlled environment. However, neither mouse nor rat studies have been reported that specifically examine the impact of glyphosate in the pathogenesis of MM, which is one of the two cancer types relevant to humans reported to be associated with glyphosate exposure thus far.
A hallmark of MM is that virtually all MM cases are preceded by monoclonal gammopathy of undetermined significance (MGUS) [
11
]
.
Bergsagel and colleagues generated a mouse model of MM (Vk*MYC) under the C57bl/6 genetic background with sporadic c-Myc activation in germinal center B cells, resulting in the development of benign monoclonal gammopathy, a mouse equivalent to MGUS, which then progresses to MM. This is the best available MM animal model because it recapitulates many biological and clinical features of human MM, including increased serum immunoglobulin G (IgG), bone lesions, and kidney damage [
12
]. In this work, we used Vk*MYC mice to test our hypothesis that glyphosate has a pathogenic role in MM.
Materials and methods
Mouse model and treatments
All chronic and acute animal experiments were performed in accordance with NIH guidelines and under protocols approved by the Cleveland Clinic Institutional Animal Care and Use Committee. Wild-type (WT) C57Bl/6 mice were purchased from the Jackson Laboratory (Bar Harbor, ME). Vk*MYC mice in the C57Bl/6 genetic background were obtained from Dr. Leif Bergsagel (Mayo Clinic, Scottsdale, AZ) [
12
]. Vk*MYC and WT mice were intercrossed to obtain WT and Vk*MYC littermates. Sex-matched WT and Vk*MYC mice (8 weeks old) were assigned to treatment or control groups based on body weight. For chronic study of glyphosate effects, treatment groups were provided 1.0 g/L glyphosate (Sigma-Aldrich, St. Louis, MO) in their drinking water for 72 weeks. Regular drinking water was provided for the control groups (Fig.
1
a). Every 6 weeks, blood was collected from the tail vein of mice, and the serum IgG level was measured. We did not monitor the serum concentration of glyphosate for mice due to sample availability. However, the gross amount of drinking water consumed by each group of studied mice was monitored and no difference was observed between these groups. Animal regulations prevented us from maintaining mice till they died of cancer (natural death). Instead, mice had to be euthanized whenever they reached humane endpoints (i.e., adverse health deterioration and serious complications). Treated Vk*MYC mice began to reach humane endpoints starting at week 60 with 4 surviving until week 66 and 3 surviving to week 71. At week 72, the remaining 3 surviving Vk*MYC mice reached humane endpoints. These 3 treated Vk*MYC mice were used for M-spike detection and pathologic analyses, along with mice from other groups. Other Vk*MYC mice that were sacrificed before week 72 were analyzed for total serum IgG levels, complete blood cell count, and total serum creatinine. For comparison, mice from other groups were euthanized at week 72 and their tissues and blood analyzed. For acute treatment, 8-week-old mice (
n
 = 5 per group) were given 0, 1.0, 5.0, 10.0, or 30.0 g/L of glyphosate for 7 days before sacrifice. The same variables were analyzed in the acute study.
×
Blood and post-mortem assays
Whole-blood complete blood count (CBC), IgG enzyme-linked immunosorbent assay (ELISA), serum protein electrophoresis, flow cytometry, and histological examinations of relevant tissues were performed as described previously [
13
]. Serum creatinine was measured by ELISA using a creatinine assay kit (#ab65340, Abcam, Cambridge, MA) according to the manufacturer's protocol.
Western blotting analyses
Mouse tissues were processed for Western blotting as we have described elsewhere [
13
]. The antibodies were from Cell Signaling Technology (Danvers, MA, USA): AID (L7E7) (#4975) and β-actin (#3700). Blotting was run with 3 technical replicates. Horseradish peroxidase-conjugated anti-rabbit or anti-mouse IgG was used as the secondary antibody.
Statistics
Statistical analysis was carried out using GraphPad InStat 3 software (GraphPad Software, Inc., San Diego, CA, USA). The statistical significance between the groups was determined by one-way or two-way analysis of variance (ANOVA) with the appropriate post hoc testing using Tukey's test. Statistical significance was accepted at
P
 ≤ 0.05. All data are shown as mean ± SEM unless otherwise indicated.
Results
Discussion
Conclusions
Our data provide in vivo evidence to support that glyphosate induces MGUS and promotes disease progression to MM. We uncover a B cell-specific mutational mechanism for glyphosate exposure that increases MM and NHL risk, providing a molecular basis for human epidemiological findings. Given the increasing use of glyphosate in the USA and worldwide, the present study supports epidemiological reports and informs the EPA and other agencies during the regulatory development of current and emerging glyphosate-based herbicidal products.
Acknowledgements
The authors are grateful to Dr. Cassandra Talerico for editing the manuscript and providing critical comments.
Ethics approval and consent to participate
Animal experiments are approved by the Cleveland Clinic Institutional Animal Care and Use Committees. There is no human subject participation.
Consent for publication
This study does not include any individual person's data in any form.
Competing interests
The authors declare that they have no competing interests.
Open Access
This article is distributed under the terms of the Creative Commons Attribution 4.0 International License (
http://​creativecommons.​org/​licenses/​by/​4.​0/​
), which permits unrestricted use, distribution, and reproduction in any medium, provided you give appropriate credit to the original author(s) and the source, provide a link to the Creative Commons license, and indicate if changes were made. The Creative Commons Public Domain Dedication waiver (
http://​creativecommons.​org/​publicdomain/​zero/​1.​0/​
) applies to the data made available in this article, unless otherwise stated.
Publisher's Note
Springer Nature remains neutral with regard to jurisdictional claims in published maps and institutional affiliations.