01.12.2018 | Research | Ausgabe 1/2018 Open Access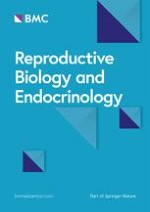 GnRH dysregulation in polycystic ovarian syndrome (PCOS) is a manifestation of an altered neurotransmitter profile
Zeitschrift:
Autoren:

Nirja Chaudhari, Mitali Dawalbhakta, Laxmipriya Nampoothiri
Abstract
Background
GnRH is the master molecule of reproduction that is influenced by several intrinsic and extrinsic factors such as neurotransmitters and neuropeptides. Any alteration in these regulatory loops may result in reproductive-endocrine dysfunction such as the polycystic ovarian syndrome (PCOS). Although low dopaminergic tone has been associated with PCOS, the role of neurotransmitters in PCOS remains unknown. The present study was therefore aimed at understanding the status of GnRH regulatory neurotransmitters to decipher the neuroendocrine pathology in PCOS.
Methods
PCOS was induced in rats by oral administration of letrozole (aromatase inhibitor). Following PCOS validation, animals were assessed for gonadotropin levels and their mRNA expression. Neurotrasnmitter status was evaluated by estimating their levels, their metabolism and their receptor expression in hypothalamus, pituitary, hippocampus and frontal cortex of PCOS rat model.
Results
We demonstrate that GnRH and LH inhibitory neurotransmitters – serotonin, dopamine, GABA and acetylcholine – are reduced while glutamate, a major stimulator of GnRH and LH release, is increased in the PCOS condition. Concomitant changes were observed for neurotransmitter metabolising enzymes and their receptors as well.
Conclusion
Our results reveal that increased GnRH and LH pulsatility in PCOS condition likely result from the cumulative effect of altered GnRH stimulatory and inhibitory neurotransmitters in hypothalamic-pituitary centre. This, we hypothesise, is responsible for the depression and anxiety-like mood disorders commonly seen in PCOS women.