01.12.2014 | Research article | Ausgabe 1/2014 Open Access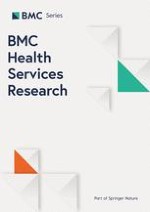 Goals of telephone nursing work - the managers' perspectives: a qualitative study on Swedish healthcare direct
Zeitschrift:
Autoren:

Elenor Kaminsky, Marianne Carlsson, Inger K Holmström, Jan Larsson, Mio Fredriksson
Wichtige Hinweise
Competing interests
The authors declare that they have no competing interests.
Authors' contributions
EK, MC and IKH were responsible for the conception and design of the study. EK performed the data collection. EK, MC, IKH and MF analysed the data and drafted the manuscript. All authors (EK, MC, IKH, JL and MF) participated in the interpretation of the findings, the revision of the manuscript, and the approval of the final manuscript version.
Background
Against this background, this study aimed to explore and describe what SHD managers perceive as the primary goals of TN work and how they view health promotion and equitable healthcare implementation at SHD. Do the managers strive to match the legal goals of health promotion and equitable healthcare with SHD goals of efficiency and productivity?
Methods
Design
The study used an exploratory and descriptive design. A qualitative interview approach was chosen because of the character of the research question, with its aim to investigate the thoughts and experiences of a defined group of people [
28
,
29
]. The research conform to the RATS guidelines for qualitative research review [
30
].
Procedure and study participants
All 23 managers employed at SHD were sent an e-mail with brief information about the study. Within two weeks the principal investigator (EK) called each manager to ask about participation in the study. All managers approved participation and were interviewed within the next three months.
The 23 managers were 21 women and 2 men in age 40–65 (M 54). They were at the time of the study responsible for SHD at Sweden's 21 county councils and regions with 33 TN workplaces (32 in Sweden and 1 in Finland). One manager was responsible for three county councils. One region had five employed managers, whereof one was a coordinator. Twenty-one managers had a RN degree with a variety of specialties; their experience as nurses ranged between 9 and 36 years. One manager was a psychologist and one was a mental health worker. Three managers were privately employed and 20 were employed by the public healthcare system. The participants' experience as SHD managers ranged from 0.3 to 12 years. Like most Swedish healthcare, the SHD sites were publicly financed. Sixteen managers had clinical experience in TN.
Interviewing process
All interviews were performed by telephone by the first author over a 3-month period (March - May 2012). First, two pilot interviews, with a district nurse and primary healthcare teacher, and a manager in primary health emergency care, were performed via telephone. This was made to test interview questions and the telephone interview situation. The pilot interviews were transcribed and discussed among co-authors. After this, the interviews with each of the 23 SHD managers were performed, lasting from 35–70 minutes. The interview questions were semi-structured and focused on how the managers view the goals of TN work, health promotion and equitable healthcare implementation, see Table
1
. The managers were asked about their views on telenurses' understanding of work as described in a study of 2009 [
16
] and the unequally distributed parental result reported in a study of paediatric health calls of 2010 [
3
].
Table 1
Interview guide with interview questions asked in the study
| | |
| --- | --- |
| 1. | What do you, as manager, see as the goal for telephone nursing work, for example when parents call for their sick children? |
| 2. | How do you view telenurses' understanding of work, described in a study from 2009? |
| 3. | How do you regard the Swedish public health goal of health promotion can be met through telenurses' communication with parents in paediatric health calls? |
| 4. | How do you relate your expressed goals for telephone nursing work and the Swedish public health goals to the telenurses' requirements of efficiency and time limited calls in their work? |
| 5. | What is your view regarding the mother caller percentage of 70 to 80 percent in paediatric health calls both in Sweden and internationally? |
| 6. | In one of our earlier studies, mothers had received self-care to almost a double extent, compared to fathers, who instead, to the same extent received a referral to other health services. What is your view regarding this? |
| 7. | If the above gender result was reproduced if measured today – how would you, as manager, deal with this? |
Ethical considerations
The present study followed the ethical regulations and guidelines according to the Swedish law [
31
], and conformed to the ethical principles defined in the World Medical Association Declaration of Helsinki [
32
]. All the managers gave their consent to participate after being informed about the study, that their participation was voluntary and that they were at liberty to withdraw from the study at any time. The participants were guaranteed confidentiality.
Data analysis
The interviews were transcribed during and after each interview and subsequently analysed using deductive directed content analysis [
33
]. The starting point for this analysis was 1) what the managers described as the goals of TN work and if 2) health promotion and 3) equitable healthcare were included. To obtain a sense of the whole, interview transcriptions were read through several times by all authors. Text related to the study aim was highlighted, coded and distributed in the above 1, 2 and 3. The managers' descriptions of the goals of TN work were then compared with how telenurses in an earlier study had described the core of their work [
16
]. The analysis was conducted by the first author, with all other authors acting as co-readers and discussed in research group seminars. Verbatim quotations in data that particularly summarized the managers' opinions were chosen as illustrations in the finding section.
Results
Four themes emerged from the SHD managers' answers about what they conceive as the main goals of TN work: 'create feelings of trust', 'achieve patient safety', 'assess, refer and give advice' and 'teach the caller'. Most of the managers stated that health promotion should not be included in the goals. By contrast, equitable healthcare was viewed as an important issue. The findings are presented in the following three domains: goals of TN work, health promotion, and equitable healthcare.
The goals of TN work according to the managers
(a) To create feelings of trust
The managers expressed the need for telenurses to establish a relationship with callers, as a precondition for a smooth dialogue. Telenurses should strive to ensure parent satisfaction and security, working in a collaborative and supportive manner:
'The goal is … that parents are satisfied, that there is a feeling of reliance, that parents feel secure … that they are involved in the dialogue. Thus, to work together is the ultimate goal'

. Manager 9
To create feelings of trust and security reflects SHD's general aim of 'increased public sense of security'. The managers strongly believed that this would facilitate the parents' delivery of information so the telenurses could more easily grasp the condition of a child and thus make correct assessments. Telenurses' self-confidence was considered important in making concerned parents comfortable with the advice they had received:
'Many parents are worried,

[

so it is important] to make them comfortable with respect to the advice they receive'

Manager 16
(b) To achieve patient safety
Several managers described tools, such as the DST and the in-service trained 'dialogue process' to achieve patient safety as feature goals of TN work. The managers' descriptions focused on structured work and quick assessment and the callers as persons were seldom mentioned. A few managers said that parents' approval and understanding of what had been said during the calls could be checked to increase patient safety. This theme links to one of the SHD explicit work tasks, that telenurses should "refer callers to an appropriate level of care". The available care levels telenurses can refer to are emergency care ('highest level'), primary care ('middle level') and self-care in callers' home ('lowest level'). An appropriate level means the lowest (i.e. cheapest) possible effective treatment level. Telenurses' self-care advice to callers is considered the least expensive available measure. Embedded in patient safety is the law requirement of treating everyone fairly and equitably.
(c) To assess, refer and give advice
To assess, refer and give advice to callers in need of support, explicit tasks of the SHD service, were frequently recurring topics in the managers' descriptions of the goals of TN work
.
Self-care advice should be given in an easily graspable way, based on procedures from the DST:
'The basic goal of TN work … is to make an accurate medical assessment and from this give advice, whether it concerns self-care or whether you should seek treatment, and if so, how urgent it is'.

Manager 7
(d) To teach
To teach the caller was another theme the managers regarded as a goal of TN work. Yet, the managers' descriptions of this mostly concerned teaching parents with sick children to seek care at appropriate level. Instructing parents about the care level difference of primary care versus children emergency department was reported to be an important subject of telenurses' teaching. Some managers believed telenurses' teaching might help parents in the future, at the next time of illness or for their next child. Whether the caller or parent had learned anything was, however, not discussed.
'Education: to tell them what to do, to search primary care or ED'

Manager 13
Comparing the managers' views on the goals of TN work with telenurses' own ways of understanding their work as described in an earlier study [
16
], established two shared themes were: 'assess, refer and give advice' and 'teach the caller'. Other aspects of work seen by the nurses – 'support', 'coach' and 'facilitate the callers' learning' – were not expressed by the managers. On the other hand, two of the managers' goals, 'create feelings of trust' and 'achieve patient safety' were not represented in the telenurses' descriptions of the core of their work [
16
]. When managers were asked to comment on this, all, though, considered all the categories reported in that study as relevant.
The managers' views on health promotion
More than half of the SHD managers explicitly stated that health promotion is not included in the SHD commission. For example, one manager said:
"We can't exaggerate public health work. It's wasting our resources".

Manager 17
In contrast, a few managers instead emphasised that health promotion
could
indeed be achieved through telenurses work with callers:
"I think it is actually what we should primarily work with here

". Manager 15
The managers gave many examples of barriers to health promotion at SHD, such as the telenurses' unawareness of the social determinants of health, lack of time, lack of support from the DST, and lack of continuity of care. The managers stressed that short questions about diseases were the most frequent ones and that the primary mission of SHD is to treat illness and disease. They stated that telenurses do not have time for health promotion because of long patient queues and limited time per patient. Still, some emphasised that there are no demands concerning time efficiency for telenurses at SHD:
'We don't have any demands on the number of calls per hour. Actually, every call is a new working task, and sometimes one call takes longer time than another call. It is something of a lottery for the telenurses which call they happen to reply to'.

Manager 14
Despite the earlier description of self-care advice from the DST, the managers felt the DST lacked health promotion components and that focus was more on whether a child's symptoms would require a doctor's visit or not.
'Our computerised decision-support system does not support us in that

(health promotion)

discussion'

. Manager 19
According to the managers, because a different telenurse replies to every new call, the lack of continuity of care rules out the possibility to efficiently follow-up health promotion. Some managers reported that they encouraged those telenurses who showed individual interest in practicing health promotion. Examples given were when telenurses, in connection with vacation trip issues, recommended sun protection and explained the risk of dehydration. Other managers accepted telenurses' individual attempts for health promotion, but would not openly encourage this behaviour:
'It is not that I go out and say, this is how you should work'.

Manager 12
Based on the managers' responses, health promotion is performed sporadically, without orientation (e.g., in self-care advice). Yet, many managers questioned the expediency of health promotion in telephone calls. Aside from lack of continuity of care, some managers felt it was important not to make the caller feel offended or to provide callers with more information than they initially requested. Apparently, health promotion was not thought to increase parents' feelings of trust. Furthermore, health promotion was considered to require a much earlier start than when a parent of a sick child calls SHD, i.e. it should be a part of primary care (e.g., a school health service or child welfare centre).
To summarise, based on the interview material, strategies for health promotion appear to be lacking in TN work. First, health promotion was reported not to be included in the SHD commission, and second, managers expressed few visions for health promotion but rather questioned the expediency of practicing it in TN work. The managers also stressed that to practice health promotion effectively, telenurses need further education.
In the paragraph to follow we will report about managers' views on the influence of parent gender on paediatric calls [
3
], i.e. the fact that fathers call less often and that, when they do call, they receive less self-care advice and health promotion than mothers. Do managers believe they can influence the skewed parental distribution?
The managers' views on equitable healthcare
The managers believed equitable healthcare is an important issue. The fact that mothers make the majority of paediatric health calls was seen as a family issue and nothing SHD managers can do anything about. Most of the managers were nevertheless concerned about the finding that father callers were referred to other health services more often than mothers [
3
]. The managers' reactions to these results varied, from some who were upset about the disparities to those who rejected the results as unreliable. Most managers believed father and mother callers continue to be treated differently. Drawing on their experiences from handling calls themselves and/or managing telenurses at the SHD sites, they gave diverse possible explanations for these results and had varying opinions regarding whether and how to achieve equitable healthcare at SHD
.
Their explanations to the unequally distributed results focused on the callers, i.e. the users of the service, and the telenurses and the organization, i.e. the professionals and the provider.
Possible caller explanations
Fathers were considered more assertive and more authoritative, exaggerating symptoms more and avoiding telenurses' questions and self-care advice. The managers reported that fathers tend to more directly ask for a referral to other health services (e.g., asking what emergency ward to visit). Such behaviour was believed to stem from fathers' inexperience in describing symptoms and performing self-care, which make them worried and insecure:
'It may be the case that when fathers call, they are more assertive? Alternatively, they might be more worried because they lack knowledge? They don't see the children when they are sick. Therefore, the fathers might think the illness is more serious than it really is, which makes them more assertive in their actions'.

Manager 4
The unclear position of the father was evident when a mother had asked him to call SHD despite the fact that the father had been at work all day and had no current information on the child's condition. This could for instance happen when a mother had been denied referral from a telenurse. The mothers were reported to have received self-care advice more frequently because they describe symptoms more fully and tend to be more secure and patient during a call than fathers. Managers interpreted giving more self-care advice to mothers as a way of hindering them from being referred to a higher level of care, with telenurses acting as gatekeepers by placing mothers in a subordinate position (compared to fathers):
'Fathers are being cuddled, while mothers are being obstructed. I have also noted that men talk differently with me. Women have a tendency to be more descriptive, whereas men have a tendency to describe things based on facts. '

Manager 23
In spite of all this, the managers maintained that when a telenurse hears a mother saying that something is wrong with her child, such a report is taken seriously indeed.
Possible telenurse/organisational explanations
Managers suggested, as an explanation of the gender imbalance, that telenurses, unused to calls from fathers, believe that fathers lack knowledge in self-care and thus need more extensive help at other health services. Therefore, contrary to the objectives of equitable healthcare, telenurses give different questions and answers to fathers compared to what they give to mothers. The increased frequency of father referrals was thought to be due to female telenurses taking fathers more seriously. Hence, according to the managers, telenurses give way to male arrogation to avoid unpleasantness and make fathers satisfied, instead of reassuring them and promoting their health knowledge.
The managers underscored that fathers' concerns and need for reassurance are largely ignored. Female-to-female communication was deemed easier (e.g., discussing performance of self-care and its expected result). Following this line of thought, the managers suggested a patient safety aspect: if a child's condition remains unclear because of incomplete communication, a referral could be a correct measure. Managers also believed inequity in society to be mirrored in the telephone health service sector.
Some managers avoided commenting on the unequally distributed results, emphasising that the DST, which makes no difference between fathers and mothers, is always used in children assessments. The reported gender imbalance had been discussed during a manager network meeting, with the conclusion that each call is unique, no matter who the caller.
The managers' suggestions on how to achieve equitable healthcare
Most managers suggested ways to achieve equitable healthcare in paediatric health calls. One proposal to enhance the number of calls from fathers was by exposing fathers more in advertisements for the SHD service. Which of the parents that calls SHD was defined as a family issue. Concerning the diverse outcomes in paediatric calls [
3
], managers said that telenurses need to reflect on this problem and should be made more aware of unequal treatment due to gender. The managers also reported a need to encourage telenurses to practice their professional knowledge and not accept non-professional decisions.
'We must look at what makes us give way to men … to permit someone without nursing education to decide.'

Manager 3
Another suggestion was to influence the telenurses' preconceptions of mothers as being the most appropriate persons for caring for children. One proposed measure for change was to perform a random selection of daily calls and allow telenurses to reflect over them, observing the sender-receiver messages and asking themselves whether the outcome would have been different if a mother/father had instead made the call. A few managers suggested the need for telenurses to present fathers with more explicit questions, as well as to have the fathers explain themselves more fully. Another issue discussed was whether more male telenurses at the services would make a difference. Lastly, there was a desire to lift gender questions to a higher level (e.g., co-operation with a centre for gender in order to achieve a more long-term equitable telephone healthcare).
Discussion
Conclusion
This study underlines the necessity of specifying internal goals and how to meet the goals of the healthcare system as a whole when introducing a new healthcare provider such as SHD in a healthcare system. The managers at SHD generally agreed with the explicit goals of the organisation, but also mentioned teaching. Facilitating the callers' learning, an important aspect of TN work, highlighted by telenurses, was, however, not mentioned at all by the managers. Further, health promotion, which should be included in all fields of healthcare according to Swedish regulations, is not part of the aims and principles of SHD at all. It could well be asked if the SHD leadership does not see their organisation as a part of the Swedish healthcare system. There is certainly a need for clarifying the specific goals of SHD and its telenurses. The argument that there is not enough time to practice health promotion should be looked upon critically: the consequence might be counterproductive to the efficiency goals of SHD in that callers will seek treatment elsewhere. Providing more time at SHD for health promotion and training telenurses to include it in the dialogues in a gender equitable manner, is instead likely to save time in other healthcare instances. This is perhaps one way to face the expressed challenges of European health systems [
44
]. Call audits as proposed by the interviewed managers could be one way to increase telenurse gender competence. Finally, the decision support tool, DST, needs to be further developed to support health promotion and equitable healthcare.
Acknowledgements
The authors are indebted to all managers participating in this study. We are also grateful to Clara Arts and Maria Carles for invaluable help with the pilot interviews. Grants were received from the Faculty of Medicine, Uppsala University, Sweden.
This article is published under license to BioMed Central Ltd. This is an Open Access article distributed under the terms of the Creative Commons Attribution License (
http://​creativecommons.​org/​licenses/​by/​2.​0
), which permits unrestricted use, distribution, and reproduction in any medium, provided the original work is properly credited.
Competing interests
The authors declare that they have no competing interests.
Authors' contributions
EK, MC and IKH were responsible for the conception and design of the study. EK performed the data collection. EK, MC, IKH and MF analysed the data and drafted the manuscript. All authors (EK, MC, IKH, JL and MF) participated in the interpretation of the findings, the revision of the manuscript, and the approval of the final manuscript version.