01.12.2017 | Research article | Ausgabe 1/2017 Open Access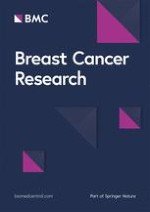 Gossypol has anti-cancer effects by dual-targeting MDM2 and VEGF in human breast cancer
Zeitschrift:
Autoren:

Jing Xiong, Jiansha Li, Qin Yang, Jun Wang, Tiefen Su, Sheng Zhou
Abstract
Background
Mouse double minute 2 (MDM2) and vascular endothelial growth factor (VEGF) are important molecules involved in tumor progression. We researched potential inhibitors that simultaneously target MDM2 and VEGF. In our recent study involving the performance of high-throughput screening with a fluorescence polarization assay, gossypol was identified as one of the top hits that inhibit protein-RNA binding activity. Because MDM2 is an RNA-binding protein and its targets include VEGF mRNA, we investigated whether gossypol has an inhibitory effect on MDM2-VEGF.
Methods
UV cross-linking and RNA binding assay, isothermal titration calorimetry assay, and ubiquitination assay were performed to determine mechanisms by which gossypol functions as a dual inhibitor of MDM2 and VEGF. The effect of gossypol on MDM2 and VEGF expression, cancer cell apoptosis, tumor growth and VEGF-mediated angiogenesis were studied in vitro and in vivo in different human breast cancer models with a different p53 status.
Results
We observed that gossypol inhibited expression of both MDM2 and VEGF in human breast cancer cells with either wild-type or mutant p53. A nechanistic study further demonstrated that, through disrupting the interaction between MDM2 protein and VEGF mRNA, gossypol induced MDM2 self-ubiquitination and decreased VEGF translation simultaneously, which resulted in both apoptosis and anti-angiogenesis effects. In vitro, regardless of p53 status, gossypol induced cancer cell apoptosis. In nude mouse xenograft in vivo models, gossypol suppressed tumor growth and VEGF-mediated angiogenesis.
Conclusion
Gossypol has anti-cancer effects by dual-targeting MDM2 and VEGF in human breast cancer. Our study reveals a novel mechanism by which gossypol functions as an anticancer agent. We believe that MDM2-VEGF targeting represents a novel strategy for improving cancer outcome.