01.12.2019 | Case report | Ausgabe 1/2019 Open Access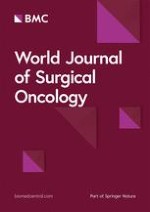 Grade III meningioma with gastro-intestinal tract and brain metastases: case report and review of the literature
Zeitschrift:
Autoren:

Laura Bender, Benoit Lhermitte, Hélène Carinato, Seyyid Baloglu, Mehdi Helali, Hélène Cebula, Delphine Antoni, Georges Noel
Abstract
Background
Meningioma is the most common adult primary intracranial tumor. Malignant meningioma is a rare variant of meningioma. The prognosis for the patients with these tumors is poor, due to the tumor's capacity for relapse and to develop distant metastases. These tumors can present the same evolutionary course as aggressive carcinoma.
Case description
We report the case of distant brain and gastro-intestinal tract (GIT) metastases. A 78-year-old patient developed malignant meningioma with a Ki-67 proliferative index of 40%. According to guidelines, surgery followed by postoperative radiotherapy (RT) was performed. Three months after the end of RT, he presented histologically proven meningioma distant brain and GIT metastases.
Conclusions
To our knowledge, this is the first case of meningioma GIT metastases. Also, we report the difficulty to confirm the diagnosis of meningioma metastases. Indeed, malignant meningioma has the same histopathological features as melanoma or carcinoma. The standard of care for the management of malignant meningioma is gross total surgery followed by postoperative radiotherapy. Metastatic meningioma is uncommon and no guidelines for the management of recurrent or metastatic meningioma have yet been published. However, several studies reported systemic therapeutic options such as antibody against VEGF, somatostatin analogs, PDGF-R, and VEGF-R tyrosine kinase inhibitors, in the case of recurrent or metastatic meningioma. We also made a review of the actual literature of systemic treatment options for metastatic meningioma.