01.06.2014 | Original Paper | Ausgabe 6/2014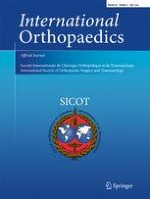 Gram and acridine orange staining for diagnosis of septic arthritis in different patient populations
Zeitschrift:
Autoren:

Gregory Cunningham, Khalid Seghrouchni, Etienne Ruffieux, Pierre Vaudaux, Angèle Gayet-Ageron, Abdessalam Cherkaoui, Eduardo Godinho, Daniel Lew, Pierre Hoffmeyer, Ilker Uçkay
Wichtige Hinweise
Gregory Cunningham and Khalid Seghrouchni contributed equally as first authors.
Abstract
Purpose
The sensitivity of Gram staining is known to be suboptimal for the diagnosis of native joint septic arthritis. We lack information about the accuracy of Gram compared to other microscopic staining techniques for predicting infection in different patient populations.
Methods
This was a cohort study with cost evaluations at the Orthopaedic Service of Geneva University Hospitals (January 1996–October 2012).
Results
Among 500 episodes of arthritis (196 with immunosuppression, 227 with underlying arthroplasties and 69 with gout or other crystals in synovial fluid), Gram staining revealed pathogens in 146 episodes (146/500, 29 %) or in 146 of the 400 culture-positive episodes (37 %). Correlation between the Gram and acridine staining of the same sample was good (Spearman 0.85). Overall, the sensitivity, specificity, positive predictive value and negative predictive value of Gram stain for rapid diagnosis of septic arthritis was 0.37, 0.99, 0.99 and 0.28, respectively, compared to microbiological cultures. Quite similar values were recorded across the different patient subpopulations, in particular for sensitivity values that were 0.33 for patients with prosthetic joint infections, 0.40 for immunosuppressed patients, 0.36 for patients under antibiotic administration and 0.52 for patients with concomitant crystalline disease.
Conclusions
The sensitivity of Gram or acridine orange staining for a rapid diagnosis of episodes of septic arthritis is suboptimal compared to microbiological culture, regardless of underlying conditions, immunosuppression or antibiotic therapy. The sensitivity in the presence of synovial fluid crystals is moderate. Acridine orange and Gram stains are equivalent.