01.12.2012 | Editorial | Ausgabe 1/2012 Open Access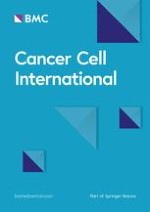 Granulocyte-macrophage stimulating factor (GM-CSF) increases circulating dendritic cells but does not abrogate suppression of adaptive cellular immunity in patients with metastatic colorectal cancer receiving chemotherapy
Zeitschrift:
Autoren:

Micaela Martinez, Nadia Ono, Marina Planutiene, Kestutis Planutis, Edward L Nelson, Randall F Holcombe
Wichtige Hinweise
Electronic supplementary material
The online version of this article (doi:
10.​1186/​1475-2867-12-2
) contains supplementary material, which is available to authorized users.
Competing interests
The authors declare that they have no competing interests.
Authors' contributions
MM, NO, MP and KP conducted immunologic assays including PCR and flow cytometry. MM assisting in maintaining clinical trial related data according to IRB guidelines. ELN and RFH conceived this study, provided oversight for all aspects of the laboratory investigation, were involved in obtaining informed consent and providing treatment for patients and directed the overall project. All authors were involved in manuscript preparation.
Abstract
Background
Advanced cancer and chemotherapy are both associated with immune system suppression. We initiated a clinical trial in patients receiving chemotherapy for metastatic colorectal cancer to determine if administration of GM-CSF in this setting was immunostimulatory.
Methods
Between June, 2003 and January, 2007, 20 patients were enrolled in a clinical trial (NCT00257322) in which they received 500 ug GM-CSF daily for 4 days starting 24 hours after each chemotherapy cycle. There were no toxicities or adverse events reported. Blood was obtained before chemotherapy/GM-CSF administration and 24 hours following the final dose of GM-CSF and evaluated for circulating dendritic cells and adaptive immune cellular subsets by flow cytometry. Peripheral blood mononuclear cell (PBMC) expression of γ-interferon and T-bet transcription factor (
Tbx21
) by quantitative real-time PCR was performed as a measure of Th1 adaptive cellular immunity. Pre- and post-treatment (i.e., chemotherapy and GM-CSF) samples were evaluable for 16 patients, ranging from 1 to 5 cycles (median 3 cycles, 6 biologic sample time points). Dendritic cells were defined as lineage (-) and MHC class II high (+).
Results
73% of patients had significant increases in circulating dendritic cells of ~3x for the overall group (5.8% to 13.6%, p = 0.02) and ~5x excluding non-responders (3.2% to 14.5%, p < 0.001). This effect was sustained over multiple cycles for approximately half of the responders, but tachyphylaxis over subsequent chemotherapy cycles was noted for the remainder. Treatment also led to a significant reduction in the proportion of circulating regulatory T-cells (Treg; p = 0.0042). PBMC
Tbx21
levels declined by 75% following each chemotherapy cycle despite administration of GM-CSF (p = 0.02). PBMC γ-interferon expression, however was unchanged.
Conclusions
This clinical trial confirms the suppressive effects of chemotherapy on Th1 cellular immunity in patients with metastatic colorectal cancer but demonstrates that mid-cycle administration of GM-CSF can significantly increase the proportion of circulating dendritic cells. As the role of dendritic cells in anti-tumor immunity becomes better defined, GM-CSF administration may provide a non-toxic intervention to augment this arm of the immune system for cancer patients receiving cytotoxic therapy.