27.08.2018 | Original Article | Ausgabe 6/2018 Open Access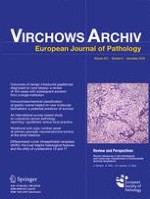 Granulysin, a novel marker for extranodal NK/T cell lymphoma, nasal type
Zeitschrift:
Autoren:

Giuseppe Lo Bello, Ayse U. Akarca, Maria Raffaella Ambrosio, Claudio Agostinelli, Hernan Molina-Kirsch, Alan Ramsay, Manuel Rodriguez-Justo, Matt Pugh, Shuchun Zhao, Monique DeLisser, Elena Sabattini, Stefan Dojcinov, Stefano A. Pileri, Yasodha Natkunam, Lorenzo Leoncini, Teresa Marafioti
Wichtige Hinweise
Ayse U. Akarca and Maria Raffaella Ambrosio contributed equally to this work.
Abstract
Granulysin is a cytolytic protein expressed in cytotoxic T and natural killer (NK) cells. Abnormal serum levels of granulysin in lymphomas with NK and cytotoxic phenotype have been shown to correlate with tumour progression. In this study, we investigated the expression pattern of granulysin in routine sections of normal and reactive lymphoid tissues as well as in a large series of lymphomas. In normal tissues, granulysin labelled a small population of cells that double immunostaining revealed to belong to the pool of cytotoxic T/NK cells. Among lymphoid neoplasms, the highest expression of granulysin (71%) was found in extranodal NK/T cell lymphomas of nasal type (ENKTL). To note is that 29% of ENKTLs, which were negative for one or more of classical cytotoxic markers strongly expressed granulysin. Furthermore, expression of granulysin was observed in rare cases of T cell lymphomas with a cytotoxic phenotype (i.e. ALK-negative anaplastic large cell lymphoma (26%), enteropathy-associated T cell lymphoma (12%) and peripheral T cell lymphoma, NOS (4%)). None of the investigated non-Hodgkin B cell lymphomas, Hodgkin lymphoma and plasma cell myeloma were granulysin positive. The results suggest granulysin as a novel marker for a subset of cytotoxic NK cell derived malignancies and its usefulness is highlighted in those ENKTLs that lack expression of other cytotoxic markers but retain granulysin expression.