30.04.2016 | Interventional Neuroradiology | Ausgabe 8/2016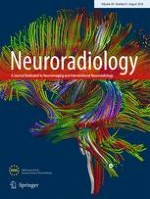 GREAT—a randomized controlled trial comparing HydroSoft/HydroFrame and bare platinum coils for endovascular aneurysm treatment: procedural safety and core-lab-assessedangiographic results
Zeitschrift:
Autoren:

Christian A. Taschner, René Chapot, Vincent Costalat, Paolo Machi, Patrick Courthéoux, Xavier Barreau, Jérôme Berge, Laurent Pierot, Kryzsztof Kadziolka, Betty Jean, Raphaël Blanc, Alessandra Biondi, Hervé Brunel, Sophie Gallas, Ansgar Berlis, Denis Herbreteau, Joachim Berkefeld, Horst Urbach, Samer El Shikh, Jens Fiehler, Hubert Desal, Erika Graf, Alain Bonafé
Wichtige Hinweise
Preliminary data from this study was presented at the WIN ABC meeting, Val d'Isère, France, in January 2015, and the Annual Meeting of the American Society of Neuroradiology, Chicago, IL, in April 2015.
GREAT investigators
France
C Barbier. Department of Neuroradiology, CHU Caen, Caen
Jean Gabrillargues, Emanuel Chabert, A Fischer. Department of Neuroradiologie, Hôpital Gabriel-Montpied, CHU Clermont-Ferrand, Clermont-Ferrand
Frédéric Ricolfi. Department of Neuroradiology, CHU Dijon, Dijon
Charbel Mounayer. Department of Neuroradiology, CHU Limoges, Limoges
Marinette Moynier. Department of Neuroradiology, CHU Montpellier, Montpellier
Michel Piotin, Bruno Bartolini. Department of Interventional Neuroradiology, Fondation Rothschild Hospital, Paris
Nader Sourour. Department of Neuroradiology, Hôpital Salpétrière, AP-HP, Paris
Jean-Yves Gauvrit. Department of Neuroradiology, CHU Rennes, Rennes
Eléonore Tollard. Department of Neuroradiology, CHU Rouen, Rouen
C Papgiannaki, Richard Bibi. Department of Neuroradiology, CHU Tours, Tours
Germany
Paul Stracke. Department of Intracranial Endovascular Therapy, Alfried-Krupp Krankenhaus Hospital, Essen
Marc Schlamann, Sophia Göricke, Claudia Möller-Hartmann, Isabell Wanke. Department of Diagnostic and Interventional Radiology and Neuroradiology, University Hospital Essen, Essen
Richard du Mesnil de Rochemont. Institute of Neuroradiology, University Hospital Frankfurt, Frankfurt am Main
Stephan Meckel, Ulrike Bergmann. Department of Neuroradiology, Medical Centre-University of Freiburg, Freiburg
Elke Gizewski, Thorsten Schmidt. Department of Neuroradiology, University Hospital Giessen, Giessen
Christoph Groden. Department of Neuroradiology, Universitätsmedizin Mannheim, University of Heidelberg, Mannheim
Abstract
Introduction
Hybrid hydrogel-platinum coils (HydroCoil) have proven effective for endovascular aneurysm treatment. To overcome technical limitations (coil stiffness, time restriction for placement), a second generation of softer hydrogel coils has been brought to clinical practice (HydroSoft, HydroFrame). We report on procedural safety and core-lab-assessed angiographic results from an open-label multicenter randomized controlled trial.
Methods
Web-based randomization occurred in 15 medical centers in France and seven in Germany between coil embolization with second-generation hydrogel coils and treatment with any bare platinum coil. Assist devices could be used as clinically required. Primary endpoint is a composite outcome including major aneurysm recurrence and poor clinical outcome at 18 months follow-up.
Results
Five hundred thirteen patients were randomized (hydrogel
n
 = 256, bare platinum
n
 = 257). Twenty patients were excluded for missing informed consent and nine patients for treatment related criteria. Four hundred eighty-four patients were analyzed as randomized (hydrogel
n
 = 243, bare platinum
n
 = 241). Two hundred eight had ruptured aneurysms (43 %). Prespecified procedural complications occurred in 58 subjects (hydrogel
n
 = 28, bare platinum
n
 = 30,
p
 = 0.77). The 14-day mortality rate was 2.1 % in both arms of the study. The median calculated packing densities for aneurysms assigned to hydrogel and bare platinum were 39 and 31 % respectively (
p
 < 0.001). No statistically significant differences were found between arms in the post procedural angiographic occlusion rate (
p
 = 0.8).
Conclusion
Second-generation hydrogel coils can be used in a wide spectrum of aneurysms with a risk profile equivalent to bare platinum. Packing density was significantly higher in aneurysms treated with hydrogel coils.