01.10.2012 | Original Paper | Ausgabe 10/2012 Open Access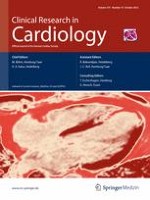 Green tea halts progression of cardiac transthyretin amyloidosis: an observational report
Zeitschrift:
Autoren:

Arnt V. Kristen, Stephanie Lehrke, Sebastian Buss, Derliz Mereles, Henning Steen, Philipp Ehlermann, Stefan Hardt, Evangelos Giannitsis, Rupert Schreiner, Uwe Haberkorn, Philipp A. Schnabel, Reinhold P. Linke, Christoph Röcken, Erich E. Wanker, Thomas J. Dengler, Klaus Altland, Hugo A. Katus
Wichtige Hinweise
Electronic supplementary material
The online version of this article (doi:
10.​1007/​s00392-012-0463-z
) contains supplementary material, which is available to authorized users.
K. Altland, H. A. Katus contributed equally to this work.
Introduction
Methods
The present cohort at the Heidelberg Amyloidosis Center consisted of 19 patients (15 males, 4 females; mean age 66.3 ± 2.0 years) with hereditary (
n
= 10, 53 %) or non-hereditary SSA (
n
= 9, 47 %) cardiac ATTR amyloidosis and compensated heart failure. Patients were observed over a period of 12 months while consuming GT and/or GTE. Routine medication was continued during this period. The observation was approved by the institutional Ethics Committee of the University of Heidelberg and complied with the Declaration of Helsinki [
21
].
All patients had biopsy-proven ATTR confirmed by green birefringence of Congo red-stained sections viewed in polarized light and subsequent immunohistochemical classification of the amyloid deposits [
22
,
23
]. They were screened for amyloidogenic TTR variants by isoelectric focusing of plasma TTR and by sequencing of genomic DNA [
24
]. Clonal light-chains were examined by serum/urine immunofixation electrophoresis and a serum-free light-chain test. Monoclonality was excluded in all patients. All patients had increased tracer retention in the heart by
99m
Tc DPD scintigraphy (Fig.
1
) indicating cardiac ATTR depositions [
25
,
26
].
×
In addition to cardiac involvement patients with hereditary TTR amyloidosis had clinical evidence for involvement of gut (
n
= 4; 40 %), and/or peripheral nerves (
n
= 8; 80 %). The main clinical symptoms at study entry were polyneuropathy in six patients and exertional dyspoea in eight patients. Mean functional heart failure class according to New York Heart Association was 2.0 ± 0.2. Four patients (40 %) with hereditary amyloidosis had orthotopic liver transplantation prior to study inclusion.
After having received written informed consent for participation in this observational project the patients were evaluated by standard blood tests, echocardiography with Doppler studies, and cardiac magnetic resonance imaging (cMRI). Follow-up controls were performed by clinical investigation at the Heidelberg Amyloidosis Center 6 and 12 months after study inclusion.
Echo- and electrocardiography
All transthoracic echocardiograms were performed according to a routine protocol using commercially available ultrasound diagnostic systems (Vivid 7, GE Healthcare, Milwaukee, WI, USA) by experienced investigators. Three cardiac cycles were stored in cine loop format for offline analysis. In patients who were in atrial fibrillation five consecutive beats were averaged. Offline analysis of echocardiography examinations of both cohorts were conducted on a commercially available workstation (Centricity Cardiology CA1000 2.0, GE Medical Systems, Milwaukee, WI, USA) independently by three expert investigators blinded by time point. M-mode or 2D recordings were analyzed for diastolic interventricular septum thickness (IVS), diastolic posterior wall thickness, end-diastolic and end-systolic left ventricular (LV) cavity diameter, LV systolic and longitudinal function, and pericardial effusion [
27
]. Left ventricular mass was calculated by the Devereux formula [
28
]. LV function was assessed according to standard definitions [
29
] and was considered markedly impaired at <40 % by the biplane Simpson method (2D/4D). LV longitudinal function was assessed by mitral and tricuspid annular plane systolic excursion from the apical 4-chamber view by measuring the maximum excursion of the lateral site of the annulus after ventricular systole by M-mode imaging. Pulsed-wave Doppler tissue imaging of the mitral annulus was done using a standard spectral Doppler sample volume gate length of 0.17 cm. The sample volume was placed on the lateral mitral annulus in the apical four-chamber view to measure systolic velocity.
Cardiac magnetic resonance imaging
CMRI was performed on a 1.5-T whole body MRI scanner (Achieva Intera1 Philips Medical Systems, Best, The Netherlands) equipped with a five-element cardiac receiver coil according to a protocol that has been described in detail previously [
30
]. Resting LV function was determined by cine images using a segmented k-space balanced fast-field-echo sequence (Steady-State-Free-Precession, matrix = 160/256, sense-factor = 2, flip angle = 60°, slice thickness/gap = 8/2 mm) in contiguous short axes covering the whole left ventricle from base to apex as well as two, three, and chamber views in anatomically correct heart axes. Data analysis was carried out on a commercially available cMRI workstation (Philips Viewforum, Version 3.4, Best, The Netherlands) by three independent observers blinded by time point. LV enddiastolic and endsystolic volumes with resulting ejection fraction as well as myocardial mass in diastole were determined from short axes by manual delineation of endocardial and epicardial borders excluding papillary muscles.
Dosage of green tea and green tea extract
The protocol followed that of Hunstein [
18
]. All patients were asked for a daily intake of approximately 500–700 mg EGCG either by drinking 1.5–2 L of GT per day (10 g/L Green Darjeeling, FTGFOP1, Teekampagne Projektwerkstatt GmbH, Berlin, Germany; brewed 3–5 min at 100 °C, and containing about 340 mg EGCG/L; [
31
]) or by the intake of caffeine-free GTE capsules (praevent-loges
®
, Dr. Loges + Co. GmbH, Winsen/Luhe, Germany, containing 300 mg GTE with 75 mg EGCG/capsule). Patients were asked to document in a protocol their daily GT and/or GTE consumption as well as any adverse effects. This protocol was used to calculate the mean daily EGCG intake during the observational period [(total GT (in L) ×340 mg/L × total number of GTE capsules ×75 mg)/days of observation].
Quantification of plasma EGCG levels
Blood samples were collected in EDTA-containing tubes. As EGCG rapidly changes its structure above pH 7, binds to proteins, and becomes oxidized, the blood samples were immediately transferred to an ice bath and the plasma was separated from the cellular fraction by centrifugation at 4 °C. One ml of each plasma sample was mixed with 50 μL of an ascorbate-EDTA solution [0.4 M NaH2PO4 buffer containing 20 % ascorbic acid and 0.1 % EDTA (pH 3.6)] and stored at −20 °C until analysis. The EGCG levels were measured via LC-MSMS (liquid chromatography equipped with a triple quadruple mass spectrometer). In short, 100 μL of the stabilized plasma was acidified with 20 μL 5 N HCl and extracted twice with ethyl acetate. The organic phase was evaporated and resolved in 300 μL of a solution containing two volumes of a 20-mM ammonium acetate buffer pH 3.6 and 1 volume methanol. The separation was performed on a C18 Reversed-Phase Column with a gradient of 20 mM ammonium acetate against methanol. The transitions monitored in the mass selective detector under negative modus were 457 (precursor Ion) to 125 product Ion, 457 (precursor Ion) to 169 product Ion (qualifier), and as internal standard 319 (precursor Ion) to 191 product Ion.
Statistical analysis
Continuous data were expressed as median and range. Categorical variables were expressed as absolute numbers and percentages. Differences between the non-parametric, continuous parameters assessed at study inclusion and at 12-month follow-up visit were compared by the Wilcoxon rank-sum test.
p
< 0.05 was considered statistically significant. Statistical analyses were performed using StatView (Version 5.0, SAS Institute, Cary, NC, USA).
Results
Discussion
This is the first single center observation of myocardial parameters during daily consumption of EGCG as GT or GTE for 1 year in patients with cardiac ATTR amyloidosis. No progression of cardiac wall thickness and mass as indicators of ATTR amyloid deposition was observed in these patients during the 1-year observation period. No serious adverse effects were reported.
GT has been proven beneficial by consumption for several thousands of years by many millions of individuals and is part of the daily routine in the Far East without any reported side-effects. Therefore, its use may be of interest for FAC patients and those at age beyond 65 years with no access to heart transplantation. Randomized, placebo-controlled investigations with longer study periods and larger samples of patients should confirm the results of this observation, determine the optimal dosage of GT/GTE for treatment, and identify undesirable side effects.
Acknowledgments
We appreciate the pilot in vivo experiment of Prof. Dr. Werner Hunstein affected by ALλ amyloidosis which was encouraging for many patients with AL amyloidosis and stimulated us to reproduce his observation in patients with ATTR amyloidosis. We acknowledge the assistance of Gerda Baumann. Christoph Bode (Department of Cardiology, University of Freiburg, Germany), Carsten Hehlert-Friedrich (Department of Neurology, Kreiskrankenhaus Krumbach, Germany), Michael Schulte-Hermes (Department of Cardiology, Helios Klinikum Wuppertal, Germany), Kambis Mashayekhi (Department of Cardiology, Herz- und Gefäßklinik GmbH Bad Neustadt a. d. Saale, Germany), Christian Bamberg (Center of Psychiatry, Psychotherapy and Neurology, Rhein-Mosel-Fachklinik Andernach, Germany) as well as M. Langer (Department of Cardiology, Robert-Bosch-Krankenhaus Stuttgart, Germany) are acknowledged for their most helpful support to include patients in this study. This work was supported financially by Peter Waldmann Amyloidose-Stiftung (Küssnacht, Switzerland). Capsules of GTE were a gift from Dr. Loges + Co. GmbH (Winsen/Luhe, Germany) and GT was provided by Projektwerkstatt GmbH (Berlin, Germany). None of them participated in the design and data analysis of the present study data. This was exclusively made by the authors.
Conflict of interest
None.
Open Access
This article is distributed under the terms of the Creative Commons Attribution License which permits any use, distribution, and reproduction in any medium, provided the original author(s) and the source are credited.
Open Access
This article is distributed under the terms of the Creative Commons Attribution 2.0 International License (
https://​creativecommons.​org/​licenses/​by/​2.​0
), which permits unrestricted use, distribution, and reproduction in any medium, provided the original work is properly cited.