12.08.2016 | Brief Report | Ausgabe 11/2016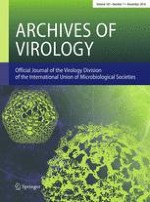 Group A rotavirus in Brazilian bats: description of novel T15 and H15 genotypes
Zeitschrift:
Autoren:

Karen Miyuki Asano, Fabio Gregori, Aline Santana Hora, Karin Corrêa Scheffer, Willian Oliveira Fahl, Keila Iamamoto, Enio Mori, Fernanda Dornelas Florentino Silva, Sueli Akemi Taniwaki, Paulo Eduardo Brandão
Abstract
This study aimed to survey for group A rotaviruses (RVA) in bats from Brazil and to perform phylogenetic inferences for VP4, VP7, NSP3, NSP4 and NSP5 genes. RVA was found in 9.18 % (28/305) of tested samples. The partial genotype constellation of a
Molossus molossus
RVA strain was G3-P[3]-Ix-Rx-Cx-Mx-Ax-Nx-T3-E3-H6, and that of a
Glossophaga soricina
RVA strain was G20-P[x]-Ix-Rx-Cx-Mx-Ax-Nx-T15-Ex-H15. These findings demonstrate an important role of bats in RVA epidemiology and provide evidence of participation of bat RVA strains in interspecies transmission and reassortment events.