01.12.2017 | Research article | Ausgabe 1/2017 Open Access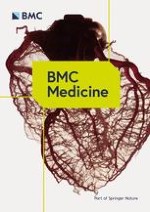 Group-based developmental BMI trajectories, polycystic ovary syndrome, and gestational diabetes: a community-based longitudinal study
Zeitschrift:
Autoren:

Nadira Sultana Kakoly, Arul Earnest, Lisa J. Moran, Helena J. Teede, Anju E. Joham
Background
To our knowledge, no studies have examined latent BMI trajectory groups in community-based cohorts of women of reproductive age or among women with PCOS. Furthermore, there is no prior research exploring the relationship between BMI trajectories, their sociodemographic predictors, PCOS, and GDM development. Therefore, we aimed to address these knowledge gaps in a large national longitudinal cohort study of community-based women of reproductive age.
Methods
Study type
We conducted secondary analysis of the Australian Longitudinal Study on Women's Health (ALSWH) database, spanning 16 years of data collected from six surveys. The ALSWH is a longitudinal population-based survey examining the health of more than 58,000 Australian women. In 1996, the ALSWH first collected mailed survey data from three age cohorts of Australian women. The study randomly selected women from the national health insurance scheme (Medicare) database, which includes records of all permanent residents of Australia. Women were intentionally oversampled from rural and remote areas. Data was collected based on mailed surveys. Prior to this study, this dataset was analyzed primarily in cross-sectional studies on PCOS and health outcomes; further details of the methods used and sample characteristics have been documented previously [
21
]. Additional details are also available on the ALSWH website (
http://​www.​alswh.​org.​au
). The Human Research Ethics Committees of the University of Newcastle and the University of Queensland approved the study methods.
Participants
This analysis focused on six waves of data from women in the 1973–1978 cohort, surveyed in 1996, 2000, 2003, 2006, 2009, and 2012. The eligible sample included all women who responded to Survey 6, as this reflects the most recent data (n = 8009), with the subgroup for GDM analysis including women with at least one live birth (n = 5840) (Fig.
1
).
×
Measures
BMI
BMI data were collected longitudinally in all surveys as height and weight based on self-reports. We computed group-based trajectory models across Surveys 2–6 to identify patterns in BMI change over time. We used five out of six BMI (83%) values on average.
PCOS
At Surveys 4, 5, and 6, women were asked "in the last three years, have you been diagnosed or treated for PCOS?". Women who gave a positive response in any of the surveys where this question was asked were classified as having PCOS (coded as a binary variable). All women who responded negatively in any of surveys were considered as not having PCOS. Women who did not answer this question in any of the three surveys were excluded from the analysis.
GDM
Women were queried about the number of times that they had been diagnosed or treated for GDM and were considered to have a history of GDM (coded as a binary variable) if they reported at least one episode of GDM by Survey 6 (2012).
Explanatory variables
Income
Women were asked to state their average household gross (before tax) income. Responses were categorized as < 15,999, 16,000–51,999, and ≥ 52,000 Australian dollars per annum.
Socioeconomic indexes for areas (SEIFA)
SEIFA was developed by the Australian Bureau of Statistics and ranks areas in Australia according to relative socioeconomic advantage and disadvantage. The indices were based on information from the 5-yearly censuses. The SEIFA index of education and occupation used here was designed to reflect the educational and occupational structure of communities at the collector's district level. The indices are scored such that higher values indicate a greater advantage. As SEIFA was available from Survey 3 onwards, this was used in the analysis for GDM.
Educational qualification
Responses regarding the highest educational qualification completed were categorized as year 12 or lower, trade/certificate, and university/post-graduate degree.
Country of birth
Country of birth responses were categorized as a binary variable of Asian or other countries, including Australia, Africa, Europe, and other English speaking countries.
Smoking
Self-reported use of tobacco was categorized as non-smoker, ex-smoker, and current smoker.
Parity
The number of times a woman experienced a live birth was categorized as a binary variable of none or one or more live births.
Statistical analysis
We used a χ
2
test for categorical variables and independent Student's
t
test for continuous data to describe the change in participant characteristics between PCOS and non-PCOS population subgroups. A
P
value less than 0.05 was considered a significant difference among the groups. GBTM across Surveys 2–6 was used to identify subpopulations of women following distinct patterns of BMI change over time, in the entire sample as well as in the PCOS and non-PCOS populations. Multinomial logistic regression was used to explore sociodemographic and health behavior characteristics associated with BMI trajectories. Variables statistically significantly associated with BMI trajectories in univariate analysis (
P
 < 0.2), or considered potential confounders based on hypothesis testing or previous literature, were considered for inclusion in the final multivariate model. A binary logistic regression model was then used to assess the risk factors of GDM, especially regarding BMI trajectories and PCOS, adjusting for potential confounders such as SEIFA, occupation, and parity. We used a similar model-building strategy as outlined above. We obtained the final model to yield the most parsimonious subset of predictors that explained the data. We also tested for any interaction between PCOS and BMI trajectory group membership for the development of GDM. Although our model used complete case analysis, there was some missing data for the variable BMI collected over the six surveys. On exploratory analysis, the results did not suggest that the missing data conformed to a particular pattern, and we assumed the data to be missing at random. To understand the effect of missing data on BMI trajectory formation and its impact on the development of GDM among women with PCOS, we conducted sensitivity analyses using multiple imputations to understand how robust our results were. We conducted all analyses using Stata software version 14.0.
Results
Discussion
Insulin-resistant conditions like obesity, PCOS, and GDM are increasing at an alarming rate in women of reproductive age in developed countries like Australia. Despite sharing IR as an underlying mechanism for the development of diabetes, the relationship between these conditions remains unclear. Here, we have generated novel longitudinal weight gain trajectories from a large community-based Australian cohort of women of reproductive age followed over 13 years. We show significantly distinct trajectories of weight gain predicted by early adult life (beginning of adult reproductive age) BMI. We also show a higher tendency to be characterized as LSG among women of Asian descent. We demonstrate that BMI trajectory is a stronger correlate of GDM than PCOS or other traditional confounders such as age, socioeconomic status, and parity.
Conclusion
Our results indicate heterogeneity in BMI development among young Australian women over the reproductive years and advance our understanding of longitudinal change in BMI both among women with and without PCOS. Our findings highlight that the risk of a high BMI trajectory can be detected at an young age, both in women with or without PCOS. This presents opportunities for intervention and emphasizes the need to focus on early prevention of weight gain. Women with PCOS were more likely to be in the high-rising BMI group; therefore, prevention here is even more important. BMI trajectory was a stronger correlate of GDM than PCOS and other conventional risk factors, further emphasizing the importance of prevention of weight gain. Women with a history of PCOS would also benefit from early screening for GDM and lifestyle intervention from early pregnancy to avoid excess gestational weight gain and maintain a healthy lifestyle throughout pregnancy. Early adult weight, modifiable through lifestyle change, was found to predict subsequent BMI trajectories for Australian women of reproductive age. Our findings suggest an ideal opportunity to intervene at an early stage of reproductive life [
34
] and reduce the risk of long-term weight-related health sequelae such as GDM. Our findings need to be replicated in different populations for confirmation, particularly among Asian women, to generalize these findings.
Funding
We are grateful to the Australian Government Department of Health and Aging for funding. The funder of the study had no role in the data analysis, data interpretation, or writing of the report. AEJ and NSK had full access to the data and had the final responsibility for the decision to submit for publication.
Competing interests
The authors declare that they have no conflict of interest to declare. NSK is supported by a Monash International Postgraduate Research Scholarship. A/Professor Moran is supported by a Future Leader Fellowship from the National Heart Foundation of Australia. Professor Teede is supported by a fellowship from the National Health and Medical Research Council. Dr. AEJ is supported by an NHMRC Early Career Fellowship.
Publisher's Note
Springer Nature remains neutral with regard to jurisdictional claims in published maps and institutional affiliations.
Open Access
This article is distributed under the terms of the Creative Commons Attribution 4.0 International License (
http://​creativecommons.​org/​licenses/​by/​4.​0/​
), which permits unrestricted use, distribution, and reproduction in any medium, provided you give appropriate credit to the original author(s) and the source, provide a link to the Creative Commons license, and indicate if changes were made. The Creative Commons Public Domain Dedication waiver (
http://​creativecommons.​org/​publicdomain/​zero/​1.​0/​
) applies to the data made available in this article, unless otherwise stated.