01.12.2015 | Research article | Ausgabe 1/2015 Open Access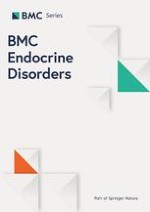 Growth hormone (GH) dose-dependent IGF-I response relates to pubertal height gain
Zeitschrift:
Autoren:

Elena Lundberg, Berit Kriström, Bjorn Jonsson, Kerstin Albertsson-Wikland, on behalf of the study group
Wichtige Hinweise
Electronic supplementary material
The online version of this article (doi:
10.​1186/​s12902-015-0080-8
) contains supplementary material, which is available to authorized users.
Competing interests
EL has no competing interest, has not received any commercial source of funding.
BK has received Umeå University Hospital Government Grants (ALF), lecture and/or consultation honoraria from Merck Serono, NovoNordisk, Pfizer and Sandoz. BJ was employed by Pilan Data Management AB until he died in February 2015. KA-W received an unrestricted research grant from Pharmacia/Pfizer until 2005. This investigator-initiated and sponsored trial, TRN 88–177 began in 1988. Kabi/Pharmacia supported the study by paying for monitoring of patients, the additional clinical costs and provided free drugs for patients receiving more than 33ug/kg/day. The study was also supported by grants from the Swedish Research Council (7509), the Swedish Foundation for Pediatric GH Research and the Foundation Växthuset for Children as well as University Hospital Government Grants (ALF) in Gothenburg and Umea. Kabi/Pharmacia/Pfizer has not had any influence on the collection, analysis and interpretation of these data or in the writing of this manuscript.
Authors' contributions
The study was initiated (concept and design) in the 1980s by KAW, the PI who also served as local investigator for Gothenburg. Later in the 1990s, BK also became a local investigator for Umea. KAW, BK, EL made the clean file. BJ as biostatistician made all the statistical analyses. EL made the first draft. All authors made substantial intellectual contribution with analyses, interpretation of data and revising the manuscript for important intellectual content. All authors have given approval for the final version to be published.
Abstract
Background
Responsiveness to GH treatment can be estimated by both growth and ∆IGF-I. The primary aim of the present study was to investigate if mimicking the physiological increase during puberty in GH secretion, by using a higher GH dose could lead to pubertal IGFs in short children with low GH secretion. The secondary aim was to explore the relationship between IGF-I, IGFBP-3 and the IGF-I/IGFBP-3 ratio and gain in height.
Methods
A multicentre, randomized, clinical trial (TRN88-177) in 104 children (90 boys), who had received GH 33 μg/kg/day during at least 1 prepubertal year. They were followed from GH start to adult height (mean, 7.5 years; range, 4.6–10.7). At onset of puberty, children were randomized into three groups, to receive 67 μg/kg/day (GH
67
) given once (GH
67x1
;
n
 = 30) or divided into two daily injection (GH
33x2
;
n
 = 36), or to remain on a single 33 μg/kg/day dose (GH
33x1
;
n
 = 38). The outcome measures were change and obtained mean on-treatment IGF-I
SDS
, IGFBP3
SDS
and IGF-I/IGFBP3 ratio
SDS
during prepuberty and puberty. These variables were assessed in relation to prepubertal, pubertal and total gain in height
SDS
.
Results
Mean prepubertal increases 1 year after GH start were: 2.1 IGF-I
SDS
, 0.6 IGFBP3
SDS
and 1.5 IGF-I/IGFBP3ratio
SDS
. A significant positive correlation was found between prepubertal ∆IGFs and both prepubertal and total gain in height
SDS
. During puberty changes in IGFs were GH dose-dependent: mean pubertal level of IGF-I
SDS
was higher in GH
67
vs GH
33
(
p
 = 0.031). First year pubertal ∆IGF-I
SDS
was significantly higher in the GH
67
vs GH
33
group (0.5 vs −0.1, respectively,
p
 = 0.007), as well as ∆IGF-I
SDS
to the pubertal mean level (0.2 vs −0.2,
p
 = 0.028). In multivariate analyses, the prepubertal increase in '∆IGF-I
SDS
from GH start' and the 'GH dose-dependent pubertal ∆IGF-I
SDS
' were the most important variables for explaining variation in prepubertal (21 %), pubertal (26 %) and total (28 %) gain in height
SDS
.
Trial registration
TRN 88–177, not applicable 1988.
Conclusion
The dose-dependent change in IGFs was related to a dose-dependent pubertal gain in heightSDS. The attempt to mimic normal physiology by giving a higher GH dose during puberty was associated with both an increase in IGF-I and a dose-dependent gain in heightSDS.