01.12.2018 | Research article | Ausgabe 1/2018 Open Access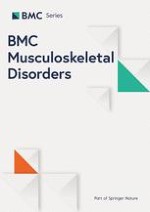 Growth of epiphysis after epiphyseal-preservation surgery for childhood osteosarcoma around the knee joint
Zeitschrift:
Autoren:

Akihiko Takeuchi, Norio Yamamoto, Katsuhiro Hayashi, Hidenori Matsubara, Hiroaki Kimura, Shinji Miwa, Takashi Higuchi, Kensaku Abe, Yuta Taniguchi, Hiroyuki Tsuchiya
Abstract
Background
Epiphyseal-preservation surgery for osteosarcoma is an alternative method which has been indicated carefully to selected patients. The tumor-devitalised autograft treated with liquid nitrogen procedure is one of the biological reconstruction method to reconstruct the defect after tumor excision. The limb length discrepancy is usually appeared in children with their growth after limb-sparing surgery. This study was aimed to investigated the growth of residual epiphysis following epiphyseal-preservation surgery for childhood osteosarcoma around the knee joint.
Methods
We retrospectively reviewed 12 patients with osteosarcoma who underwent epiphysis preserving tumor excision (8 in distal femur and 4 in proximal tibia) and reconstructed by using tumor-devitalized autograft treated with liquid nitrogen. The mean patient age was 11 (range, 6 to 14) years. The mean follow-up period were 63 (range, 41 to 90) months. Epiphysis transverse growth rate, epiphysis-width discrepancy (EWD) and collapse of epiphysis were evaluated by using pre- and post-operative whole standing leg radiographs. A retrospective chart review was performed to investigate functional outcome, complications and oncological status.
Results
The mean growth of epiphysis rate was 12.6% (range, 3.3 to 28.0%) of affected side and 12.7% (range, 3.8 to 28.9%) of contralateral side, mean EWD was 0.1 mm (range, − 1.0 to 1.7 mm), mean LLD was + 26.1 mm (range, + 1 to + 48 mm) and two patients with distal femoral reconstruction underwent limb lengthening of tibia. There was no collapse of the residual epiphysis. The mean MSTS score was 27.7 (range, 18 to 30).
Conclusions
Epiphysis transverse growth was not diminished, and there was absence of epiphyseal collapse even after epiphyseal-preservation surgery in this small series of childhood osteosarcoma around the knee. With careful assessment for epiphyseal tumor involvement, epiphyseal-preservation surgery shall be possible, and could be an alternative method worth considering.