22.02.2019 | Übersichten | Ausgabe 10/2019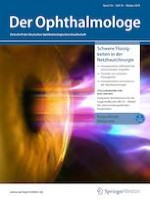 Grundzüge der medikamentösen Therapie und chirurgische Optionen bei Uveitis
Zeitschrift:
Autor:

Prof. Dr. Justus G. Garweg
Wichtige Hinweise
Dieses Manuskript entspricht einem Vortrag auf dem Tübinger Ophthalmo-Immunologischen Seminar (TOIS) 2018.
Zusammenfassung
Hintergrund
Eine moderne Uveitistherapie zielt auf die Kontrolle der Uveitisaktivität, Erhaltung der Sehfunktion und die Verhinderung sekundärer Organschäden durch die entzündliche Grunderkrankung und deren Therapie.
Ziel dieser Arbeit
Ziel ist ein Update zu den Grundzügen der medikamentösen und chirurgischen Therapie der Uveitis.
Material und Methoden
Anhand einer Literaturrecherche in PubMed zu den Stichworten <"uveitis" AND "therapy"> sowie <"uveitis" AND "surgery" OR "surgical treatment"> wurden alle prospektiven Studien, Fallserien mit mehr als 20 Fällen sowie Übersichtsartikel der letzten 5 Jahre identifiziert und mit den darin zitierten Querverweisen ausgewertet.
Ergebnisse
Nach Ausschluss einer infektiösen Ätiologie bilden lokale und systemische Steroide die Grundlage der Therapie. Sollte die Uveitisaktivität nicht innerhalb 6 Wochen kontrolliert oder die tägliche Steroiddosis inakzeptabel hoch sein, kommen nichtbiologische Medikamente zum Einsatz. In einer dritten Phase werden diese bei weiterhin vorhandener Restaktivität frühzeitig ergänzt durch antikörperbasierte Therapien oder Zytokine, sog. Biologika, mit dem Ziel einer vollständigen langfristigen Reizfreiheit ohne lokale oder systemische Steroide. Dieses Ziel wird in 65–80 % erreicht und stellt die langfristige funktionelle Stabilität und anatomische Integrität sicher. Eine frühzeitige Therapieeskalation bei persistierender Aktivität und Rezidiven verhindert in der Regel neue sekundäre Organschäden. Chirurgische Verfahren werden diagnostisch, zur Applikation intravitrealer Medikamente und zur Behandlung von Sekundärkomplikationen genutzt.
Diskussion
Die Uveitis ist wie die meisten immunologischen Erkrankungen eine chronische Erkrankung, die einer Dauertherapie bedarf, nur in weniger als 20 % wird eine Remission (Reizfreiheit ohne Therapie) erreicht. Chirurgische Verfahren werden, wenn Papille und Makula nicht betroffen sind, mit guter Prognose eingesetzt und haben eine erheblich geringere Komplikationsrate, wenn präoperativ über mindestens 3 Monate Reizfreiheit besteht.