01.12.2021 | Review | Ausgabe 1/2021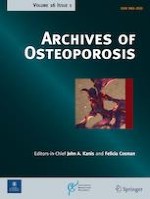 Guidelines for the prevention and treatment of glucocorticoid-induced osteoporosis: an update of Brazilian Society of Rheumatology (2020)
Zeitschrift:
Autoren:

Rosa M. R. Pereira, Mariana O. Perez, Ana Patrícia Paula, Caio Moreira, Charlles H. M. Castro, Cristiano A. F. Zerbini, Diogo S. Domiciano, Elaine de Azevedo, Laura M. C. Mendonca, Marcia Midore Shinzato, Marco Antonio A. da Rocha-Loures, Sebastião Radominski, Vera L. Szejnfeld
Wichtige Hinweise
Publisher's note
Springer Nature remains neutral with regard to jurisdictional claims in published maps and institutional affiliations.
Abstract
Summary
The Brazilian guidelines for prevention and treatment of glucocorticoid-induced osteoporosis were updated and important topics were included such as assessment of risk fracture using FRAX Brazil, use of denosumab, and also recommendations for the use of glucocorticoid pulse therapy and inhaled glucocortiocoid.
Introduction
Glucocorticoids (GCs) are used in almost all medical specialties and the incidences of vertebral/nonvertebral fractures range from 30 to 50% in individuals treated with GCs for over 3 months. Thus, osteoporosis and frailty fractures should be prevented and treated in patients initiating treatment or already being treated with GCs. The Committee for Osteoporosis and Bone Metabolic Disorders of the Brazilian Society of Rheumatology (BSR) established in 2012 the Brazilian Guidelines for glucocorticoid-induced osteoporosis (GIO). Herein, we provide a comprehensive update of the original guidelines based on improved available scientific evidence and/or expert experience.
Methods
From March to June 2020, the Osteoporosis Committee of the BRS had meetings to update the questions presented in the first consensus (2012). Thus, twenty-six questions considered essential for the preparation of the recommendations were selected. A systematic literature review based on real-life scenarios was undertaken to answer the proposed questions. The MEDLINE, EMBASE, and SCOPUS databases were searched using specific search keywords.
Results
Based on the review and expert opinion, the recommendations were updated for each of the 26 questions. We included 48 new bibliographic references that became available after the date of the publication of the first version of the consensus.
Conclusion
We updated the Brazilian guidelines for the prevention/treatment of GIO. New topics were added in this update, such as the assessment of risk fracture using FRAX Brazil, the use of denosumab, and approaches for the treatment of children and adolescents. Furthermore, we included recommendations for the use of inhaled GCs and GC pulse therapy in clinical settings.