Erschienen in: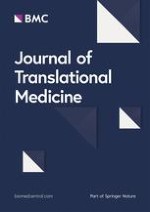 Open Access 01.12.2016 | Research
Guizhi-Shaoyao-Zhimu decoction attenuates rheumatoid arthritis partially by reversing inflammation-immune system imbalance
Erschienen in: Journal of Translational Medicine | Ausgabe 1/2016
Abstract
Background
Guizhi-Shaoyao-Zhimu decoction (GSZD) has been extensively used for rheumatoid arthritis (RA) therapy. Marked therapeutic efficacy of GSZD acting on RA has been demonstrated in several long-term clinical trials without any significant side effects. However, its pharmacological mechanisms remain unclear due to a lack of appropriate scientific methodology.
Methods
GSZD's mechanisms of action were investigated using an integrative approach that combined drug target prediction, network analysis, and experimental validation.
Results
A total of 77 putative targets were identified for 165 assessed chemical components of GSZD. After calculating the topological features of the nodes and edges in the created drug-target network, we identified a candidate GSZD-targeted signal axis that contained interactions between two putative GSZD targets [histone deacetylase 1 (HDAC1) and heat shock protein 90 kDa alpha, class A member 1 (HSP90AA1)] and three known RA-related targets [NFKB2; inhibitor of kappa light polypeptide gene enhancer in B-cells, kinase beta (IKBKB); and tumor necrosis factor-alpha (TNF-α)]. This signal axis could connect different functional modules that are significantly associated with various RA-related signaling pathways, including T/B cell receptor, Toll-like receptor, NF-kappa B and TNF pathways, as well as osteoclast differentiation. Furthermore, the therapeutic effects and putative molecular mechanisms of GSZD's actions on RA were experimentally validated in vitro and in vivo.
Conclusions
GSZD may partially attenuate RA by reversing inflammation-immune system imbalance and regulating the HDAC1–HSP90AA1–NFKB2–IKBKB–TNF-α signaling axis.
Electronic supplementary material
The online version of this article (doi:
10.​1186/​s12967-016-0921-x
) contains supplementary material, which is available to authorized users.
Qiuyan Guo, Xia Mao and Yanqiong Zhang equally contributed to this work
Background
Rheumatoid arthritis (RA) is a chronic, debilitating inflammatory joint disease characterized by synovial inflammation and the progressive destruction of cartilage and bone [
1
]. Several studies have indicated that RA has a prevalence rate of approximately 0.5 to 1 % in adult populations in developed countries [
2
]. Moreover, growing evidence indicates that RA patients are more at risk of developing a collection of comorbidities that have no typical features and are difficult to diagnose, leading them to have poorer clinical outcomes than that of the general population [
3
]. Current therapeutic agents, such as non-steroidal anti-inflammatory drugs (NSAIDs), disease-modifying anti-rheumatic drugs (DMARDs), glucocorticoids, and biological response modifiers, have been used to reduce inflammation, relieve pain, suppress disease activity, prevent joint damage, and slow the progression of RA [
4
]. However, their poor efficacies, high prices and adverse effects are of concern [
5
,
6
]. An increasing number of patients with RA worldwide are seeking help from complementary and alternative medicine to alleviate the severity of the disease and to improve physical conditions. Among these treatments, traditional Chinese medicine (TCM) is regarded as a powerful treatment option, and it has been used for RA therapy for thousands of years in China [
7
].
In TCM, RA is categorized as "arthromyodynia" (Bi Zheng, Bi syndrome or blockage syndrome) [
8
,
9
]. Various TCM-based herbal formulae and extracts have been reported to effectively relieve the severity of RA. Among them, Guizhi-Shaoyao-Zhimu Decoction (GSZD), as a classic TCM-based herbal formula originally recorded by the famous Chinese physician Zhang Zhongjing in "
Synopsis of the prescriptions of the golden chamber"
(Chinese name: Jin Gui Yao Lue) is widely produced in China in accordance with China Pharmacopoeia standards of quality control. GSZD is composed of nine Chinese herbs, including Ramulus Cinnamomi (Guizhi),
Paeonia lactiflora (Shaoyao)
, Radix Glycytthizae (Gancao), Herba Ephedrae (Mahuang), Rhizoma Zingiberis Recens (Shengjiang), Rhizoma Atractylodis Macrocephalae (Baizhu), Rhizoma Anemarrhenae (Zhimu), Raidix Saposhnikoviae (Fangfeng) and Radix Aconiti Lateralis Preparata (Fuzi). Recent clinical studies have revealed that the clinical cure rates of GZSD on treatment of patients with RA may range from 87.5 to 95.8 %, superior to those of indometacin, tripterygium glycosides and prednisone [
10
‐
13
]. In addition to its marked efficacy, no significant side effects of GZSD have been observed in several long-term trials in China [
14
]. Modern medical research has shown that GSZD can alleviate RA progression by restraining osteoclast differentiation and activation, reducing synovial cell proliferation, and increasing synovial cell apoptosis both in vivo and in vitro [
15
,
16
]. However, the underlying mechanisms of this formula's actions on RA have not been fully clarified.
TCM formulae containing large numbers of composite compounds are too complex to be assessed by traditional experimental methods based on the "one gene, one drug, one disease" paradigm [
17
]. Growing evidence shows that the synergistic and holistic philosophy underlying the creation of TCM formulae is consistent with the main view of the emerging concept of network pharmacology, which is based on the rapid progress of systems biology, network biology and poly-pharmacology [
18
]. By applying a set of network-based methods, network pharmacology can define TCM from a systems perspective and at a molecular level, providing a new method of translating TCM from an experience-based to an evidence-based medical system by integrating network-based computational predictions and experimental validations [
19
,
20
]. In the current study, as shown in Fig.
1
, we predicted the putative targets of GSZD based on drug structures and functions, constructed and analyzed the herb-target network and the putative target-RA related gene network, and performed in vitro and in vivo experimental validations to highlight that the therapeutic effects of GSZD on RA might be associated with its roles in reversing the imbalance of inflammation-immune system during the disease progression.
×
Methods
Results and discussion
Conclusions
In the current study, we integrated drug target prediction and network analysis to assess the multiple ingredients and putative targets of GSZD, a TCM-based herbal formula, which enabled us to clarify its pharmacological actions on RA. Our network analysis inferred associations between candidate targets of the herbs contained in GSZD and components in the pathological processes of RA and discerned key essential mechanisms of the formula. Furthermore, in vitro and in vivo experimental validation offered convincing evidence that GSZD may partially attenuate RA by reversing inflammation-immune system imbalance and regulating the HDAC1–HSP90AA1–NFKB2–IKBKB–TNF-α signaling axis.
Although there are important discoveries revealed by this study, there are also limitations. First, some composite compounds of herbs contained in GSZD might have been omitted due to incomplete information obtained from existing databases. Second, this work could not determine whether the identified associations between the studied herbs and their corresponding targets were direct or indirect. Third, since each data source used here may have its own set of constraints, biases or limitations, etc., which might impact the final results; However, we did not adequate to define these characteristics before data integration and data mining. Thus, more studies will be required in the future.
Authors' contributions
YZ and NL participated in study design and coordination, material support for obtained funding, and supervised study; YZ performed drug target prediction, network analysis and designed the experimental validation; QG and XM performed the experimental validation and drafted the manuscript. MS, XY, and DY performed the histological staining and evaluation. XZ, YD and XL performed HPLC–DAD. CW and LY carried out the experiment validation. All authors read and approved the final manuscript.
Acknowledgements
This study was supported by Beijing Municipal Natural Science Foundation (7144228), Beijing Nova program (Z1511000003150126) and The Prospective Study Platform Project of Institute of Chinese Materia Medica, China Acdemy of Chinese Medical Sciences (QZPT002).
Competing interests
The authors declare that they have no competing interests.
Open Access
This article is distributed under the terms of the Creative Commons Attribution 4.0 International License (
http://​creativecommons.​org/​licenses/​by/​4.​0/​
), which permits unrestricted use, distribution, and reproduction in any medium, provided you give appropriate credit to the original author(s) and the source, provide a link to the Creative Commons license, and indicate if changes were made. The Creative Commons Public Domain Dedication waiver (
http://​creativecommons.​org/​publicdomain/​zero/​1.​0/​
) applies to the data made available in this article, unless otherwise stated.