16.05.2018 | Original Contribution | Ausgabe 2/2019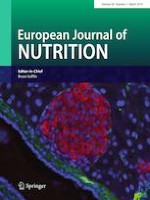 Gut-derived lipopolysaccharides increase post-prandial oxidative stress via Nox2 activation in patients with impaired fasting glucose tolerance: effect of extra-virgin olive oil
Zeitschrift:
Autoren:

Roberto Carnevale, Daniele Pastori, Cristina Nocella, Vittoria Cammisotto, Simona Bartimoccia, Marta Novo, Maria Del Ben, Alessio Farcomeni, Francesco Angelico, Francesco Violi
Wichtige Hinweise
Roberto Carnevale and Daniele Pastori equally contributed to this work.
Abstract
Purpose
Post-prandial phase is characterized by enhanced oxidative stress but the underlying mechanism is unclear. We investigated if gut-derived lipopolysaccharide (LPS) is implicated in this phenomenon and the effect of extra virgin olive oil (EVOO) in patients with impaired fasting glucose (IFG).
Methods
This is a randomized cross-over interventional study including 30 IFG patients, to receive a lunch with or without 10 g of EVOO. Serum LPS, Apo-B48, markers of oxidative stress such as oxidized LDL (oxLDL) and soluble Nox2-derived peptide (sNox2-dp), a marker of nicotinamide-adenine-dinucleotide-phosphate oxidase isoform Nox2 activation, and plasma polyphenols were determined before, 60 and 120 min after lunch.
Results
In patients not given EVOO oxidative stress as assessed by sNox2-dp and oxLDL significantly increased at 60 and 120 min concomitantly with an increase of LPS and Apo-B48. In these patients, changes of LPS were correlated with Apo-B48 (Rs = 0.542,
p
 = 0.002) and oxLDL (Rs = 0.463,
p
 = 0.010). At 120 min, LPS (
β
− 15.73,
p
 < 0.001), Apo-B48 (
β
− 0.14,
p
 = 0.004), sNox2-dp (
β
− 5.47,
p
 = 0.030), and oxLDL (
β
− 42.80,
p
 < 0.001) significantly differed between the two treatment groups. An inverse correlation was detected between polyphenols and oxLDL (
R
− 0.474,
p
 < 0.005). In vitro study showed that LPS, at the same concentrations found in the human circulation, up-regulated Nox2-derived oxidative stress via interaction with Toll-like receptor 4.
Conclusions
Post-prandial phase is characterized by an oxidative stress-related inflammation potentially triggered by LPS, a phenomenon mitigated by EVOO administration.