01.09.2017 | Original Article | Ausgabe 1/2018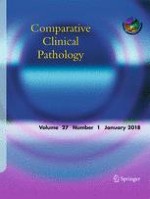 Haematological parameters and serum biochemical assay of West African Dwarf goats infected with peste des petits ruminants virus in Nsukka, Enugu State
Zeitschrift:
Autoren:

Iniobong Chukwuebuka Ikenna Ugochukwu, Emmanuel Ikenna Ugochukwu, Cornelius Chijioke Chukwu
Abstract
Peste des petits ruminants (PPR) is an important economic disease of small ruminants caused by a morbillivirus, peste des petits ruminants virus (PPRV). This work was designed to investigate the haemogram and serum biochemical assays of some serum enzymes of West African Dwarf goats infected with PPRV. Standard techniques were used to determine the haematological parameters and serum biochemical assays. Apart from the presence of the characteristic clinical signs, complement ELISA and haemagglutination inhibition (HI) tests were used to confirm the infection of PPR in the West African Dwarf goats. Haematological findings in this study showed that there was a significant rise (
P
< 0.05) in packed cell volume of infected goats, a significant rise (
P
< 0.05) in the absolute number of circulating neutrophils, an increase in the haemoglobin concentration (HbC), a fall in the total number of white blood cells and a significant fall (
P
< 0.05) in the absolute number of lymphocytes. The results of serum biochemical analysis of serum aspartate aminotransferase and alkaline phosphatase in the infected West African Dwarf goats showed a fall in the values but were within normal biochemical range. The clinical signs, haematological parameters and serum biochemical enzyme changes observed in this study will provide supportive evidence in diagnosis of PPR outbreaks in West African Dwarf goats especially in Enugu State, Nigeria.