16.03.2016 | Research Paper | Ausgabe 4/2016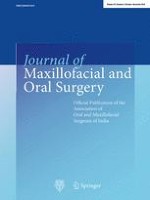 Hard and Soft Tissue Changes Following Maxillary Distraction Osteogenesis and Mandibular Setback with Bilateral Sagittal Split Osteotomy
Zeitschrift:
Autoren:

Shilpa S. Bawane, Neelam N. Andrade
Abstract
Aims of this Study
(1) To highlight the role of intraoral submerged device in distraction osteogenesis (DO) of patients requiring two jaw surgeries for the correction of severe developmental maxillary hypoplasia (MH) and mandibular prognathism (MP) (2) To analyse the hard and soft tissue changes following maxillary DO and mandibular setback with bilateral sagittal split osteotomy (BSSO) in patients with severe MH and MP requiring two jaw surgeries.
Materials and Methods
During the period Jan 2004 to Dec 2006, five patients with severe developmental MH along with MP were treated. In 1st stage maxillary distraction was done. Distraction started on 6th postoperative day, 1 mm distraction was carried out for 10–15 days on either side. Serial radiographs were taken immediate postoperative period for baseline comparison, post-distraction and at the end of distraction. After a period of 3–4 months of distraction 2nd stage was done. In 2nd stage, mandibular setback was done with BSSO and distractors were removed under general anesthesia. Radiographs were taken immediately and at 4 months post-operatively. Cephalometric tracings were carried out preoperatively, post DO and finally after mandibular setback with BSSO.
Results
The mean horizontal movement of maxilla was 11.4 mm at ANS and 9.6 mm at A point. Upper incisor edge was advanced by 8.8 mms. SNA increased by 8.4° and SNB decreased by 4.6°. Nasal projection advanced by 4°. Nasolabial angle normalized in all patients, mean change achieved was 10.8°. Upper lip moved forward by 5.4 mm. Lower lip moved backward by 5.4 mm. Mandible positioned backward by 4 mm at B point. No vertical change occurred in the position of A, ANS and upper incisor edges. Mean increase in skeletal angle of convexity was 26.4°. Concave profile was significantly changed to convex in all patients.
Conclusion
Maxillary DO and mandibular setback with BSSO was associated with improved facial balance and esthetics.