01.09.2009 | Ausgabe 9/2009 Open Access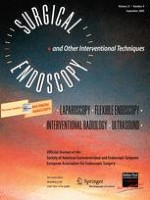 Harmonic long shears further reduce operation time in transanal endoscopic microsurgery
Zeitschrift:
Autoren:

Pleun E. A. Hermsen, Ifesegun D. Ayodeji, Wim H. C. Hop, Geert W. M. Tetteroo, Eelco J. R. de Graaf
Wichtige Hinweise
Presented orally at the 15th International Congress at the European Association of Endoscopic Surgery in Athena, Greece, July 5th 2007.
Abstract
Background
Previous research indicates that application of 5-mm harmonic shears rather than diathermia significantly reduces operation time in transanal endoscopic microsurgery (TEM). Frequently, however, additional instruments were required to complete resection. We investigated whether the new 5-mm harmonic long shears (H-LS) are better equipped for TEM compared with regular harmonic shears (HS).
Methods
Between 2001 and 2006, 162 tumors (117 adenomas, 42 carcinomas, and 3 other tumors; mean distance 6.6 cm, mean area 40 cm2) were excised in 161 patients (82 men, 79 women; mean age 66 years).
Results
Eighty-eight resections were performed with HS and 74 with H-LS. Tumor and patient characteristics were similar except for specimen area. Tumors resected by H-LS were on average smaller than those resected by HS (34.4 versus 44.1 cm
2
; Mann–Whitney
U
-test:
p
= 0.027). Mean operation time was 48 min and proportional to area in both groups (univariate analysis of variance
p
< 0.001). Mean operation time was 54 min using HS and 41 min using H-LS (
t
-test:
p
< 0.001). After correction for area, operation time for H-LS was reduced by 14% compared with HS (
t
-test:
p
< 0.001). H-LS is singly capable of completing resection in 88% compared with 26% for HS (Mann–Whitney
U
-test:
p
< 0.001). Mean blood loss was 16 cc for HS and 3 cc for H-LS (
p
< 0.001). Morbidity (11%) and mortality (0.6%) were not different between the two groups (Fisher's exact test).
Conclusion
Performing transanal endoscopic microsurgery with 5-mm harmonic long shears reduces operation time compared with regular shears, and completing resection seldom requires other instruments.