01.03.2011 | Ausgabe 1/2011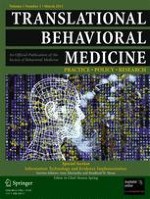 Health behavior models in the age of mobile interventions: are our theories up to the task?
Zeitschrift:
Autoren:

PhD William T Riley, PhD Daniel E Rivera, PhD Audie A Atienza, PhD Wendy Nilsen, PhD Susannah M Allison, PhD Robin Mermelstein
Wichtige Hinweise
Implications
Practice
: Mobile technologies are rapidly evolving as a method for delivering health behavior interventions that can be tailored to the individual throughout the intervention, but the content and timing of these interventions have not been consistently grounded in health behavior theories, so practitioners need to consider the theoretical and empirical basis of mobile health behavior interventions.
Policy
: Investment in the development of mobile health behavior interventions needs to be balanced with investment in theoretically grounded content development and evaluation procedures that are responsive to this rapidly evolving area.
Research
: In addition to the responsive evaluation of mobile health behavior interventions, researchers need to utilize these applications to test and advance more dynamic health behavior theories, taking advantage of control systems engineering and other dynamic feedback models to advance new theories that can be better applied to the intensive adaptability possible from mobile health behavior interventions.
Abstract
Mobile technologies are being used to deliver health behavior interventions. The study aims to determine how health behavior theories are applied to mobile interventions. This is a review of the theoretical basis and interactivity of mobile health behavior interventions. Many of the mobile health behavior interventions reviewed were predominately one way (i.e., mostly data input or informational output), but some have leveraged mobile technologies to provide just-in-time, interactive, and adaptive interventions. Most smoking and weight loss studies reported a theoretical basis for the mobile intervention, but most of the adherence and disease management studies did not. Mobile health behavior intervention development could benefit from greater application of health behavior theories. Current theories, however, appear inadequate to inform mobile intervention development as these interventions become more interactive and adaptive. Dynamic feedback system theories of health behavior can be developed utilizing longitudinal data from mobile devices and control systems engineering models.