01.12.2014 | Research article | Ausgabe 1/2014 Open Access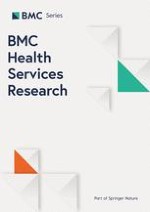 Health behaviors and participation in health promotion activities among hospital staff: which occupational group performs better?
Zeitschrift:
Autoren:

Shu-Ti Chiou, Jen-Huai Chiang, Nicole Huang, Li-Yin Chien
Wichtige Hinweise
Competing interests
The authors declare that they have no competing interests.
Authors' contributions
STC conceived of the study, participated in the design of the study, and drafted the manuscript. JHC performed the statistical analysis under the supervision of LYC. NH participated in the design of the study and helped interpretation of the study results. LYC participated in the design and coordination of the study and helped to draft and revise the manuscript. All authors read and approved the final manuscript.
Abstract
Background
Staff health behaviors affect not only their own health but also their provision of health promotion services to their patients. Although different occupational groups work in hospitals, few studies have compared health behaviors among them. The objectives of this study were to examine health behaviors, including physical activity, eating 5 portions of fruits and vegetables per day (5 a day), and stress adaptation, and participation in hospital-based health promotion activities by occupational groups in hospitals.
Methods
This cross-sectional survey was conducted among full-time employees in 100 hospitals across Taiwan. This analysis included 4202 physicians, 31639 nurses, 2315 pharmacists, 8161 other health professionals, and 13079 administrative personnel.
Results
Administrative personnel attended more health promotion lectures and clubs/groups than other health professionals, pharmacists and physicians, and those workers participated more than nurses. Participation in health promotion activities provided by hospitals was associated with better practice of health behaviors. After adjustment for socio-demographics and participation in health promotion activities, physicians, pharmacists, and other health professionals reported more 5 a day than administrative staff. Other health professionals reported more physical activity than administrative staff, and they reported more than physicians. Nurses reported the lowest level of physical activity, 5 a day, and stress adaptation of all occupational groups.
Conclusions
Nurses had worse health behaviors and less participation in health promotion activities than other groups. Workplace health promotion program for health professionals is needed, with special emphasis on nurses. Hospital-based health promotion programs could take the differences of occupational groups into consideration to tailor programs to the needs of different occupational groups.